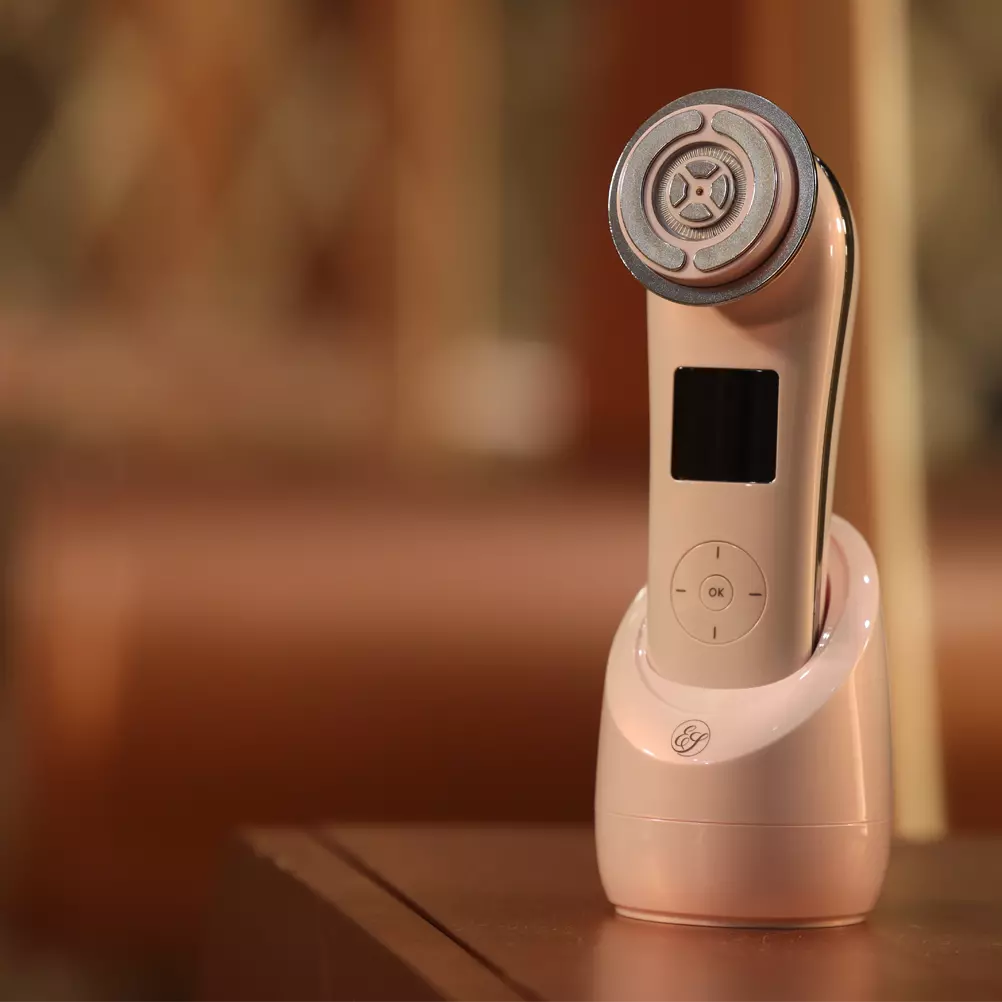 Frequently Asked Questions
Lumo Inquiry Hub
Discover everything you need to know about Lumo in one place.
Here, we've compiled a thorough list of frequently encountered queries, accompanied by detailed and informative responses. If you have any additional questions not covered here, don't hesitate to reach out to our Support Desk or message us on social media.
What is the maximum amount of time the Lumo can be used?

For the first month, one should use the Lumo once a week for the first 2 to 4 weeks. If a user is older and have undergone RF treatment previously, they can jump right in to 2 sessions per week. This is to adapt and to make sure that there's no issues with using the device just once a week.

Once they are getting and have gotten used to using the device for at least a month, at a minimum two weeks, but ideally a month, at that point, they can start using it at least, around 10 minutes per session, which would be five minutes in the RF and five minutes in the EMS and then do that twice a week. So that'll be 10 minutes each. So that's 20 minutes.

That's a maximum 15-minute allowable time which can be done twice. So that's half an hour maximum usage per week. That's the maximum allowable if that's what you would like to switch to. But ideally, if one keeps it at 10 minutes per session and two sessions per week for someone who has a lot of wrinkles and fine lines, that should be enough.

Conclusively, 30 minutes per week is the maximum one can use the Lumo, irregardless of the age group.
Will the EMS mode make my facial muscles more prominent?

In regards to whether it defines the facial muscles, yes, it defines them, it tones them, it does not make them too prominent. What it's doing is essentially strengthening muscles that have weakened over time due to natural ageing. It does so by actively stimulating them causing hypertrophy (the increase in the muscle fibres units). So this is what it's doing, which causes definition to areas which naturally have to have definition such as the jawline. The other muscle that one would have that would weaken and because of gravity would loosen and contribute to the look of the sagging. Jowls, for example, or the neck region and what EMS is doing is again firming up and toning those muscles and causing hypertrophy causing the going back to normal of those muscles, how they used to be when, when one was in their twenties or even thirties versus when they're in their fifties and sixties.

Two things to clarify: One should never use the Lumo inside the orbits of the eyes. Please find the attached device manual. It will show you which areas to avoid (eye sockets and thyroid) while using the Lumo. As a rule, you cannot use it within the eye socket, all the soft tissue within the lining that is inside the eye socket is a no-go or the orbits of the eyes as we refer to them. Now, using it outside is perfectly fine over the cheekbone, over the temple and over the eyebrows as well as the nose bridge.
I cannot feel any heat while using the Lumo. Is this normal?

In the RF mode, or even the EMS that does still deploy RF in tandem with microcurrent, most people either feel a slight warmth or none at all. This is perfectly normal and consistent with the preprogrammed operation of the device as RF waves aren't exactly targeting the epidermis where most of your heat and pain receptors exist, instead, they are targeting the dermis, and that too, in very specific collagen containing depth band. 

We've worked very hard in our R&D efforts to take away much of the pain and heat, and to enable users to seamlessly use the device. Thus, the real surefire way to know how that the device is doing what it's supposed to is by taking weekly pictures and noticing closely the changes in skin texture, smoothness and overall laxity. Again, note that absence of heat or pain should not be taken as an indication that the device is not working as intended, and on the contrary, it is the presence of excess heat or pain that may signal malfunction (if there were to ever be one).
Does the Lumo cause loss of volume in the face?

The Lumo has been specifically designed to preserve fat. Whereas the fat pad sits at 6mm or deeper in the dermis, the Lumo's targeting is limited to a controlled penetration depth band between 1.5mm to 4mm.

As a result the Lumo's radiofrequency (RF) waves do not interact with the fat layer at all, thus ensuring the collagen synthesis is unregulated without heating up the fat pad - the goal being: stimulation of collagen and maintainable of as much fat as possible, for a full/ tighter look to the face.

As you can see from the attached photo, the wavelength of the red light of the Lumo is only 650 nm and it's not touching the fat layer. We don't want any interaction with the fat layer of any of our devices where the goal is anti-aging (collagen buildup without causing a fat loss).
What can I do if the Lumo is too powerful for my face

Kindly note that the EMS microcurrent of the Lumo is more powerful than that found in most standalone microcurrent only devices. This is by design and we often hear back from certain segments of the population (especially those with sensitive skin) that they find this mode quite powerful and thus experience such a strong microcurrent sensation. As is always our recommendation is such instances, please note a few things we'd recommend:

The user can always modulate the power by:

Either just using water, in case any cream/gel/serum that you have used has been highly conductive and thus is causing you too much discomfort.
Opt for a lower water-based conductive gel, such as an Aloe Vera gel that most of our customers tend to find somewhere in the moderate-conduction range.
Given how powerful Lumo is, it can work without any conduction medium, thus it can always be used with water-only, this is always an option, in which case you will likely find the conduction moderate if very small amount of water is lightly sprayed onto the face (and/or neck / décolletage) or if that too is too much, you can use the Lumo without any conduction medium
Use the device for a shorter period in the EMS mode e.g. 20% on the EMS mode, and then switch for a longer period for your session to the first radiofrequency mode of the device (first mode when you turn it on) namely the remaining 80% of the time, and thus you'll be able to get the main anti-aging benefit of the RF by being able to go up to intensity level 4 or 5 given that you won't be feeling much unease at all - at best you'll feel some warmth. If in any case EMS is causing too much pain or discomfort, you can switch to using the RF mode only, without the microcurrent sensation, which in terms of the anti-aging goal is one technology that truly delivers the desired results.
Use the EMS mode at the lowest intensity setting so that your skin gets used to it for a couple of weeks and then gradually increase intensity as your skin gets used to the microcurrent.

At the end of the day, the Lumo is by far the most powerful at-home device, and some of that extra strength is what make it so effective at turning back the clock on aging in some of the crucial area of the face and neck, and thus, we hope that if users are still feeling a bit of discomfort (even after trying out the various options and finding the one that works best for them), that hopefully it's something that's manageable, and we hope the results more than make up for the temporary discomfort!
Is the Lumo approved/certified?

The EvenSkyn® Lumo is in full conformity with all the FDA regulations and guidance (please refer to Docket Number: FDA-2006-D-0300). Additionally, the Lumo is in full conformity with Health Canada, CE, RoHS, CQC and PES regulatory compliance requirements as well. Further, it is made in our facilities that are fully ISO standards compliant (ISO13485, ISO900)

Given the Lumo is a clinical-grade device suited for home use, it is FDA approved indeed. Very few at-home devices come close to delivering results that cosmetic clinics offer, and this is usually quite understandable given the safety concerns surrounding where a person is doing the procedure themselves.

However, our background as a manufacturer (since the 1970s) of commercial components for professional machines used in cosmetic clinics has helped us build safety measures in place that minimise the chance of damage, while offering as powerful a device as we possibly can for home use.
How long does it take to see results from the Lumo?

As much as we'd like to be particular, it honestly can vary from person to person based on a number of factors (genetics, age, prior skin health, etc.). However, as a general rule, the Lumo is not a magic pill that'll show results in a week or two. It's using our most advanced RF technology which we help build into clinical machines as well that get used in clinics.

As such, it works to produce new collagen and elastin fibres which cumulatively add up in the form of volume which lessen the appearance of wrinkles—a process that makes the skin look better month after month. Some of the very best results take up to six months to start showing.

However, some users have reported seeing clear, visible, positive results in as little as two weeks. Appreciating that this is an investment and that there's a slight learning curve we provide a two-month return period, as per our 60-day Money Back Guarantee, to ensure you can buy it with peace of mind. Here's one of many video reviews of the device on YouTube where the user shares her 6-month review.
How is the temperature regulated and maintained?

The Lumo has a built-in intelligent sensor that maintains a temperature gradient whereby the dermis and epidermis temperature difference is not allowed to exceed the safety threshold, thus ensuring maximal dermal heating without allowing for it to be counterproductive. Thus its intelligent heating actually gets the skin up to 140 degree Fahrenheit, before rapidly decreasing and maintaining the heat at 104 to 107 degree Fahrenheit after 20 seconds. 

The initial 20 seconds of heating leads to dermal contraction while the return to the lesser 104 degrees (and holding steady at that temperature for the rest of the treatment duration) helps with thermal stimulation of collagen to help remodel and grow. Thus, the heat stimulation using the RF and with this dual-temperature-feature gives the Lumo the edge in terms of speed and magnitude with which anti-aging results could be realised. Also to clarify, the warming of the dermis up to 140 degrees Fahrenheit, does happen only at a depth of 1.5mm to 4mm, thus, this is intentional and by design that you're not going to feel this very high temperature on the surface of your skin.
How does the Lumo compare to Morpheus8?

Please note as follows:

 Morpehus8 is a commercial-grade treatment where both microneedling and RF and done simultaneously. The Lumo, being an at-home device, only has the RF component.
Lumo is used once weekly, whereas Morpheus8 treatments are typically done at least a month apart in most cases, and usually for those with moderate aging, three treatments in total can make quite a difference. The Lumo, due to it being at around a tenth of the power of Morpheus8 thus needs to be used with much more frequency, and to see the same results as 3 treatments of Morpheus8 would show in around 4 months, one would need at least 6-8 months to see similar results with the Lumo, and the results from Morhpeus8 may still be better since it has the added benefit of having microneedling.
Doing both at the same time is definitely not recommended as that would be doubling up on the RF-based stimulation but up until a couple week before a Morpheus treatment one could use the Lumo. However, post-treatment with Morpheus8, the window when use of the Lumo can begin/resume is much longer as the healing can take a while from the commercial-grade treatment.

This would typically be at least a month (if not longer) after one's last Morhpeus8 treatment and the certified professional / Doctor responsible for either performing or overseeing the Morpheus8 treatment will be best able to advice when the person can begin using an at-home RF device. 

 The Lumo does have other helpful technologies such as microcurrent and red light therapy, the former of which helps with contouring and defining face & neck muscles by giving them a light 'workout' through contraction and release cycles, and the latter of which also stimulates collagen and elastin fiber production.
Can I use all Lumo's modes in one session?

Since it is not recommended to use the Lumo on a daily basis due the powerful technologies that are incorporated, please note that we do not recommend exceeding the 5 - 8 minutes per session, and 15 - 20 minutes per week. Thus, if you are doing 3 sessions per week due to severe signs of ageing, you can go up to 20-25 minutes per week (three 5 - 8 minutes per session = 15 - 25 min per week), but that is the maximum one can go and we would not recommend it in most cases.

Moreover, within a session you could either use the EMS mode for all 5-7 minutes (or 15 minutes if once per week) or combine all the modes in one sitting, that is while staying within the approximate time we recommend e.g. ION mode for 2-3 mins, ENI mode for 2 mins and EMS 3-5 mins (total 7-10 minutes – given you are leveraging most or all of the modes) or you can combine them as you wish based on the benefits you want to extract most.  You can cycle through all the modes in a single sitting, but if anti-aging is the goal, we'd recommend spending most of your usage time in the EMS and RF modes. This is because it deploys all the anti-aging technologies in the Lumo simultaneously. As per the time between sessions, you should know that the Lumo is professional-grade and the time between sessions is required (ideally a whole week between sessions if a user is not in a rush) to allow for more complete healing and tightening.
Can I use the Lumo after a face-lift?

In regards to facelifts, there is some downtime as we want the skin to heal before resuming/beginning radiofrequency treatment. Please note that with a surgical face-lift, it takes much longer to heal. 

However, if it was a cosmetic lift, the downtime is generally less. Therefore, we recommend consulting with the medical professional to see when it will be safe to undergo radiofrequency treatment.

We typically recommend waiting until your face is 90% healed. Whenever that will be, once given the OK by your doctor, you're more than welcome to use the Lumo.
Can you use the Lumo if you've had a metal hip implant/hip replacement?

The Lumo is alright to use on the face, neck and upper chest area where the only implant(s) the user has is in their hip or lower extremities, as the concern with using the Lumo have more to do with heating of the implant by the RF than anything else. Therefore, it is a localized concern and since completely different and distant parts are concerned, where there are no implants in the areas of the face, neck and upper chest then there should be no issue using the Lumo.
Can I use the Lumo in tandem with professional RF in-clinic treatment?

No, it is most definitely not advisable to combine the Lumo with any commercial and clinic session. In fact, one has to observe the minimum healing time recommended for that other commercial treatment they're doing so depending on the amount of energy applied by the commercial system, which typically this tends to be 10 times that of the Lumo, which requires anywhere from 4 to 8 weeks, minimum of wait time because that is rather healing time, which could be understood as the wait time before one can use the Lumo.

There's no exceptions to the rule and we don't want to overstimulate and cause harm. We do recommend that if you do want to use your Lumo, you can buy four sessions, for example, from the clinic, and if they typically can be four months apart, they would then make them six months apart and in the meantime, after about 3.5 weeks or so, you may start using the Lumo weekly, even twice a week and do that for a month and then stop about two weeks or three weeks before they're gonna do their second session, six months away from the first one they did in clinic.

So again, if you do space it out more this way, you can work in the Lumo in the intervening period after some waiting and also pausing a little bit before at least a couple of weeks before the next big session because the Lumo is not as big of a stimulator as the commercial.

So waiting after a commercial session is at least four weeks but before starting a commercial session, one can stop using the Lumo a couple of weeks before or even a week before and then they can do their commercial session in clinic session and then wait that longer period.

Ultimately, professional RF treatments and the Lumo should not be mixed in simultaneously.
What's the difference between the Lumo and other RF Technology devices on the Market?

The Lumo has a number of advantages over other 'at home' anti-aging devices. It leverages EvenSkyn's 30+ year manufacturing components for commercial-grade clinical machines, and as such, has specific, powerful, and semi-professional grade radio frequency (RF) technology as its defining feature. It then also contains EMS (Electrical Muscle Stimulation), LED phototherapy and sonic massaging—all of which, in a combinatorial fashion, help with growing new collagen in aging skin.

While many other devices purport to do the same thing, the Lumo, as per our own claims (backed up by more powerful specifications) is as close as one can come in an 'at home' device to in-clinic treatments. We offer a 60-Day Money Back Guarantee and a comprehensive 1-Year Manufacturer's Warranty. Usually by the 8th week most users will have started to see some improvements with consistent weekly or twice-weekly usage, with more significant results showing up at subsequent monthly intervals.

There are many tiers of devices out there and we understand the Lumo is not exactly the cheapest device on the market. However, we're the same company that makes components for Thermage, the clinical-grade in-clinic RF skin tightening system. The Lumo is not even remotely comparable to a RLT-only device and is primarily an RF system that while incorporating RLT also features very strong EMS currents to tone facial muscles, as well as a cooling system to cool the skin after the RF superheats the dermis to up regulate collagen production and remodelling.

As such, such features, especially with its premium build quality, end up costing quite a bit and despite all that it's still cheaper than a single in-clinic session of a commercial grade skin tightening session such a Morpheus, Ultherapy or Thermage—and you get to own it and keep it with a 60-Day Money Back Guarantee return policy and the device by default coming with a one year comprehensive Manufacturer's Warranty.
How long per session can I treat all three regions (face, neck, and decolletage) with the Lumo?

Typically, we recommend one session per week for those who are not used to RF/Microcurrent treatment for about 4-5 sessions until the skin becomes acclimatised for about 15 minutes per session and 1 hour and 30 minutes per week of overall usage. After 4-5 sessions, you may up your usage to twice per week.
What is the measurement of micro amps in the EMS Mode in the Lumo?

Our device is 15 million amps. That is 1500 micro amps at level five intensity starting at level one where it is at 300 microamps in the EMS mode. So the first lowest intensity of the EMS Mode is 300 microamps. It then jumps by 300 micro increments to 600 in the level 2, 900 level 3 1200 then 1500 respectively. That's for level 1-5 of the EMS mode.
Can you use a Retinol or Tretinoin product with the Lumo?

As long as the Vitamin A or its derivative, be it synthetic Retin-A, or in another formulation of Tretinoin and the solution or skin care product/medium applied is water-based and void of any oils then this should be fine to use with the Lumo.

However, If you're looking to apply it after using the Lumo, if the percentage is 0.5% or lower and if it's OTC (over the counter), then giving it a day after using the Lumo is required. If it is 1% or higher or prescription grade, ranging upwards of 2% anywhere above 1%, we would recommend waiting a longer period of a minimum of four days. Ideally, waiting a week would be best because it can cause irritation and inflammation especially in sensitive skin types.
Can the Lumo be used with Fitzpatrick skin type 1-3?

When it comes to the Fitzpatrick skin types, there is no limitation to the types of skin types on the Fitzpatrick scale, that one can use the Lumo simply because the Lumo does not stimulate the pigment producing cells that are in the epidermal layer of one's skin and they bypass and go right to the dermal layer, the RF waves that is okay as well as the EMS which goes right to the muscles below. So there is no engagement or you know stimulation of the epidermal layer, which is our top layer of the skin, which contains our pigment producing cells and therefore, there is no limitation due to the heat of the RF because the heat of the RF is being focused into the lower dermis, the dermal layer. That's where the heat is concentrated, which causes the stimulation of that layer, which which by heat, which causes the production of collagen and elastin fibres, which is what depletes over time as we get older as that is exactly what we're replenishing and that is where the heat is being focused.
Can I use the Lumo after a chemical facial peel?

We generally recommend at least 14 days (or after your skin has healed) once you receive the facial to undergo RF skin tightening. We recommend that one should wait as long as possible to ensure that the skin is fully healed. However, please note that healing times may vary depending on the strength of the peel. So for this reason, it would be best to check in with the professional who gave you the facial peel to confirm an approximate healing time.
Can the Lumo be used on a double chin?

If, as a result of natural ageing, there is excess skin / sagging skin that is collecting in the lower jaw / neck region, then most certainly the use of our Lumo device would help firm, tighten and lift said skin to the extent that elasticity of one's skin would permit. However, in some cases, the appearance of a double chin is the byproduct of one excess fat deposition in the lower part of an individual's face, and given that Lumo has no effect on melting or heating the fat layer of the skin, there would be no improvement seen if this is the case.
Can I use a high frequency device with the Lumo?

As long as you don't exceed a total ~25 minutes of use per week (counting only the first four modes as the cooling mode doesn't have any RF), then you should be fine. However, do note that since the Ion cleansing mode is a very deep cleanse it also can remove natural skin oils that protects your skin from drying out too much, as such, we typically recommend either using the Ion mode on at least an alternating day basis (or even less), or if they make use it often then to engage in the application of enough moisturising skin products post-use to help the skin stay healthy.
I have metal implants/screws in my face. Is it safe to use the Lumo?

While there are no contraindications for implants and/or screws that lay much lower than the 4mm penetration depth of the Lumo's RF waves, consulting a medical practitioner intimately familiar with one's unique medical condition is recommended because in addition to the lesser concern of overheating the material, conduction may also become a potential issue where the EMS microcurrent comes on.

If the metal lies much lower, there should ideally be no issue using the RF-only mode of the Lumo to rejuvenate the collagen in the dermis. But again, as mentioned above, every person's implants and medical condition make their situation unique. 

Thus it's best to consult your medical doctor before using a device such as the Lumo that combines microcurrent, radio frequency, phototherapy, and sonic massage therapy to deliver the best anti-aging goals.
Which conductor is best to use with the Lumo?

While we recommend the use of our very own conduction gel, you can use water alone if you choose to opt out of using our gel. Since the device is so powerful, you can always use a spray bottle filled with water to lightly spritz your face after thoroughly cleansing. Using water alone will serve as a great conductor. However, it is recommended to use any water-based/oil-free gel. Especially if they contain anti-aging ingredients such as Hyaluronic Acid, Glycerin, Peptides, or Vitamin C.
Why is my eye/mouth twitching after using the Lumo?

Everyone will feel some kind of sensation - whether it would be mild twitching or none at all. Please keep in mind that it is normal to feel a twitching sensation. Only a very small percentage of users will feel a very strong sensation of twitching. It's based on the sensitivity of your skin to the microcurrent. In EMS mode, most people do feel something. However, the only other factor is the product(s) that you're using with it. For example, if you're using Aloe Vera gel, that can cause how much sensation you're feeling while using the device. There are several dedicated gels such as ultrasound gels, prep gels, or Hyaluronic gel. We recommend you try and test certain products to see which one(s) will help you feel less or more of the twitching sensation you're experiencing. Ultimately, whether you're feeling the twitching or not, the device is still functioning and you're definitely not doing anything wrong while using your device.
Is the Lumo safe to use with BOTOX and/or Fillers?

Almost every board-approved filler on the market, ranging from HA fillers to BOTOX, are all approved for use with radio frequency skin tightening as employed by the Lumo or the Thermal collagen stimulation that's employed by the Venus device. Generally speaking, the main concern for researchers has been the thermal or heat stability and as long as a filler is able to withstand heat up to 140 degrees Fahrenheit (which almost all are, and can tolerate well above that temperature), then there are no other issues that make the use of radio frequency over the fillers a concern.

The Lumo is specifically designed to only stimulate the dermis layer of the skin and all the aforementioned fillers are inserted in the subcutaneous layer where the Lumo simply has not effect or interaction.