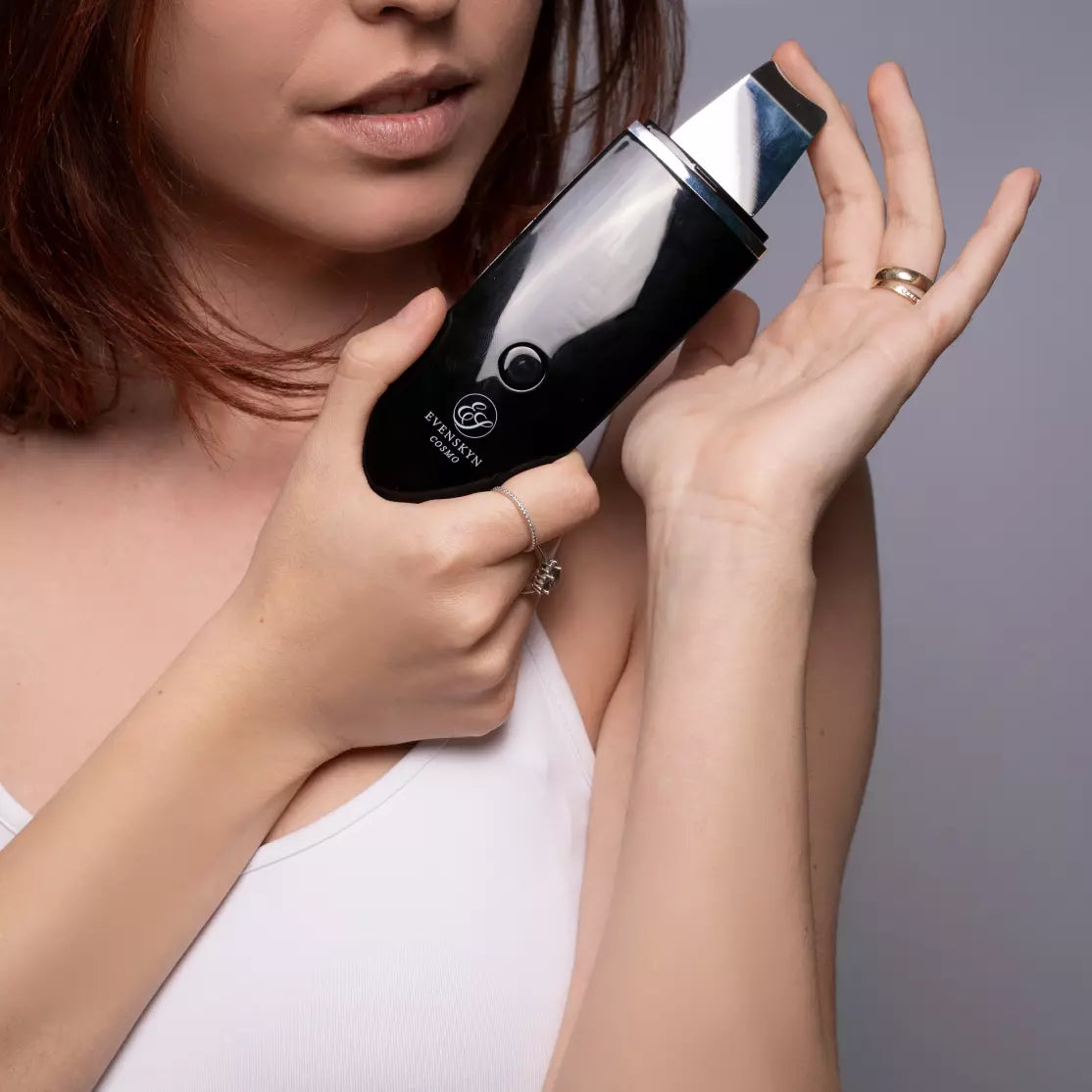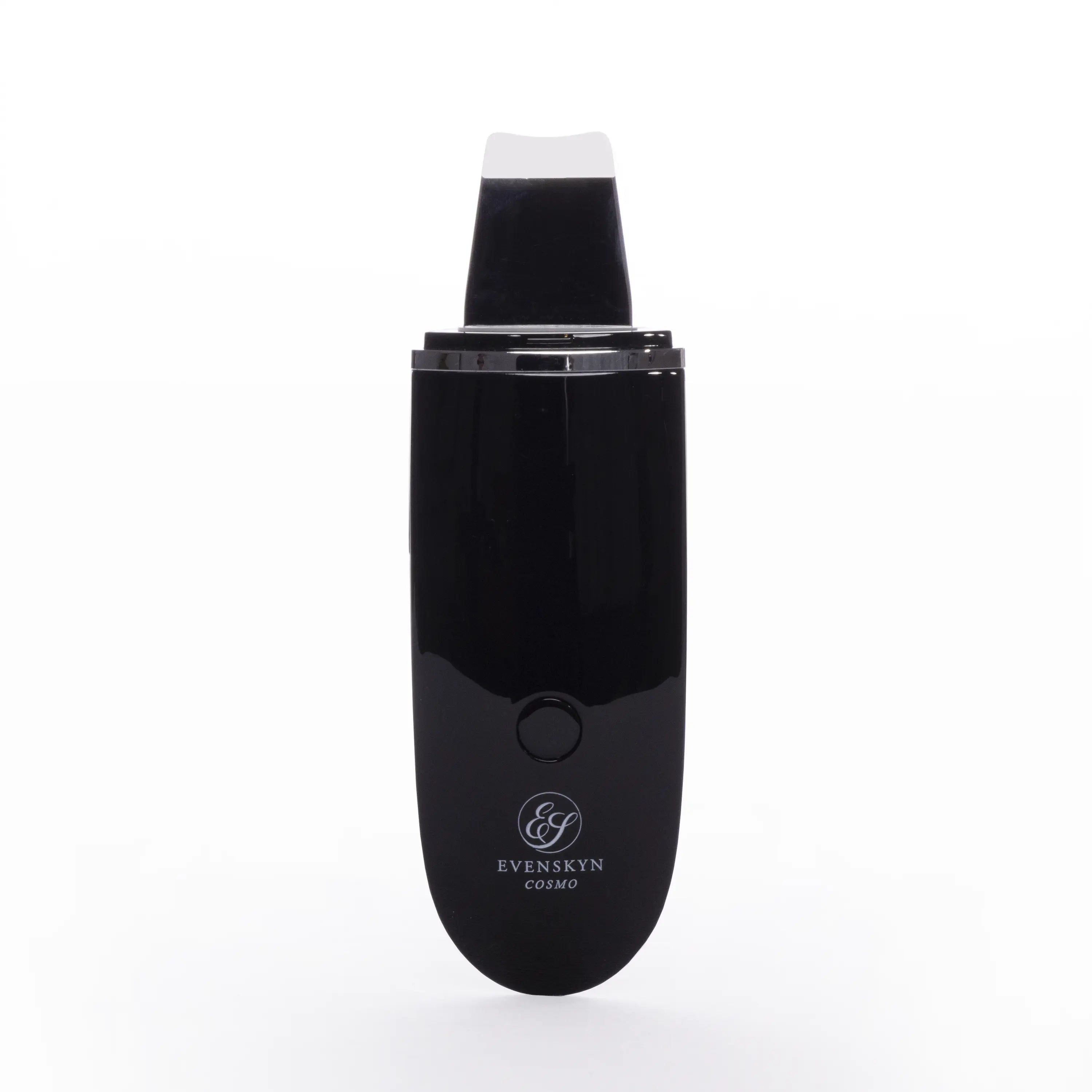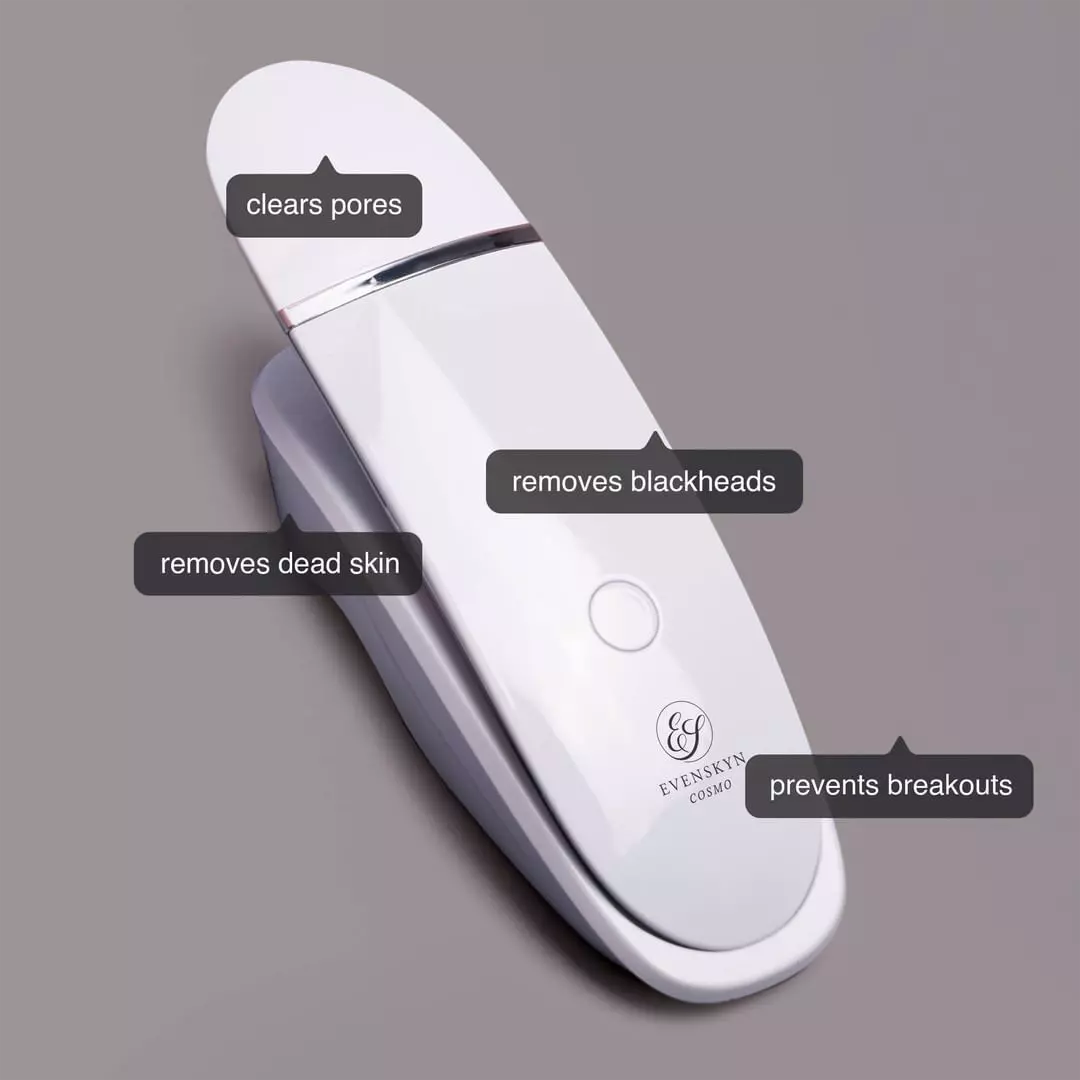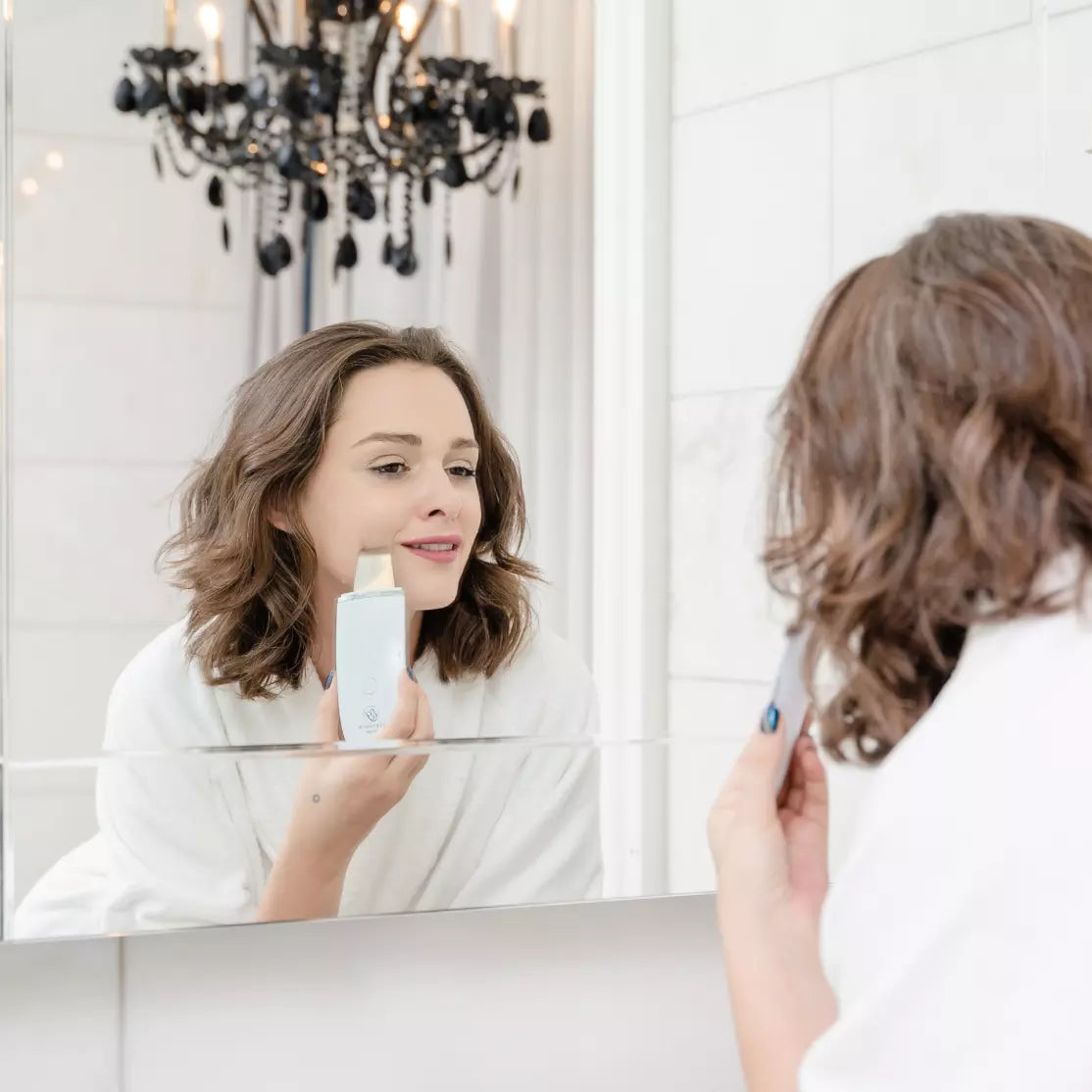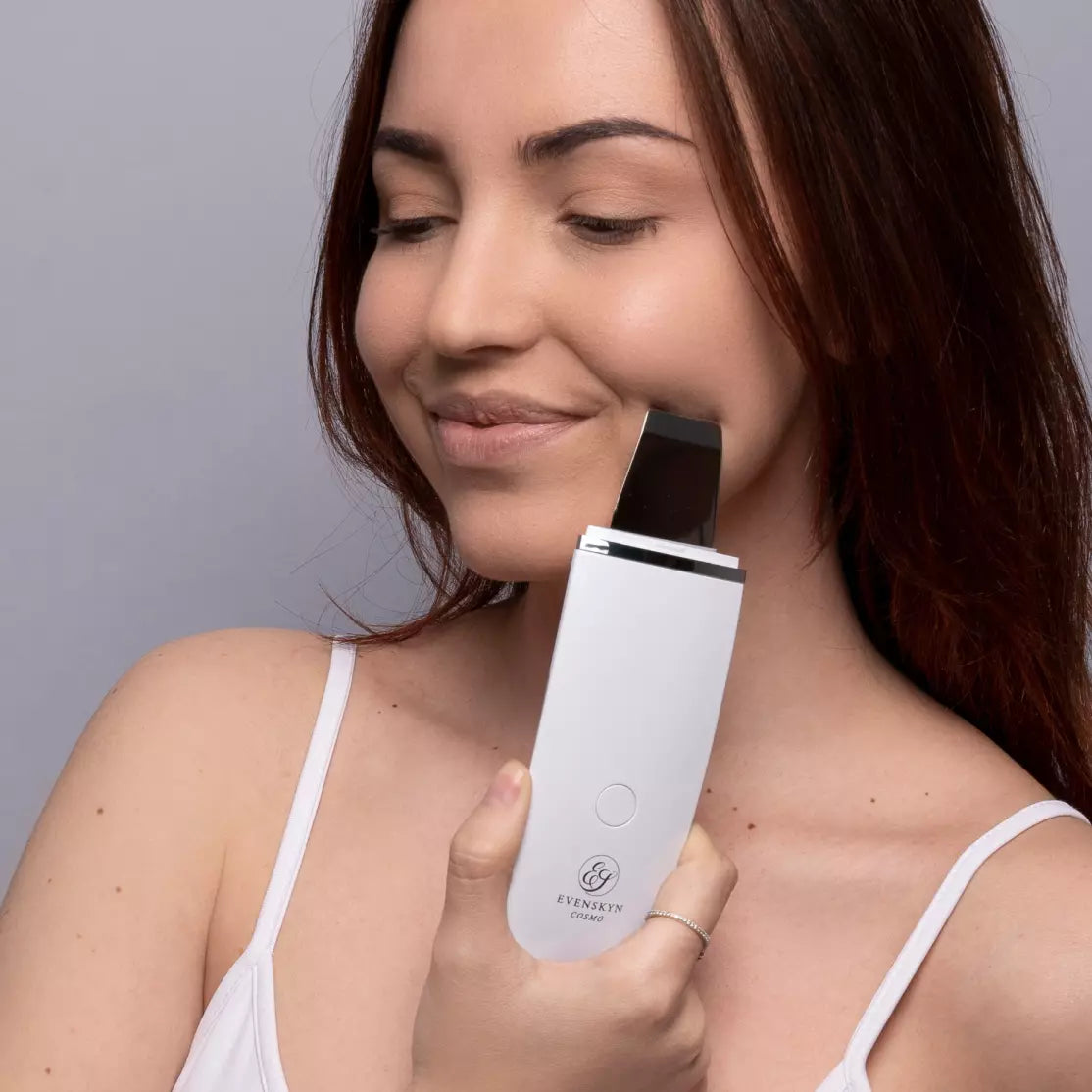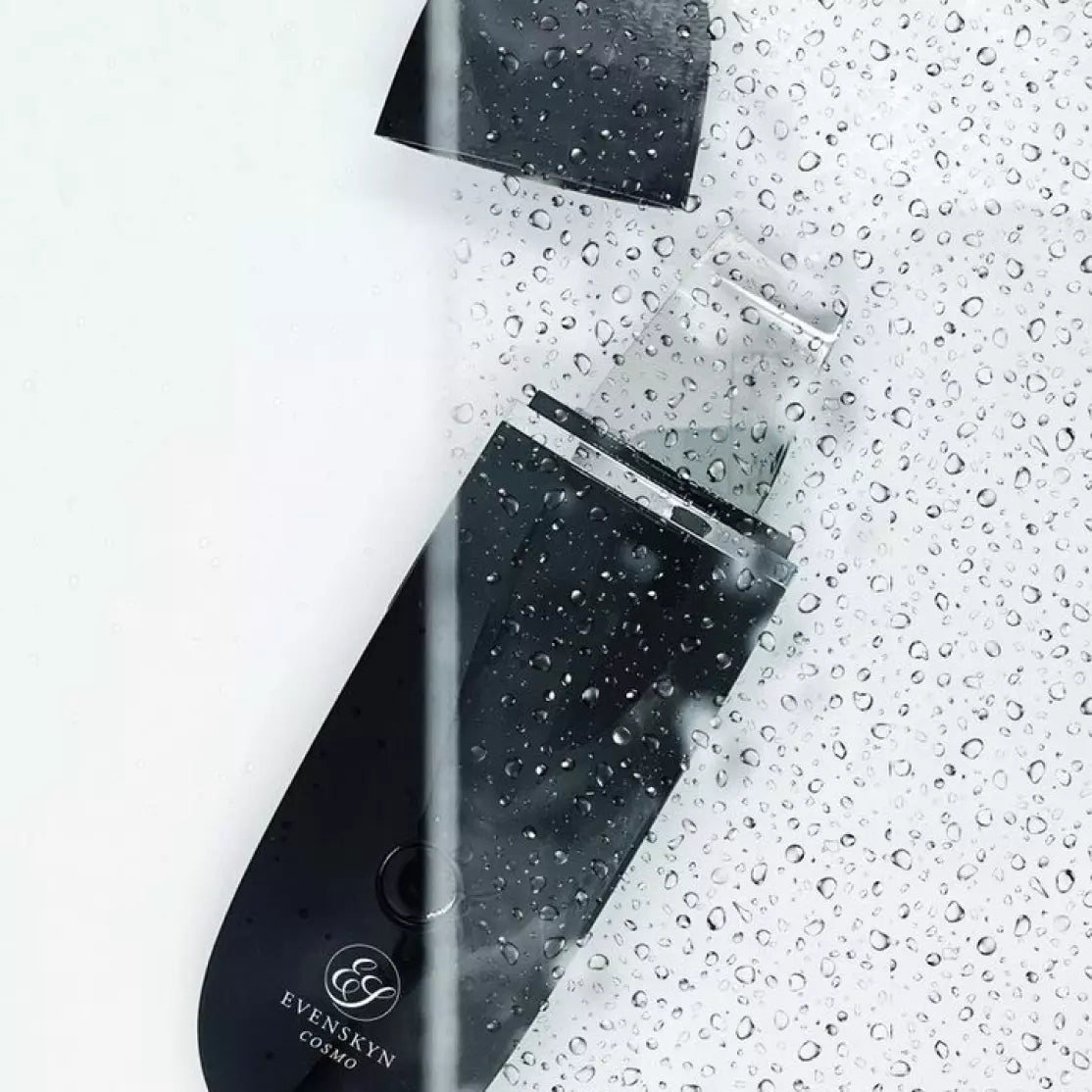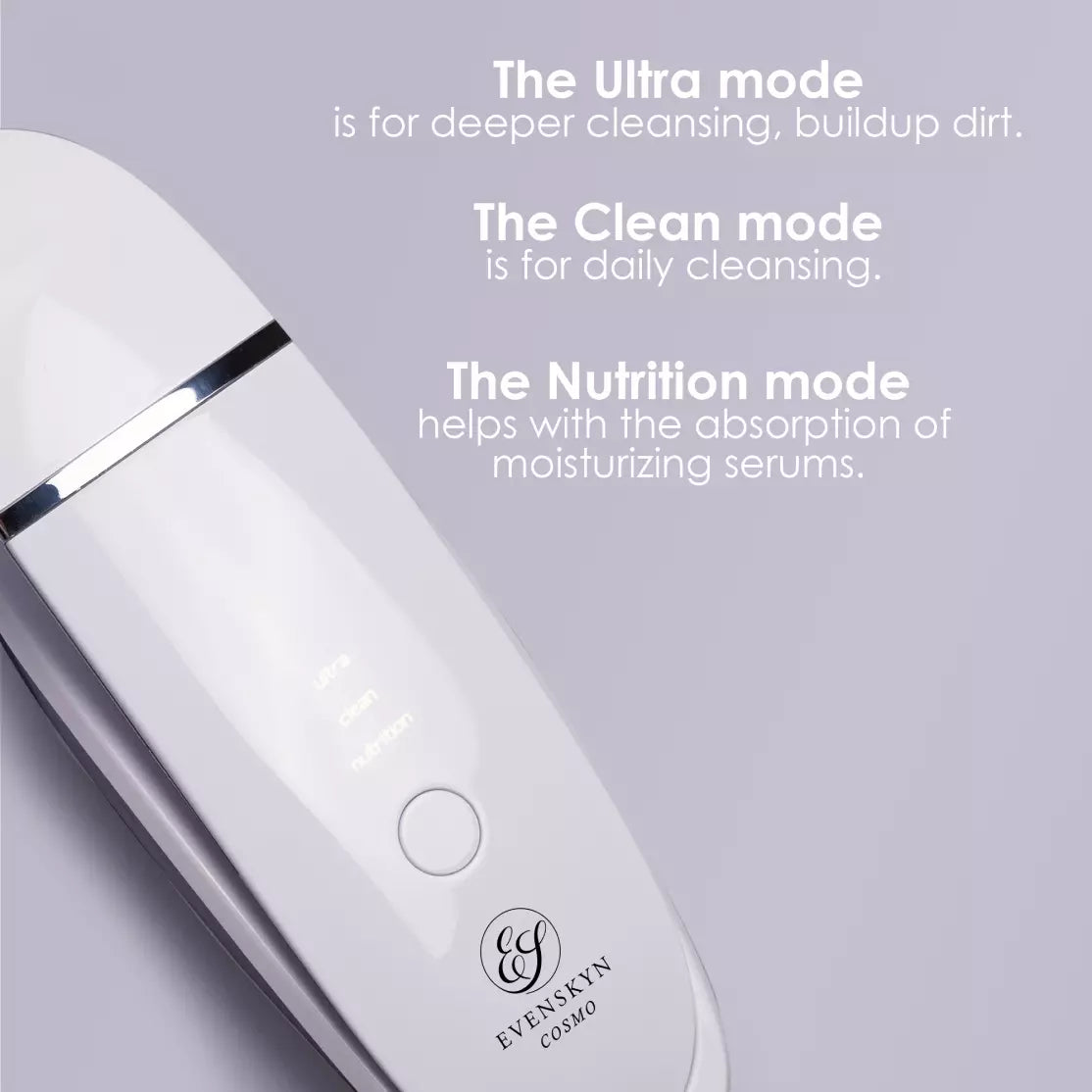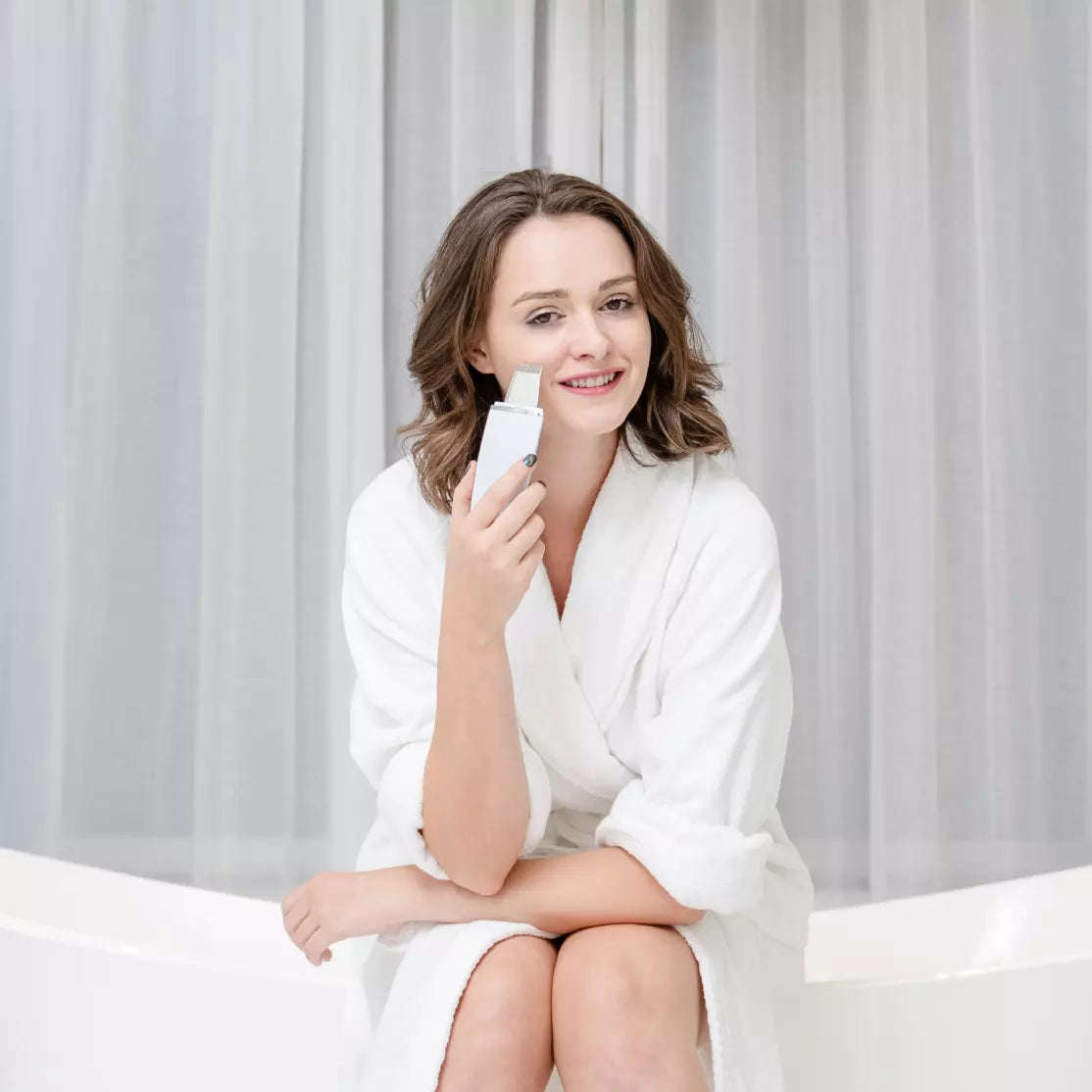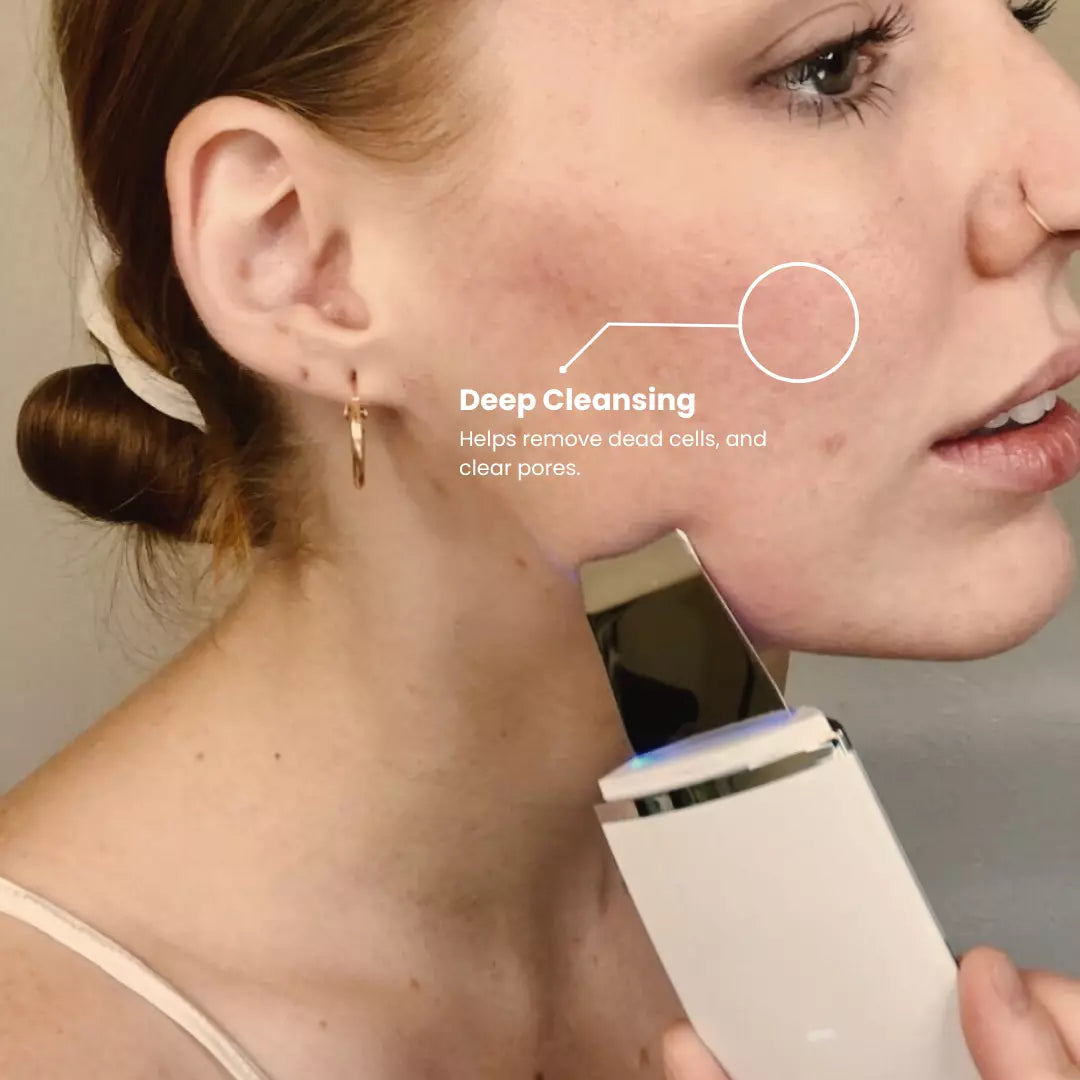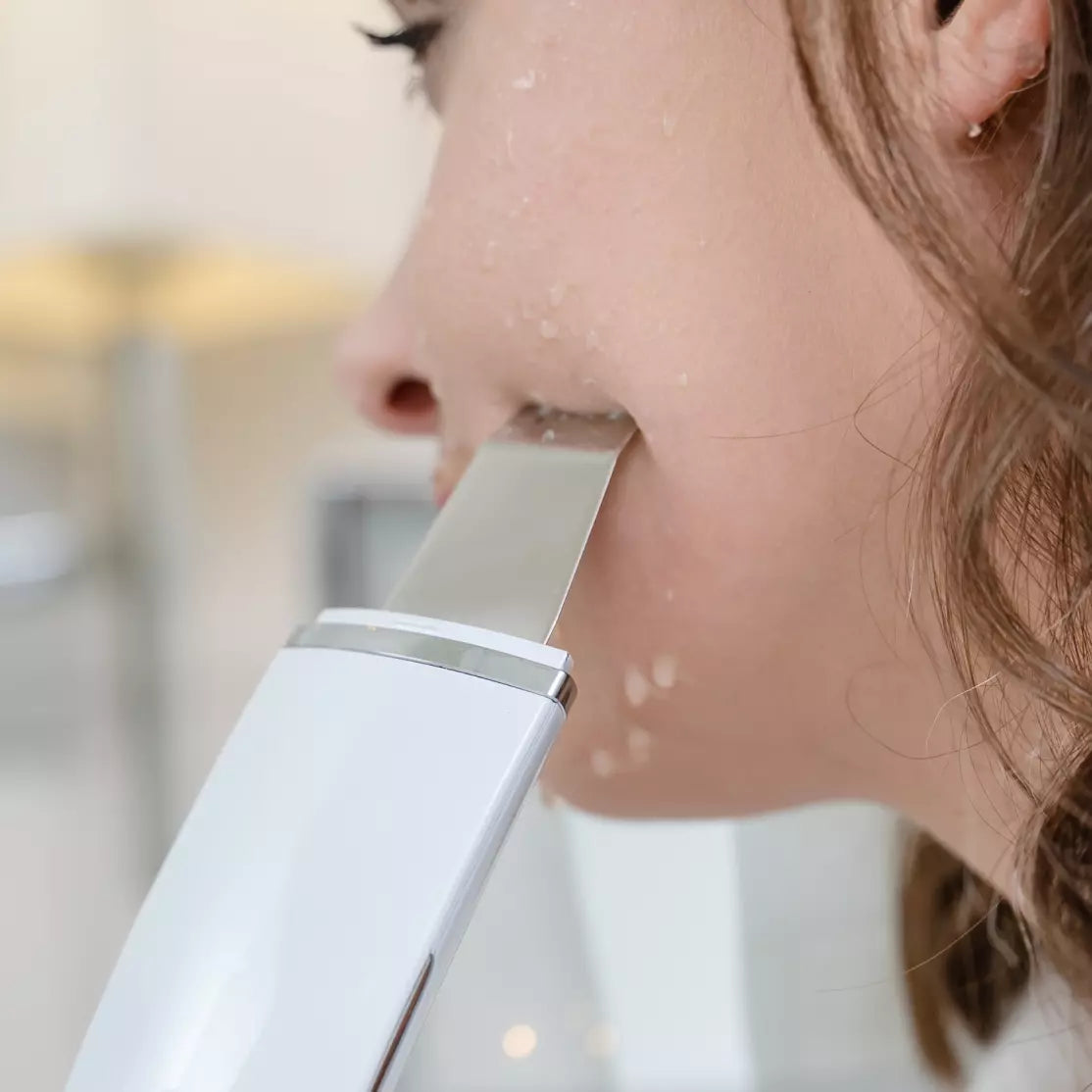 Ultrasonic Facial Cleanser
The Cosmo is a revolutionary ultrasonic facial cleanser that helps keep your skin clean and healthy. With three modes (Clean, Ultra, and Nutrition), Cosmo is designed to suit your every skincare need. The Clean mode is perfect for daily cleansing, while the Ultra mode helps remove buildup dirt and unclog pores for a deeper cleanse. The Nutrition mode is specifically engineered to help your skin better absorb moisturizing serums.
Its 24,000 Hz per second vibrations gently scrub and exfoliate, removing dead skin cells and blackheads without causing any discomfort. Meanwhile, the Blue Light Therapy feature helps kill acne-causing bacteria for clearer skin. Get the glowing, healthy-looking skin you deserve with EvenSkyn Cosmo
Ultrasonic frequency: 24,000 Hz
Blue Light Wavelength: 465±3 nm

Technical:
Power: 2.2W
Battery volume: 600 mAh
Net weight: 205g
Size: 175x20x52
Input: AC 100-240V, 50/60HZ; Output: DC-5V, 1A (Rechargeable)
Waterproof Level: IPX5 (Device only, charging base is not waterproof)

Safety Certifications: FDA Registered, Health Canada, CE, RoHS, ISO 13485
---
Add the discount code COSMO50 at the checkout page
60 Day Money-Back Guarantee
The Ultrasonic cleanser produces 24,000Hz per second of ultrasonic waves that effectively loosen clogged pores and exfoliate the skin to remove dead skin cells, painlessly.

Micro-current pulse technology & intermittent ultrasonic help boost cell collagen regeneration and activates cell vitality, ensuring your skin remains moisturized and healthy.

The positive ION helps remove dirt and deeply cleanses the skin. It accelerates the speed of skin cell metabolism, softens old keratin, restores skin elasticity and helps keep skin feeling tight and smooth. The negative ION nutrition leading-in function helps break down and refine larger molecules such as collagen to massage and support your skin to easily absorb nutrients.

Blue light therapy at wavelength 465±3nm diminishes inflammation, kills the bacterium and propionibacterium acnes, removes acne and scars etc.
EvenSkyn Cosmo
USB charging cable
Charging Base
User Manual
Pouch Bag
How to use the Cosmo
Unleashing the Power of Dermal Technology
Set-up Device
Ensure the device base is connected to a USB power source and set the device on the base to ensure it is charging. When charging, the battery indicated above the power button will flash red. When fully charged the light turns blue and stays on.
Prep Your Skin
Apply cleansing product to your face and long-press the power button to turn it on. Short-press the button to switch between modes: Ultra, Clean, and Nutrition. Hold the device blade at a 45 degree angle and move it across the skin surface to activate the selected mode. Micro droplets may form as you use the device, and dead skin and dirt may accumulate on the blade edge.
Clean & Absorb
Typical usage time is usually around 3 to 5 minutes, and you should limit usage to 5 times a week. Also, if using frequently, try to use the device more in the Clean mode instead of the Ultra mode, as the latter can cause some sensitivity as it is for more aggressive cleaning and ideal for those individuals who only use the device every once in a while.
Features
Included treatments
Discover the transformative treatments and cutting-edge features that come included with our products.
Ultrasonic Waves
Ultrasonic waves help loosen dirt and grime from clogged pores, and help exfoliate skin to remove dead skin cells painlessly.
Wireless Charging
Red light flashes during charging, and blue light stays on when fully charged.
Blue Light Therapy
The 465nm Blue Light helps kill acne and breakout causing bacteria such as Propionibacterium acnes.
FAQ
Our FAQs section provides answers to common questions about our products, services, and terms. But if you can't find the answer to your specific question, please feel free to message us and we'll be happy to assist you.
Can I use both the Cosmo and Lumo together?

The Lumo and Cosmo actually work well together. The Cosmo, being the cleansing device, works on the surface while removing dead skin cells and the build-up of dirt and oil. Whereas the Lumo device targets areas below the epidermis including the elastin and collagen fibre production in the dermis. Both devices perform completely different functions as well. So, there are no issues with the pair working in conjunction with each other at all.
What is the difference between the three modes?

The first clean mode is designed to help remove dirt, makeup and built-up, while the second, Ultra mode, is designed for deeper cleansing. 

After you are done with the cleanse, you can move to the Nutrition mode, which helps with product penetration.
Why does it have blue light?

The 465nm Blue Light helps kill acne and breakout-causing bacteria such as Propionibacterium acnes.
The Comso comes with a charging base which connects to a plug.. You put the Cosmo device on the base and let it charge.
This product is rated 4.8 of 5.0 stars.
It has received 18 reviews.
This product is rated 4.8 of 5.0 stars.
It has received 18 reviews.
The experts in anti-aging skincare evenskyn