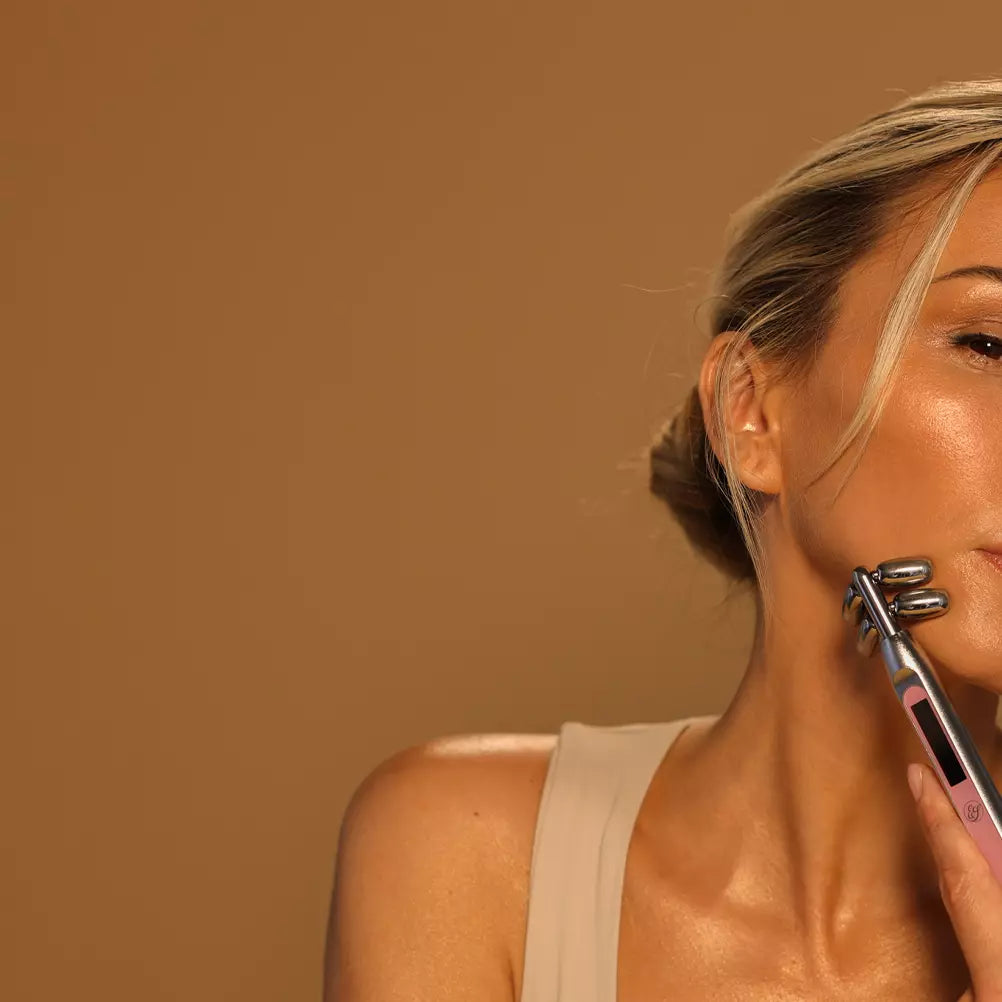 Frequently Asked Questions
Phoenix Inquiry Hub
Resurrect your knowledge of Phoenix by checking out our FAQs.
Here, we've compiled a thorough list of frequently encountered queries, accompanied by detailed and informative responses. If you have any additional questions not covered here, don't hesitate to reach out to our Support Desk or message us on social media.
I do not feel anything while using the Phoenix. Is this normal?

The microcurrent generated using the solar panel is 15 microamps therefore most people don't feel the strength of it. However, when you're rolling over the skin, most people do feel it in some areas, for example a common area you might feel a bit of a lifting pull is when you're doing the cheek bone area and moving towards the side of the eyes/temple area.

Yes, there aren't any lights on the device either. It has an internal battery that'll converse the solar generated low-level microcurrent and release the charge when you roll it over your skin. Again, usually with most of our products it's the results from consistent use that are a better indication of whether a device is performing as intended. Please keep in mind that it's more of a massaging tool than it is a microcurrent device in comparison to the Lumo, our flagship device, which is way more powerful when comparing it to the microcurrent EMS mode that the Lumo offers.
Can I charge the Phoenix in any other light aside from natural sunlight?

The EvenSkyn® Phoenix is a solar-powered premium microcurrent-based beauty device (non-medical) that converts both artificial (fluorescent lighting), as well as natural light, into pulses of moderated microcurrent to lift and tone the skin of the face, neck and décolletage.
How do I know if the Phoenix is on?

There is no exact way whether one can tell if the device is on/off as it is, by default, an 'always on' state once it's exposed to light. Once it is exposed to light, it begins to produce microcurrents.
What is the difference between the Phoenix and Lumo?

The Lumo is a clinical grade product combined with radio frequency, phototherapy and micro-currents with blue & red LED lights to stimulate collagen, while tightening and toning facial muscles and decreasing fine lines and wrinkles.

Whereas, the Phoenix is solar powered and the microcurrent is only 15uA. It is more of a skin maintenance tool and anti-aging expectations need to be lessened when comparing it to the Lumo or Venus (without a doubt).

The Phoenix is more as a de-puffing, temporary face lifting and face massaging tool that help with better lymphatic & fluid drainage, and leads to increased blood circulation ---all of which are great for ongoing health skin maintenance but are not going to lead to drastic results being noticed, as one would, for example, expect from the Lumo which leverage much higher-tier technologies like RF and EMS to actively stimulate and increase brand new collagen and elastin fibre synthesis/production.
How to clean the Phoenix?

You can use a damp cloth to clean the device, but it's best to avoid the solar panel of the device when doing so. The device also has a 100% metal alloy construction; thus, water or conductive gel will not destroy the device. We do not advise to submerge the Phoenix into water or be run under water as that may destroy the panel's screen core, weaken panel's screen surface or harm its efficiency.
How do I use the Phoenix?

You can hold the handle however it is suitable for you, however the rollers should be moving in an upward or outward motion for muscle memory as well as to get the desired results. You can hold the handle downward or upward as long as the rollers are moving in an outward/upward lifting motion.