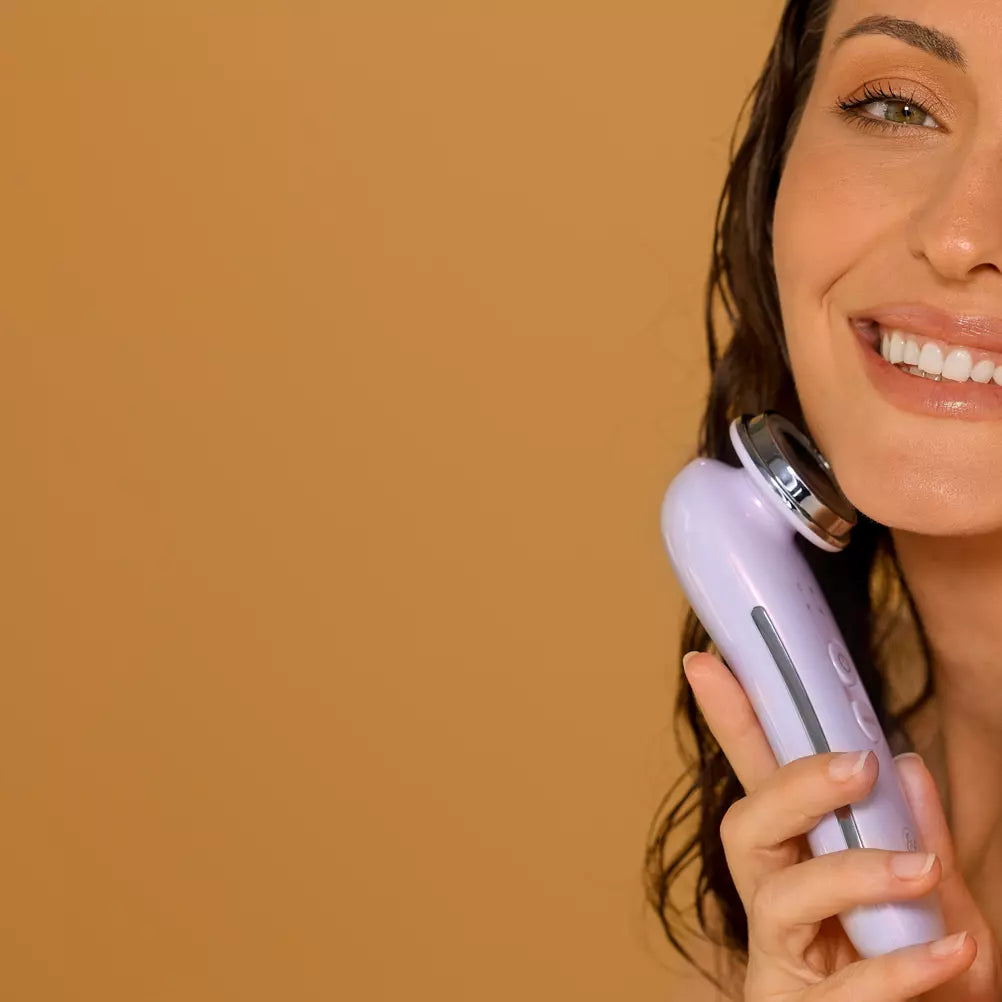 Frequently Asked Questions
Eclipse Inquiry Hub
Shed light on Eclipse inquiries with our dedicated FAQ section.
Here, we've compiled a thorough list of frequently encountered queries, accompanied by detailed and informative responses. If you have any additional questions not covered here, don't hesitate to reach out to our Support Desk or message us on social media.
What's the difference between the Lumo and Eclipse?

The Lumo is our premium anti-aging flagship device, designed to address more advanced signs of aging. On the other hand, the Eclipse is targeted towards individuals with minor signs of aging, serving as a daily toning and maintenance device.

While both devices share some modes, the price point and power output differentiate them significantly. The Lumo offers a higher intensity and is specially tailored for individuals seeking comprehensive anti-aging benefits. It effectively tightens, tones, and stimulates collagen production, helping to reduce visible signs of aging.

Conversely, the Eclipse is equipped with three intensity levels and six modes, including cleansing, lifting, massage, nourishment, photorejuvenation, and soothing. It utilizes ultrasound, microcurrent, and red & blue LED light therapy to provide deep cleansing, promote product absorption, and maintain a healthy complexion.

In summary, the Lumo is the ideal choice for those looking to target more advanced signs of aging, while the Eclipse is perfect for individuals seeking daily toning and maintenance, especially with minor signs of aging.
What are some common concerns addressed by the Eclipse?

The Eclipse addresses a range of common skin concerns, offering effective solutions for each one. For individuals troubled by skin laxity and sagging skin, the Eclipse helps to lift and firm the skin, restoring a more youthful appearance. If you are experiencing dull or tired skin, the device stimulates the skin to rejuvenate, leaving you with a revitalized glow.

Furthermore, the Eclipse also addresses the issue of inadequate absorption of skincare products. By using the device, you can enhance the active uptake of your favorite skincare products, promoting their deep penetration into the skin for maximum efficacy. This can result in better overall skin health and a more radiant complexion.

Another benefit of using the Eclipse is the reduction in the prominence of pores, helping to refine the skin's texture and promote a smoother look. Additionally, the device aids in the removal of excess oils, dirt, blackheads, and whiteheads, contributing to a clearer and more blemish-free complexion.
Who is ideal for a device such as the Eclipse?

The Eclipse is ideally suited for individuals between the ages of 28 to 45 who are experiencing moderate signs of aging. It is especially beneficial for those seeking help with facial contouring and toning. Additionally, the Eclipse is an excellent choice for individuals looking for an all-in-one solution that combines lifting, rejuvenating, massaging, and cleansing benefits.
Do I need a conduction gel to use the Eclipse?

For the first five modes, it is recommended to use water-based products like the EvenSkyn® Conduction Gel with the device. Alternatively, you can also use other water-based products, such as water-based toners for the Cleansing mode, water-based serums for the Nourishment mode, and water-based conduction mediums like Aloe Vera or RF/Ultrasound gels for the Lifting, Photorejuvenation, and Massaging modes. The Soothing mode is the only mode where a water-based product is not required, and you can apply a day cream, for example, prior to using the Soothing mode of the Eclipse.
How many modes does the Eclipse have?

Exlipse has six available modes which are as follows: Cleansing (C), Nutrition (N), Lifting (L), Photorejuvention (P), Massaging (M) and Soothing (S).
What is thermal activation?

Heat is generated specifically to cause thermal coagulation in the deep layers of the skin, which triggers a wound healing response & increased blood flow.
What is Focused Ultrasound?

Sonophoresis, causing droplets to vaporize on contact, stimulates collagen-producing fibroblasts cells and helps with enhanced cleansing & product penetration.