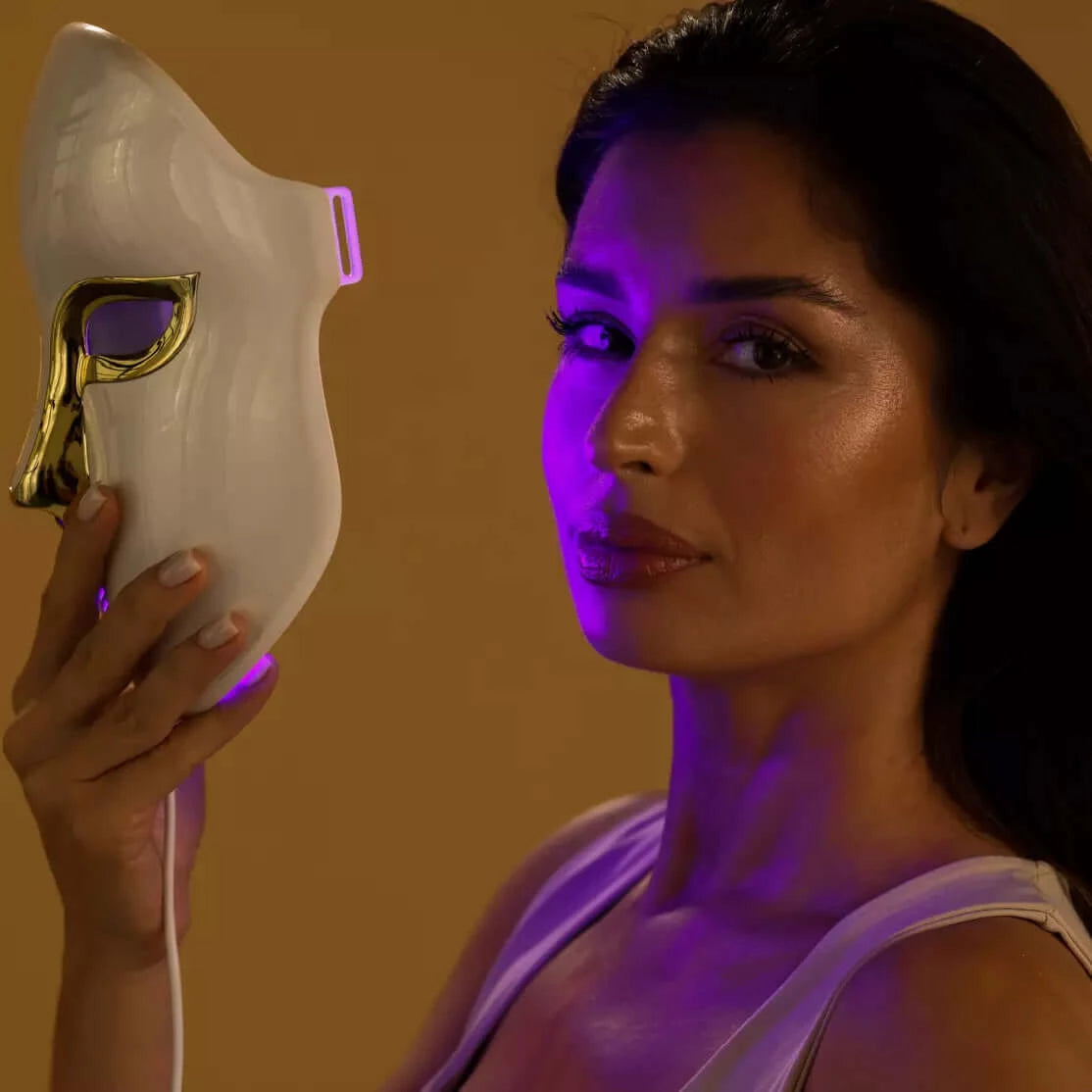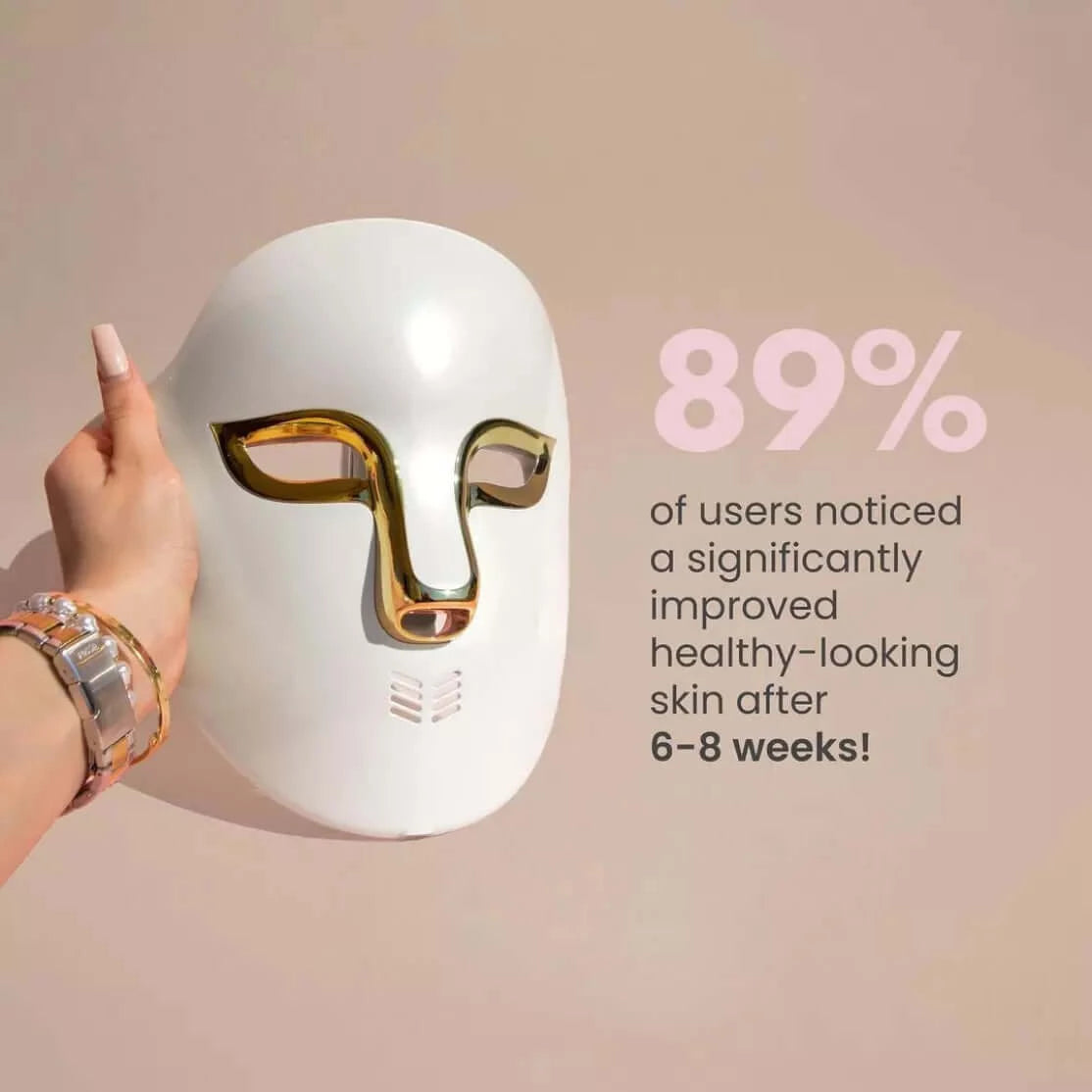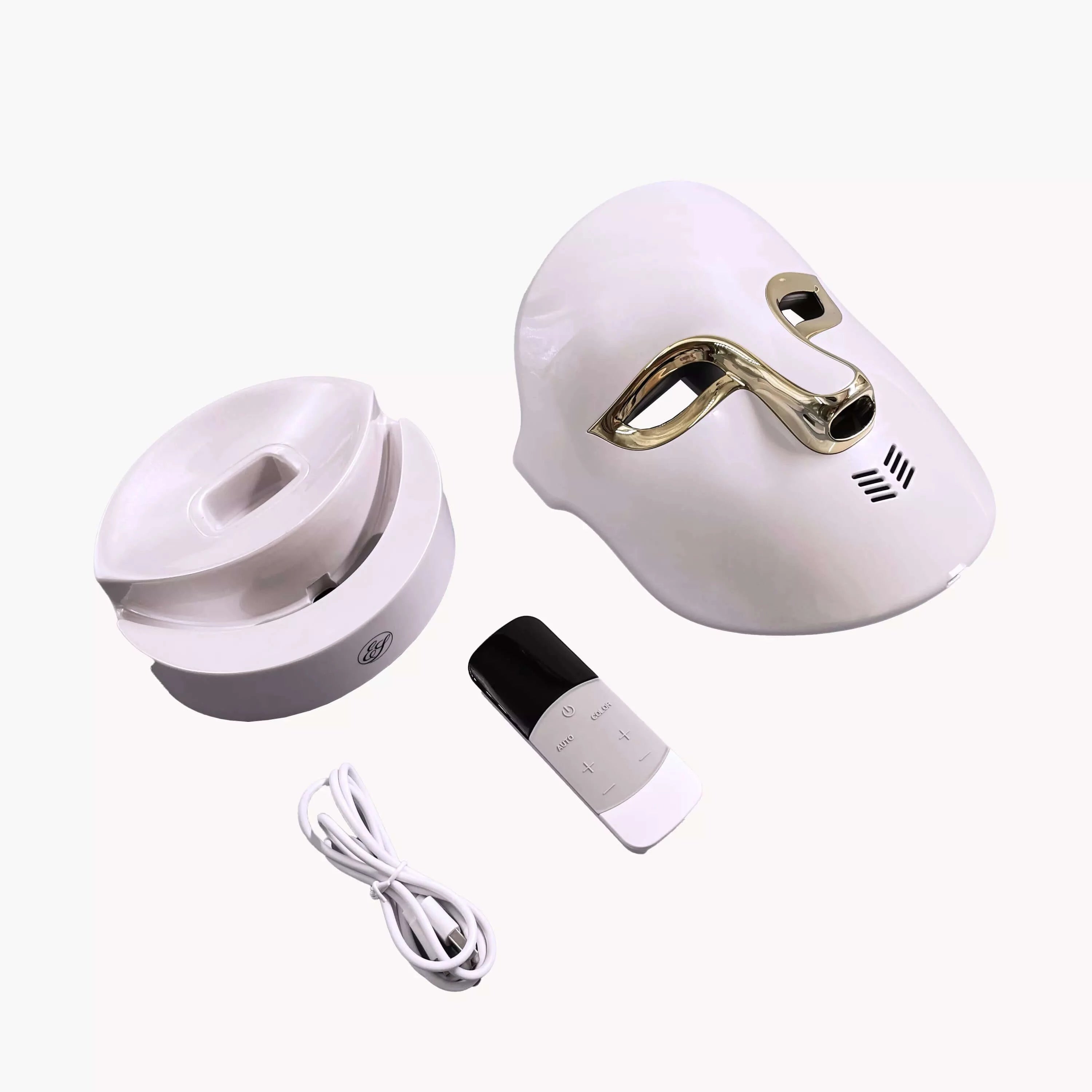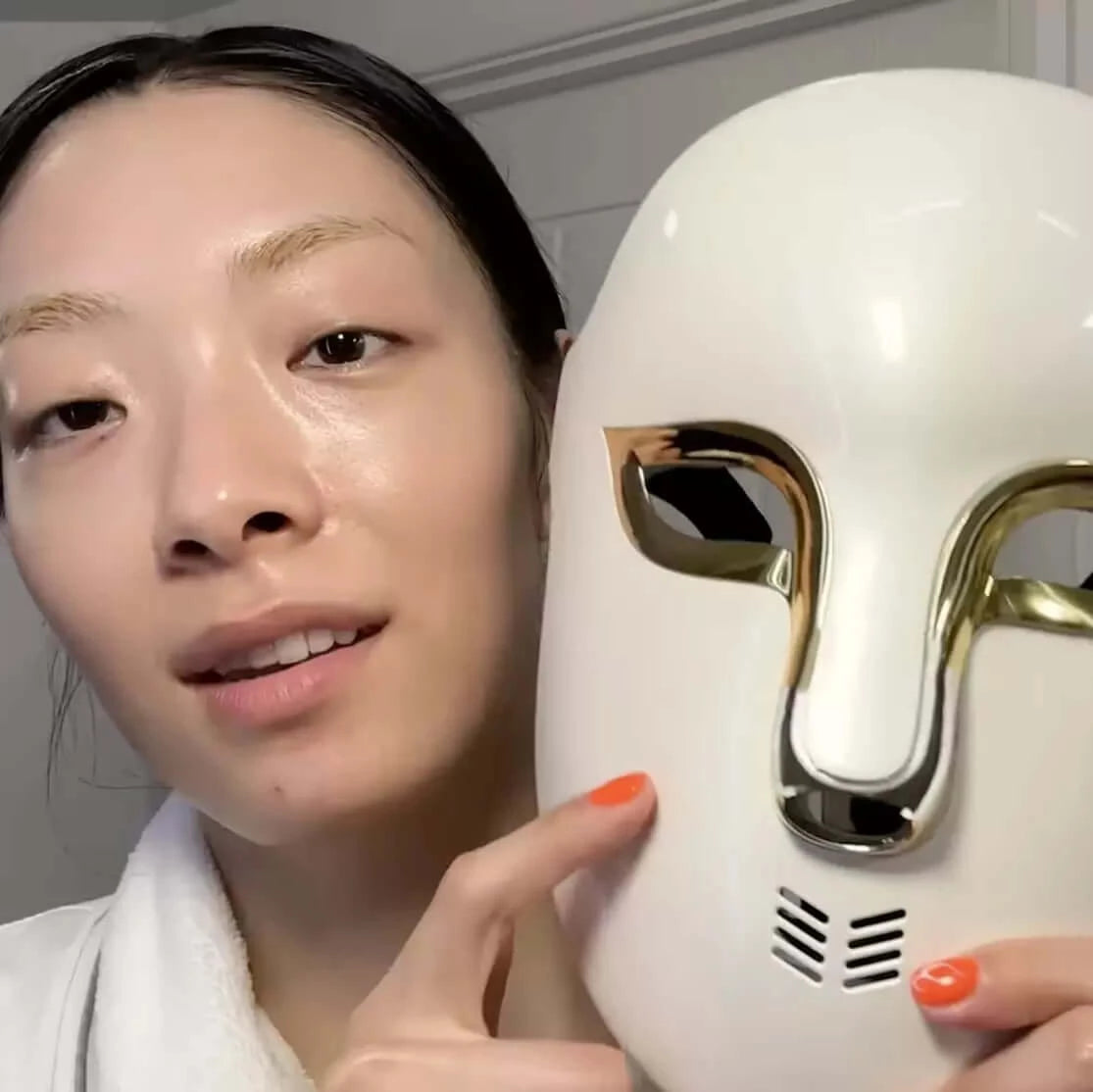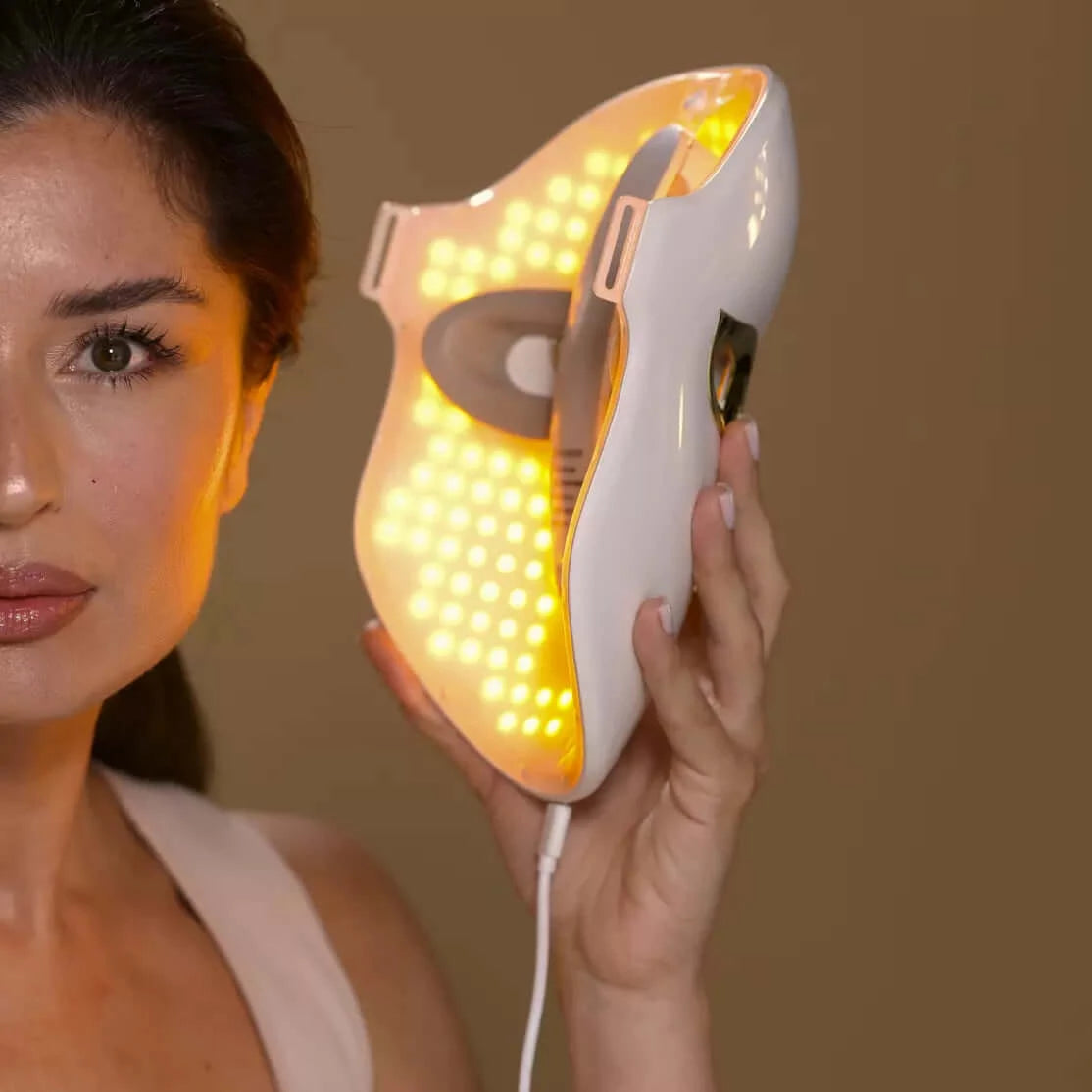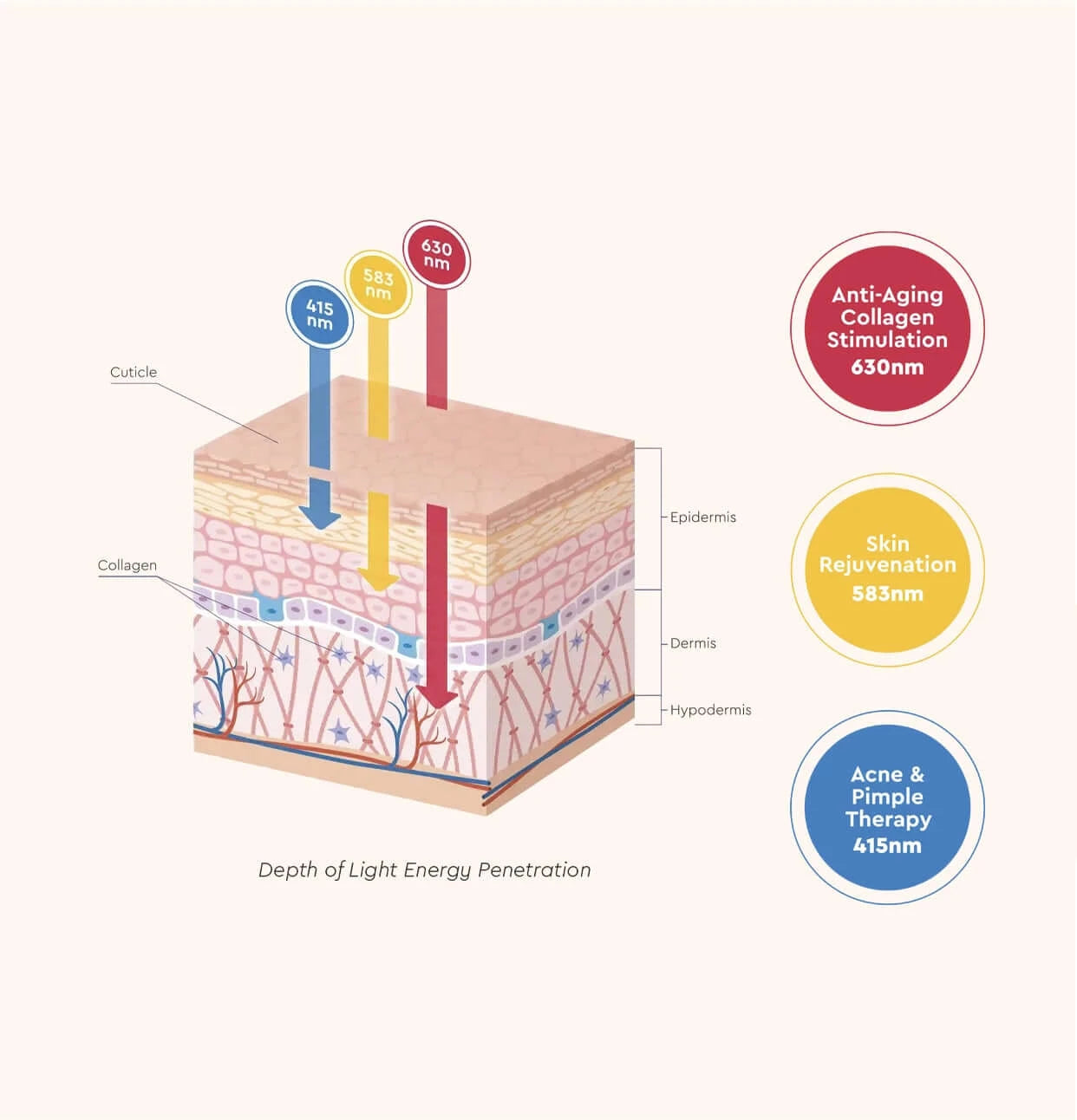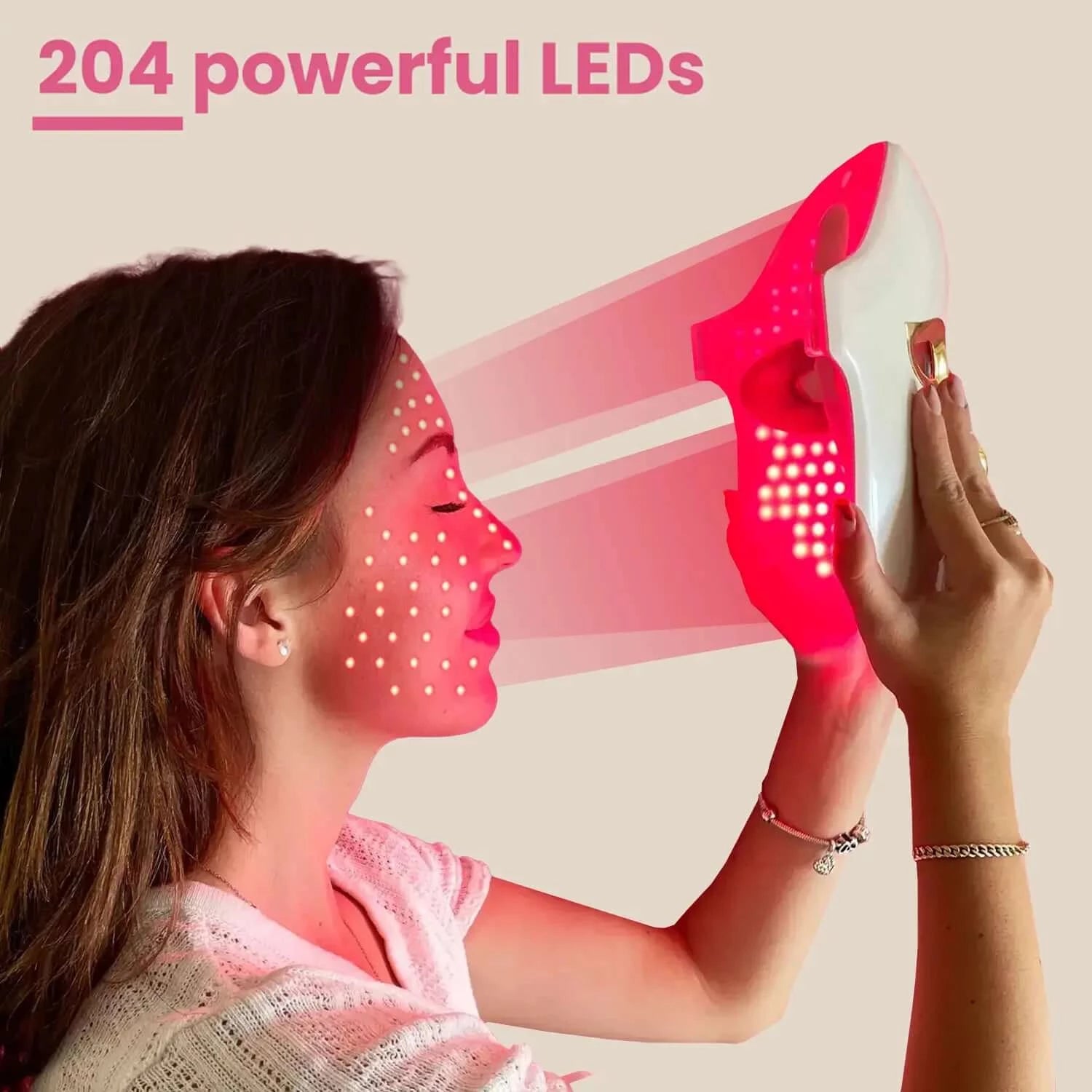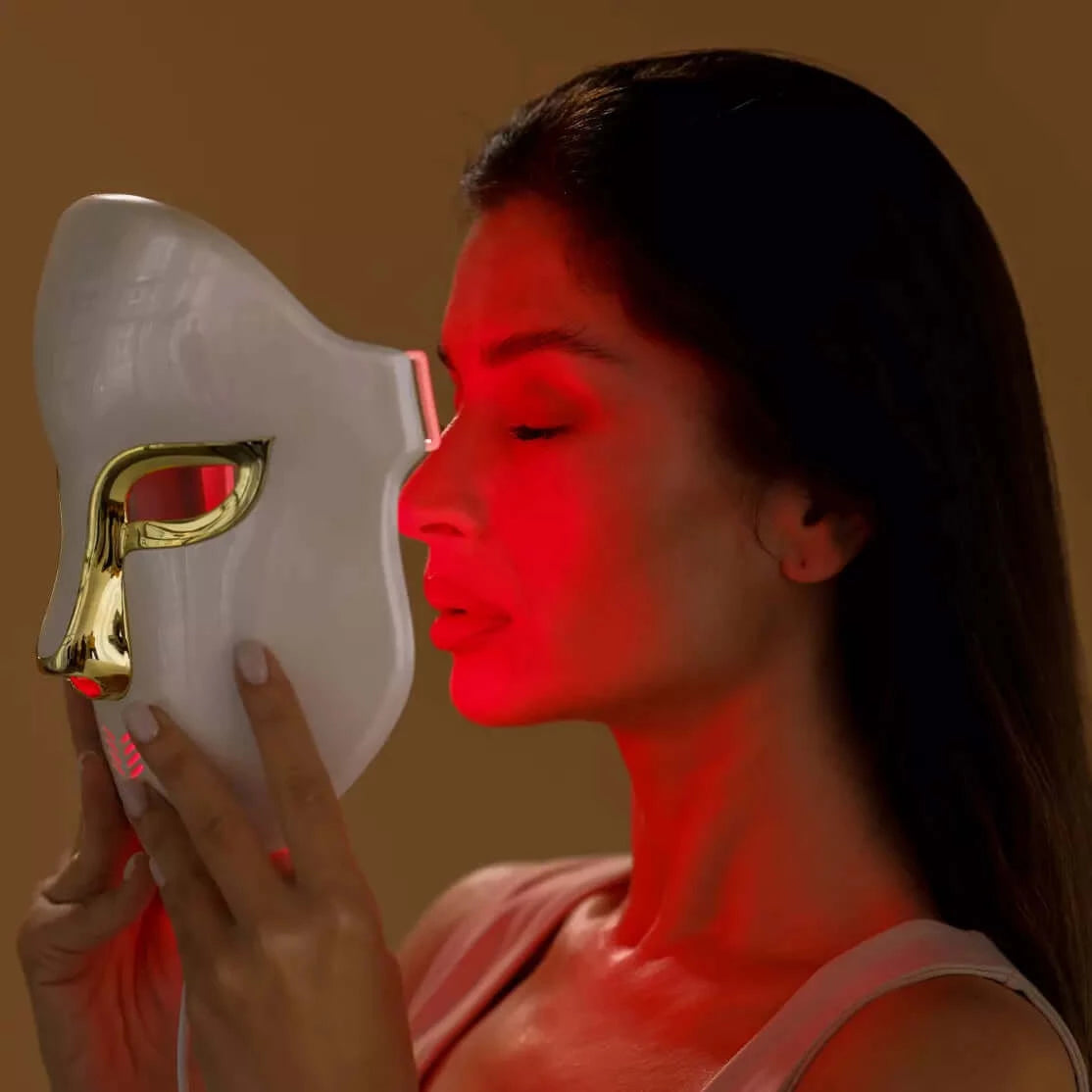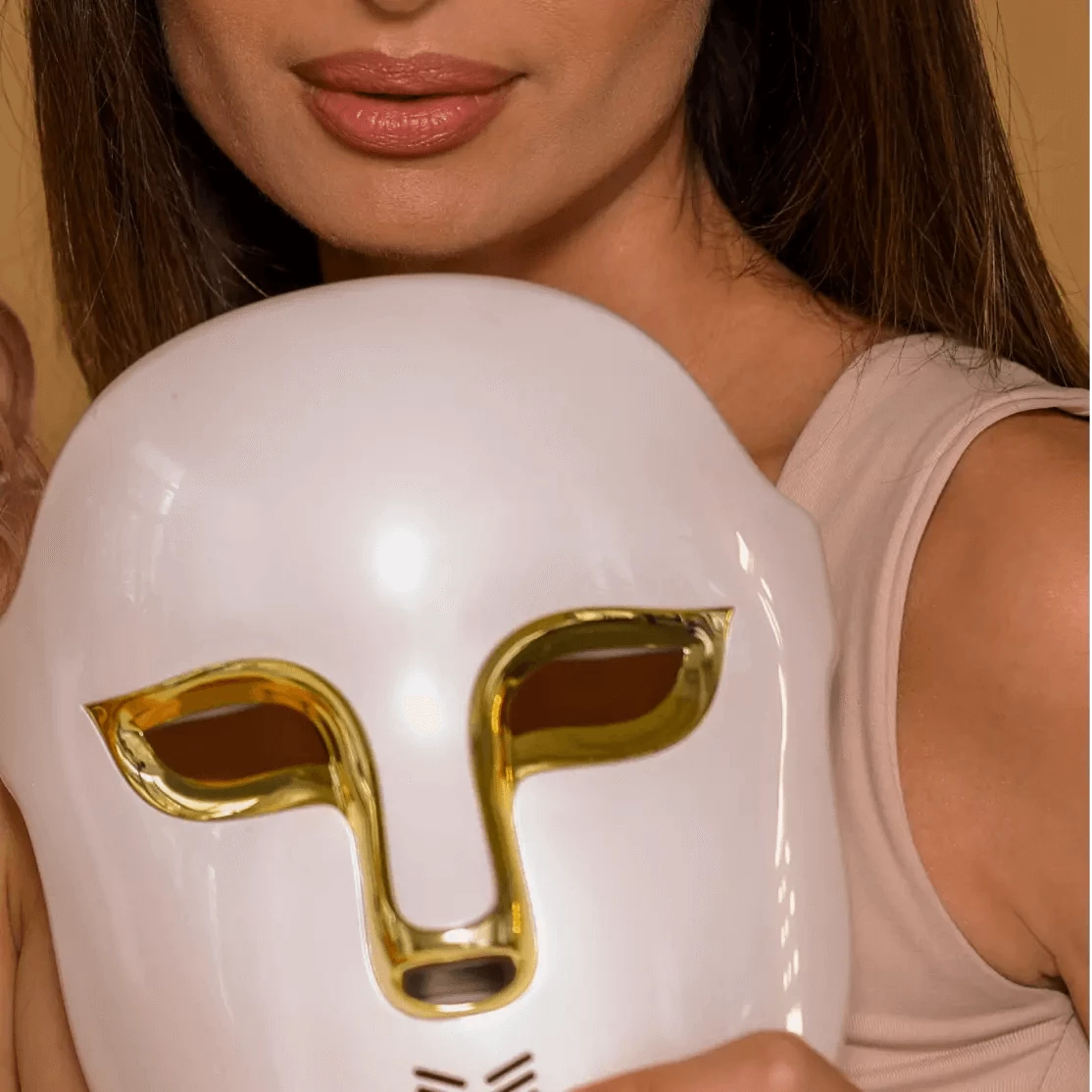 Pro LED Phototherapy Face Mask
The Mirage is a professional-grade LED face mask designed for skin rejuvenation. With 204 individual units of the most powerful LEDs available, this portable mask helps improve the appearance of photoaged skin through photobiomodulation. Its three color modes - red light for collagen production, blue light for acne reduction, and yellow light for skin rejuvenation - work together to reduce wrinkles and fine lines, improve skin laxity and texture, and promote overall skin health.
Utilizing the power of up to 500 Joules of photo rejuvenating energy per minute you can achieve a reduction in wrinkles and fine lines within 4 weeks by completing a minimum of 3 full sessions per week, each lasting 25 minutes.
Wavelength:
Red Light: 630nm ± 3nm
Blue Light: 415nm ± 3nm
Yellow Light: 583nm ± 3nm

Maximum Phototherapy Power:
Red: 40mW/cm2
Yellow: 40mW/cm2
Blue: 60mW/cm2

Cumulative (204 LED) Output in Joules:
Red: 489.6 Joules/Minute
Yellow: 489.6 Joules/Minute
Blue: 734.4 Joules/Minute

Technical:
Rated voltage: DC 5V 1A
Battery capacity: 1500mA
Rated Power: 3.7W
Product Size: 272.8mm X 225mm x 150mm
Packing Size: 390 x238 × 130mm
Net Weight: 315g
Charging Time: 2.5H

Safety Certifications: FDA, Health Canada, CE, RoHS, BSCI, ISO13485.

Product Manual: English
---
Add the discount code MIRAGE100 at the checkout page
60 Day Money-Back Guarantee
Mirage's 3 color modes improve photoaged skin through non-invasive photobiomodulation, triggering physical and chemical events that range from collagen synthesis (red), acne reduction (blue), to skin rejuvenation (yellow).

Industry-leading 208 non-heating LEDs emit no perceptible heat, allowing for longer, comfortable wear. With up to 500 Joules of photo rejuvenating energy per minute in the red light anti-aging mode, the Mirage produces new collagen growth for glowing skin.

Mirage has built-in eye protection and a safety-conscious, ergonomic design with comfortable straps to alleviate discomfort during use.

The digital remote doubles as a power bank, showcasing battery life and session minutes, and allowing for easy selection of color modes, intensity, and duration.
The EvenSkyn Mirage Device - (208 LEDs)
Comfortable straps & eye protection
LCD Remote Control
EvenSkyn Mask Cradle
User Manual
Power Adapter
We believe that our story is best told through your skin
Watch more
This product has no reviews yet.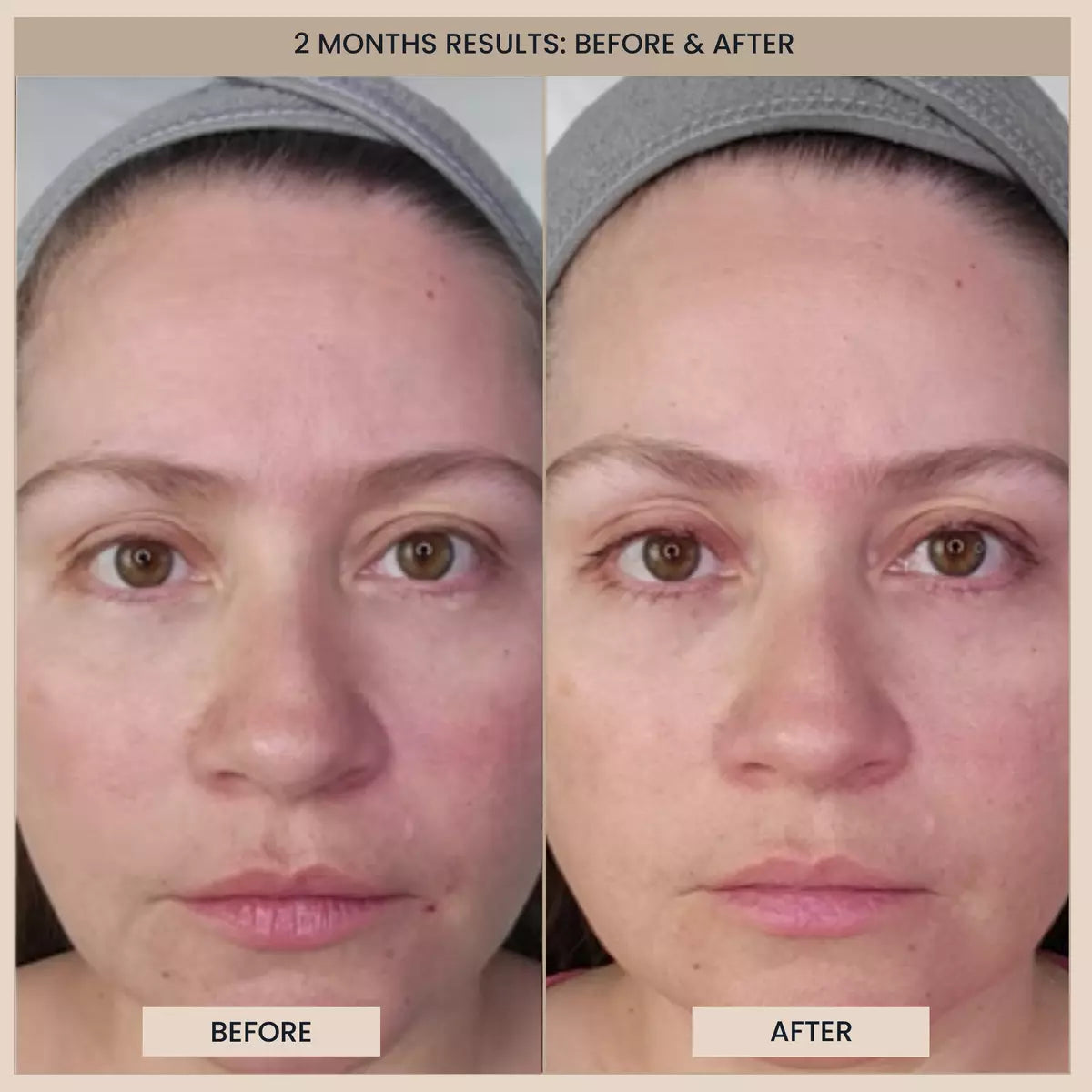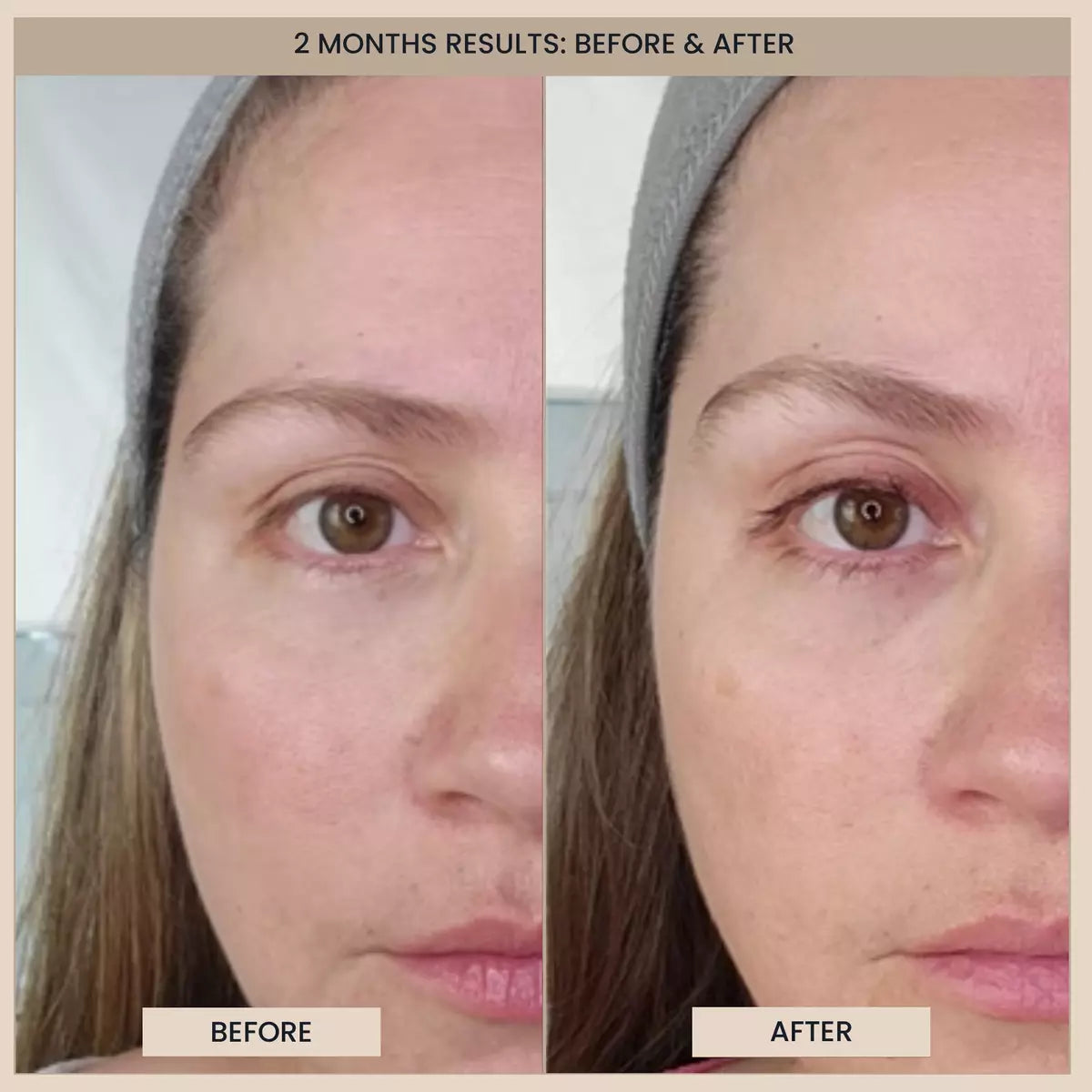 2 months
98% of users noticed a healthier rejuvenated skin.
Real People. Real Results.
2 months
92% of users noticed a clearer and more glowing complexion
Real People. Real Results.
2 months
98% of users noticed a healthier rejuvenated skin.
Real People. Real Results.
Features
Included treatment
Discover the transformative treatments and cutting-edge features that come included with our products.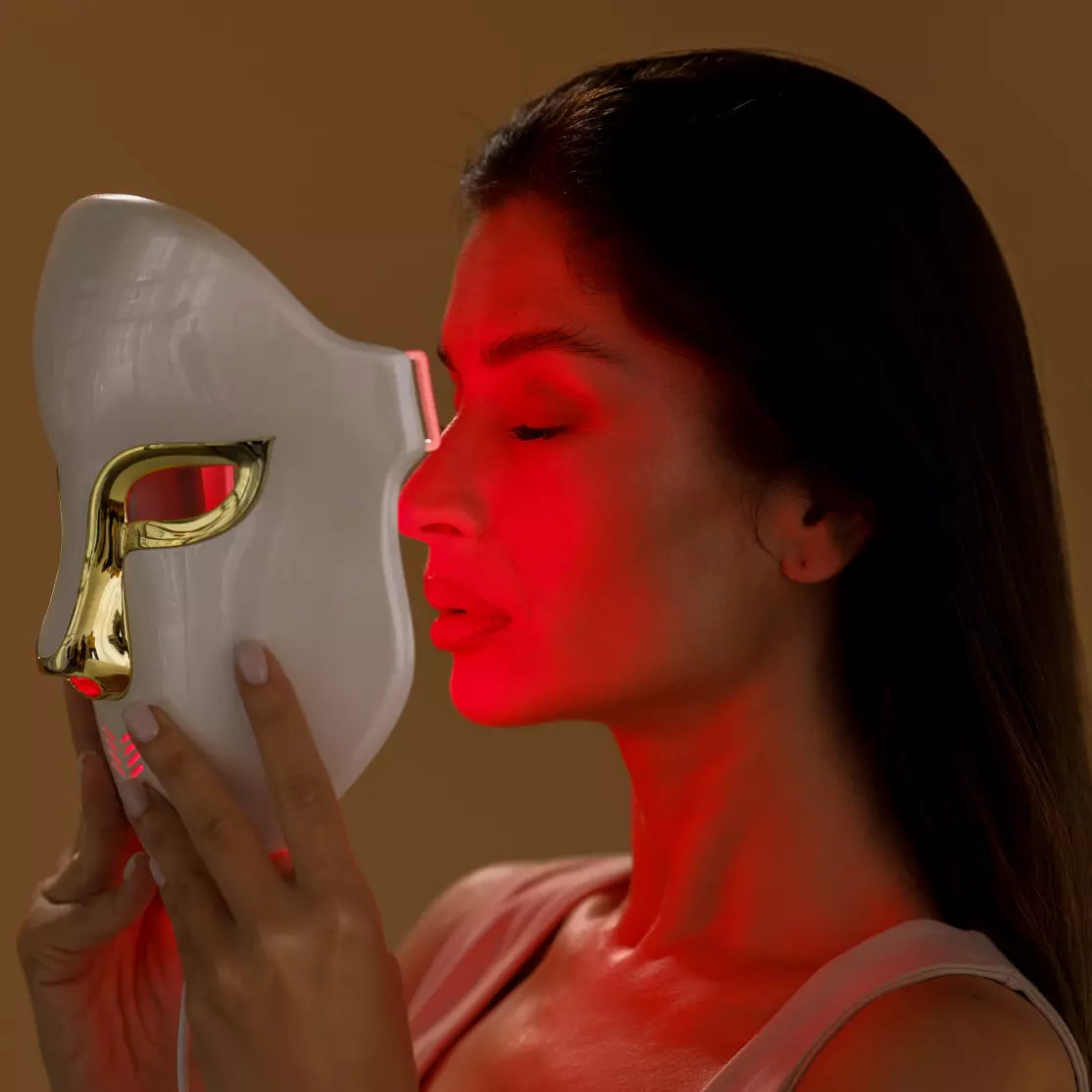 Red Light Therapy: Anti-Aging
Red Light Therapy at 630nm helps increase collagen production for smoother, even skin and reduces wrinkles, fine lines, age spots, and sunspots.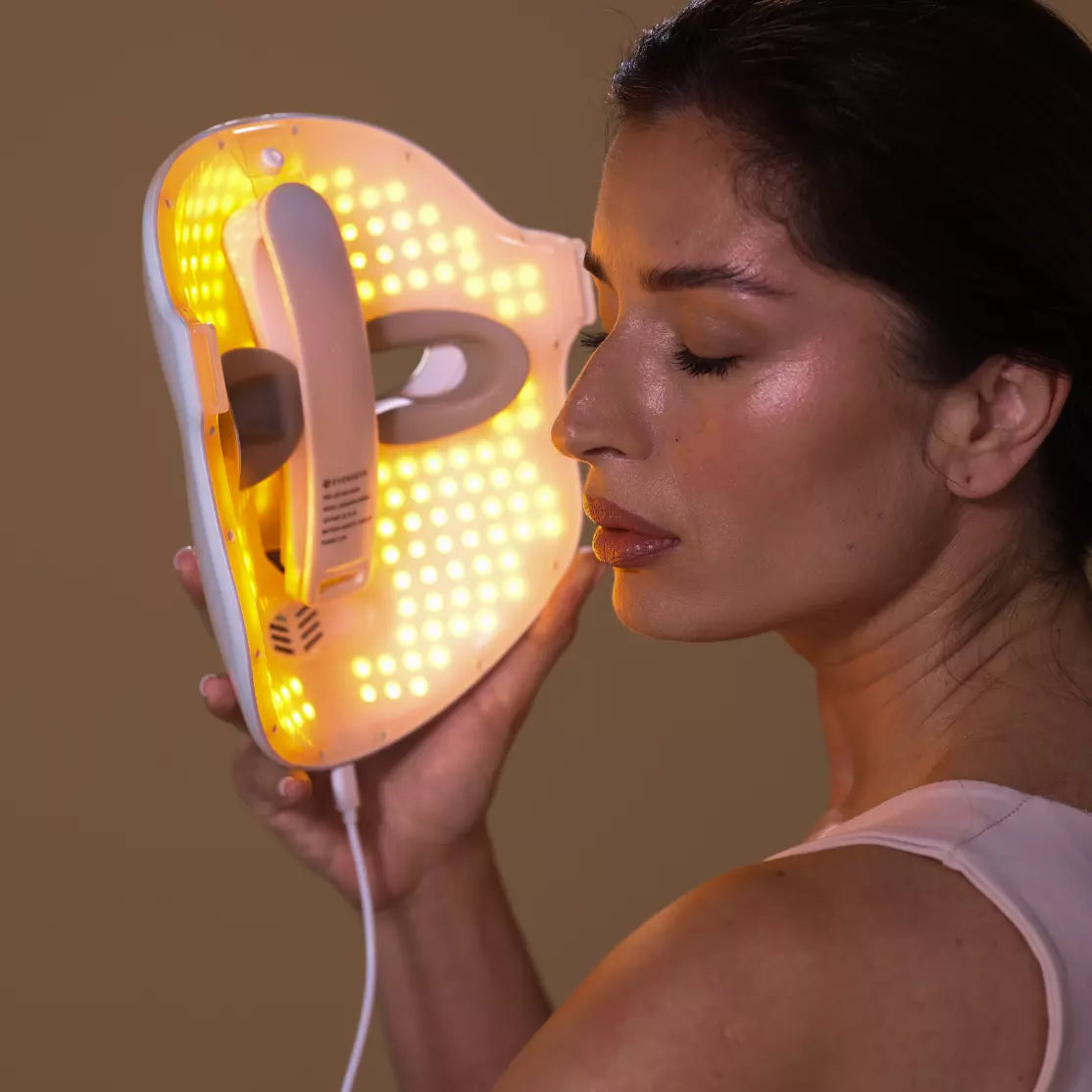 Yellow Light Therapy: Photo-rejuvenation
Yellow light at 583nm penetrates 2mm to brighten skin by increasing blood circulation, improve skin texture and scarring, promote wound healing, improve rosacea, redness, and reduce inflammation.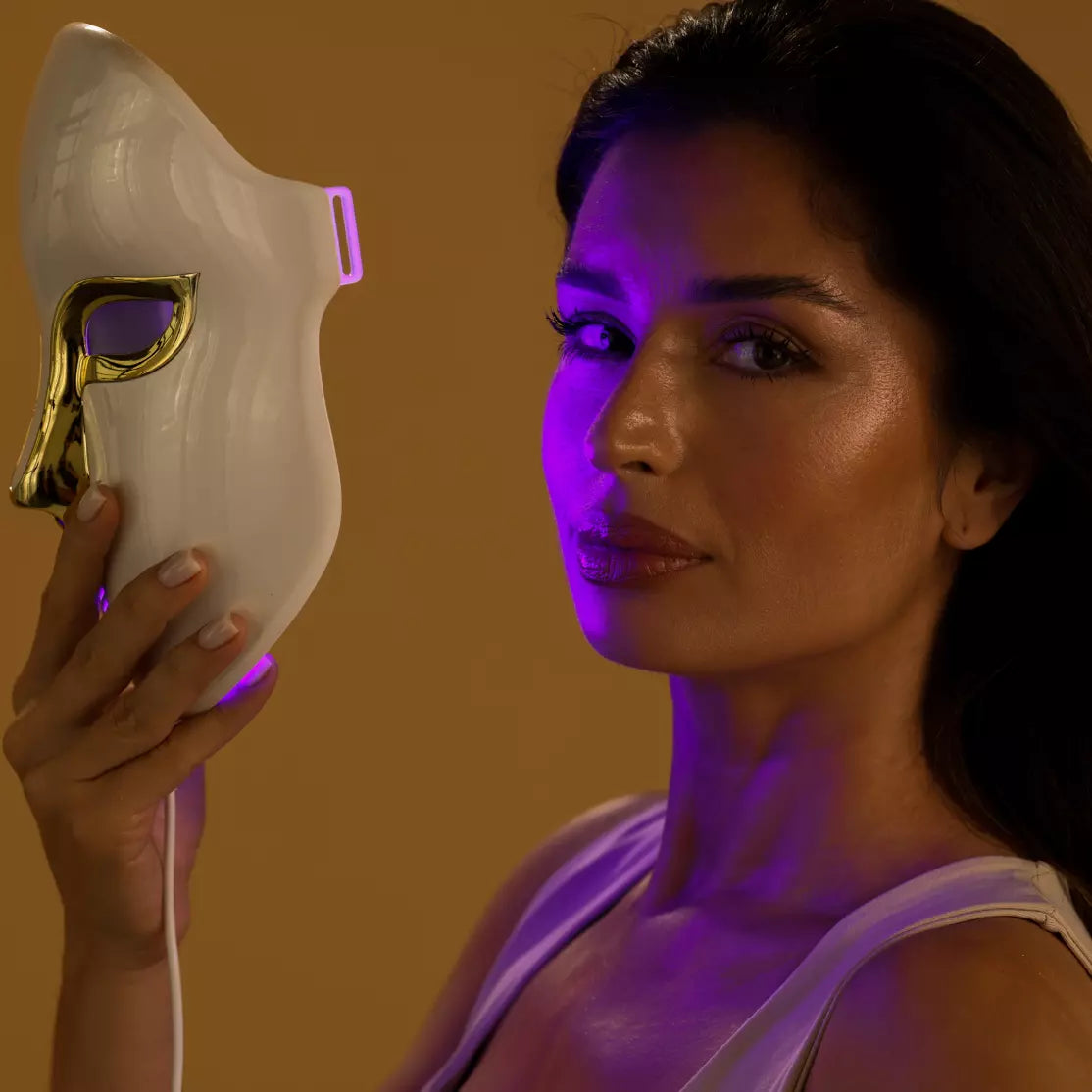 Blue Light Therapy: Acne-treatment
Blue light at 415nm kills acne-causing bacteria, moderates sebaceous gland activity, and provides relief from inflammatory acne (at a depth of 1mm).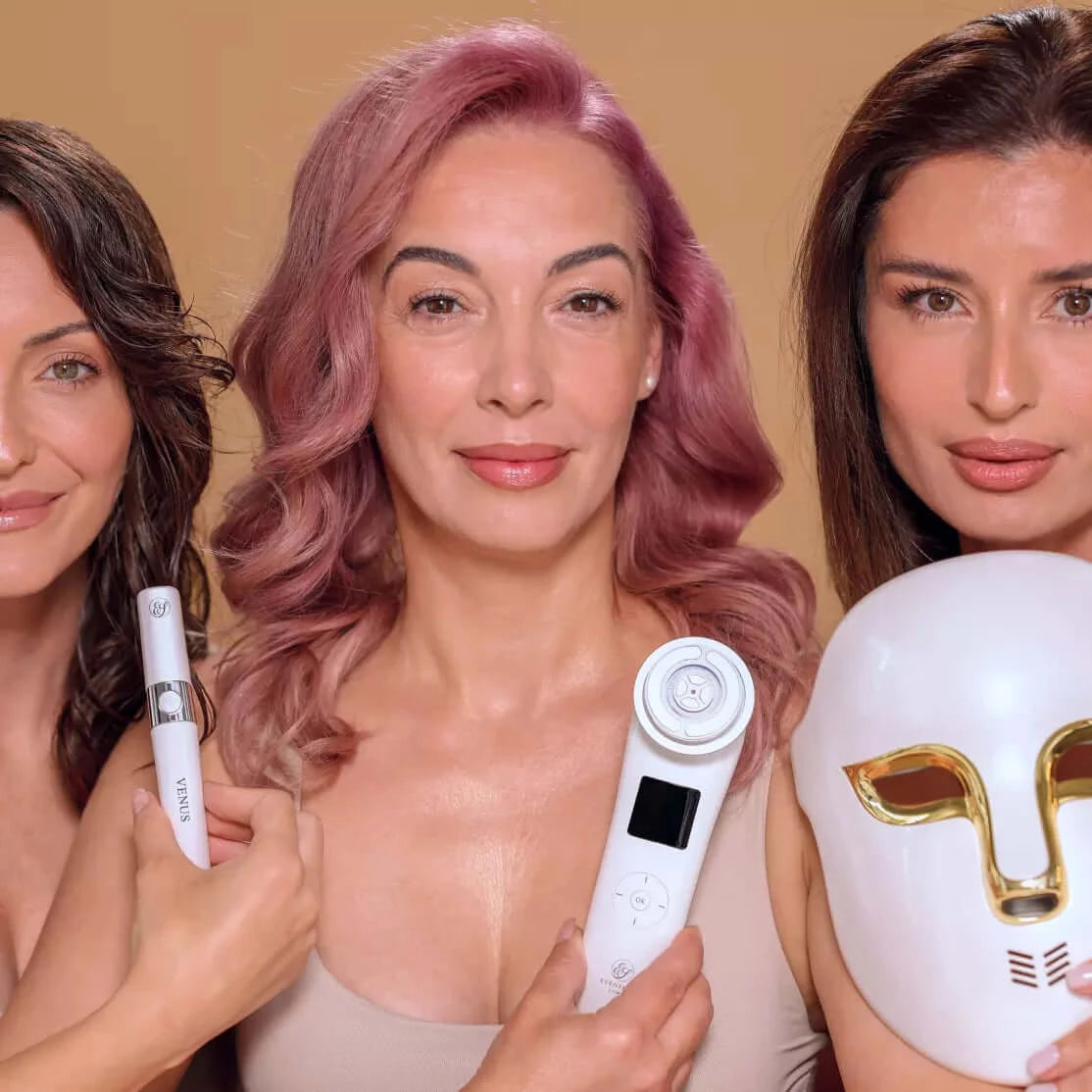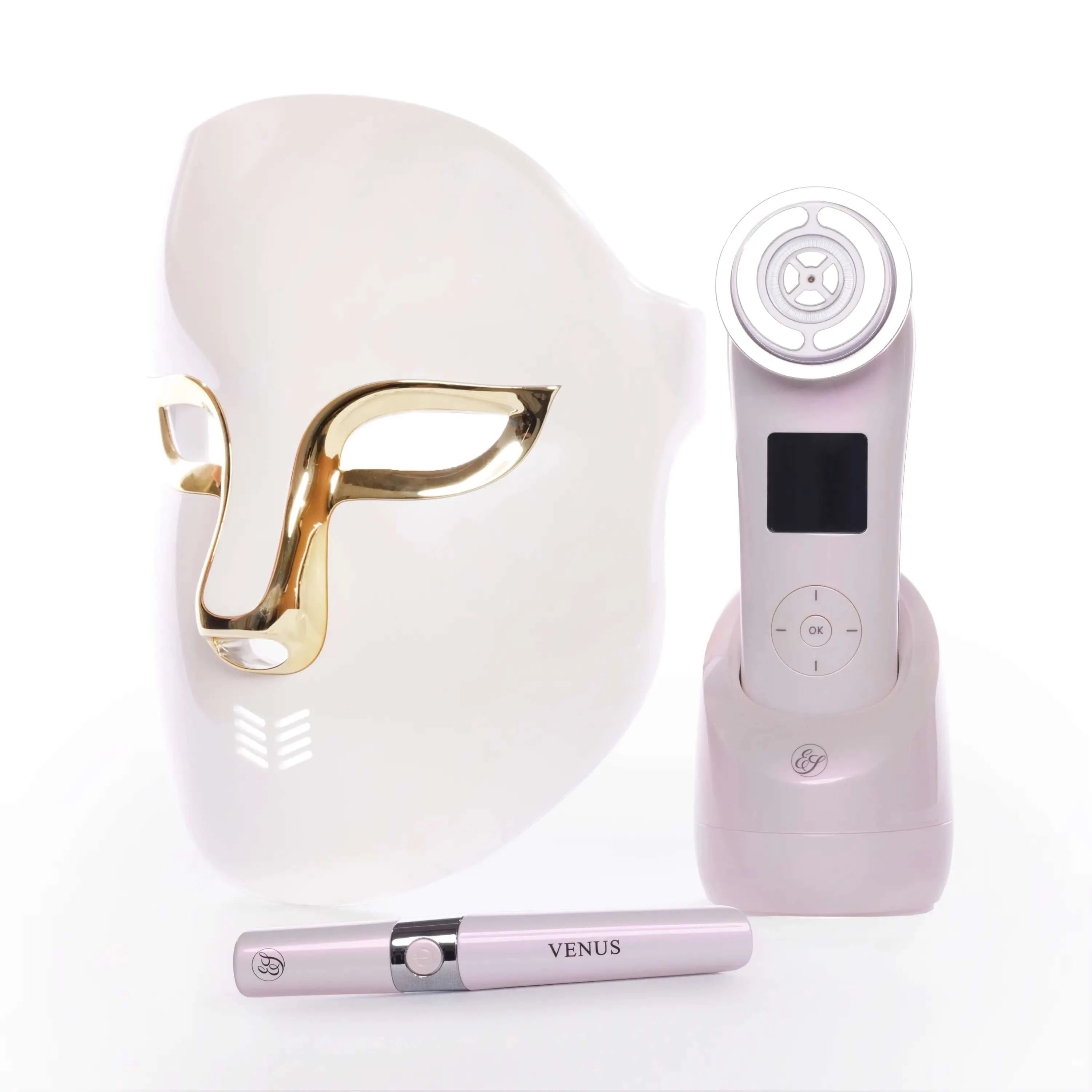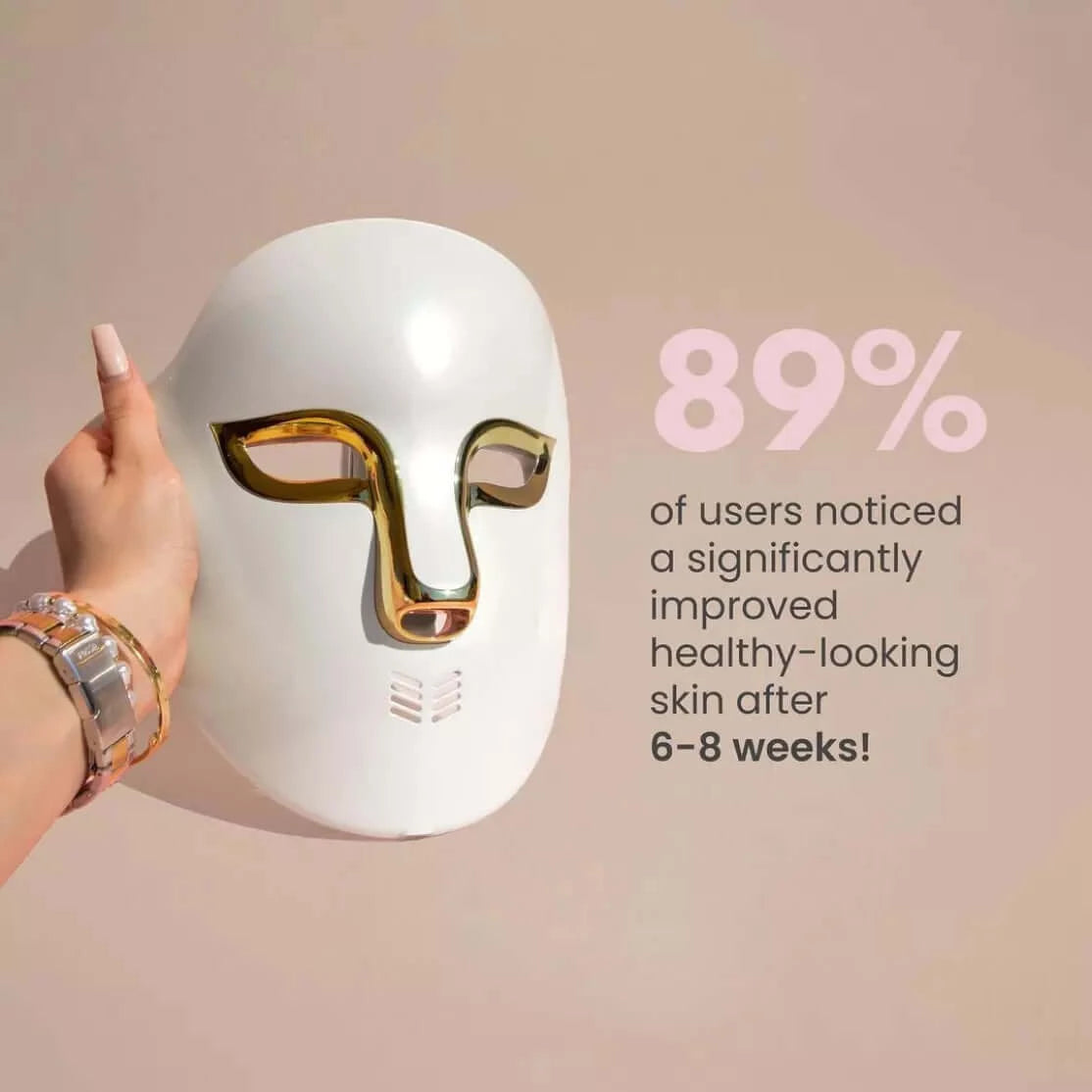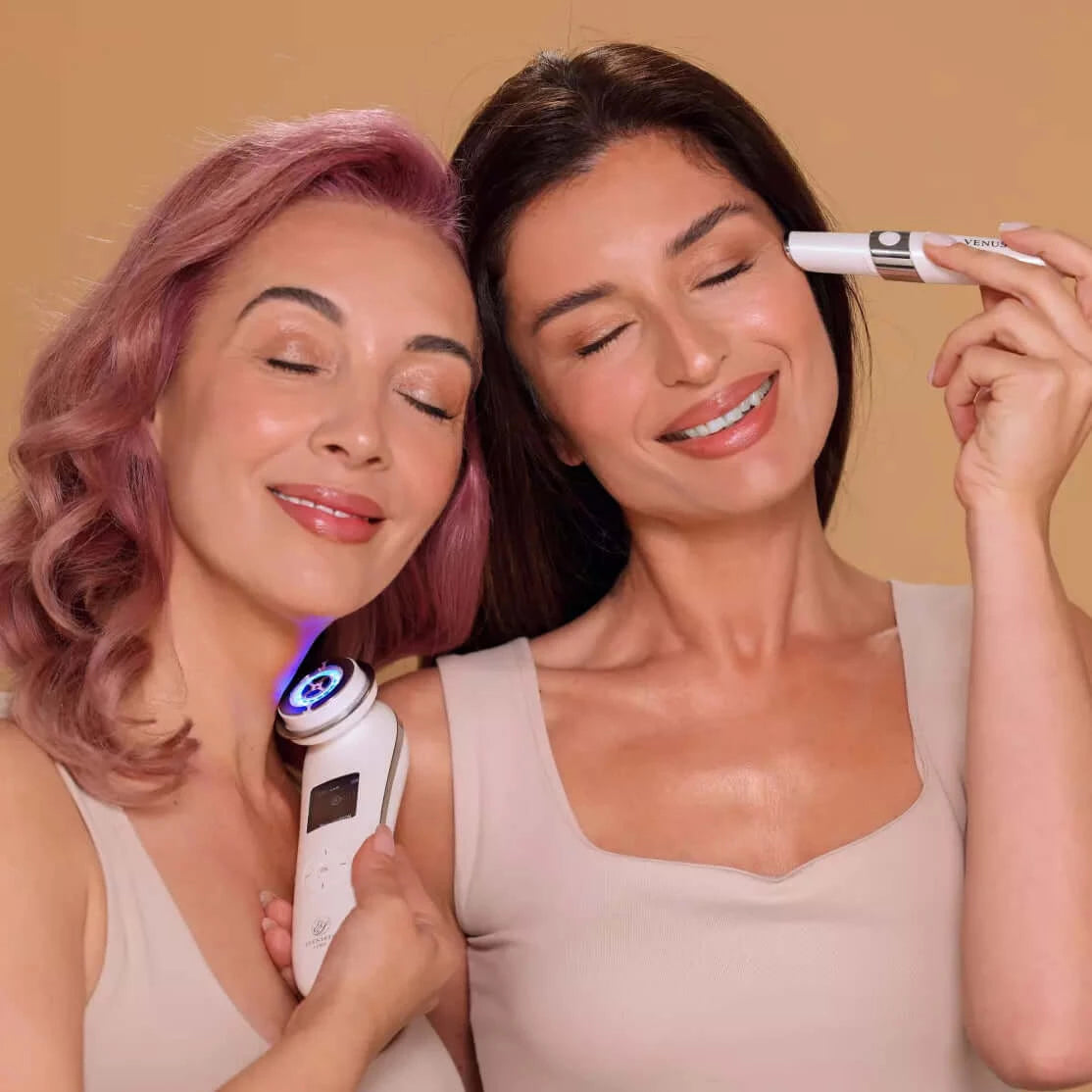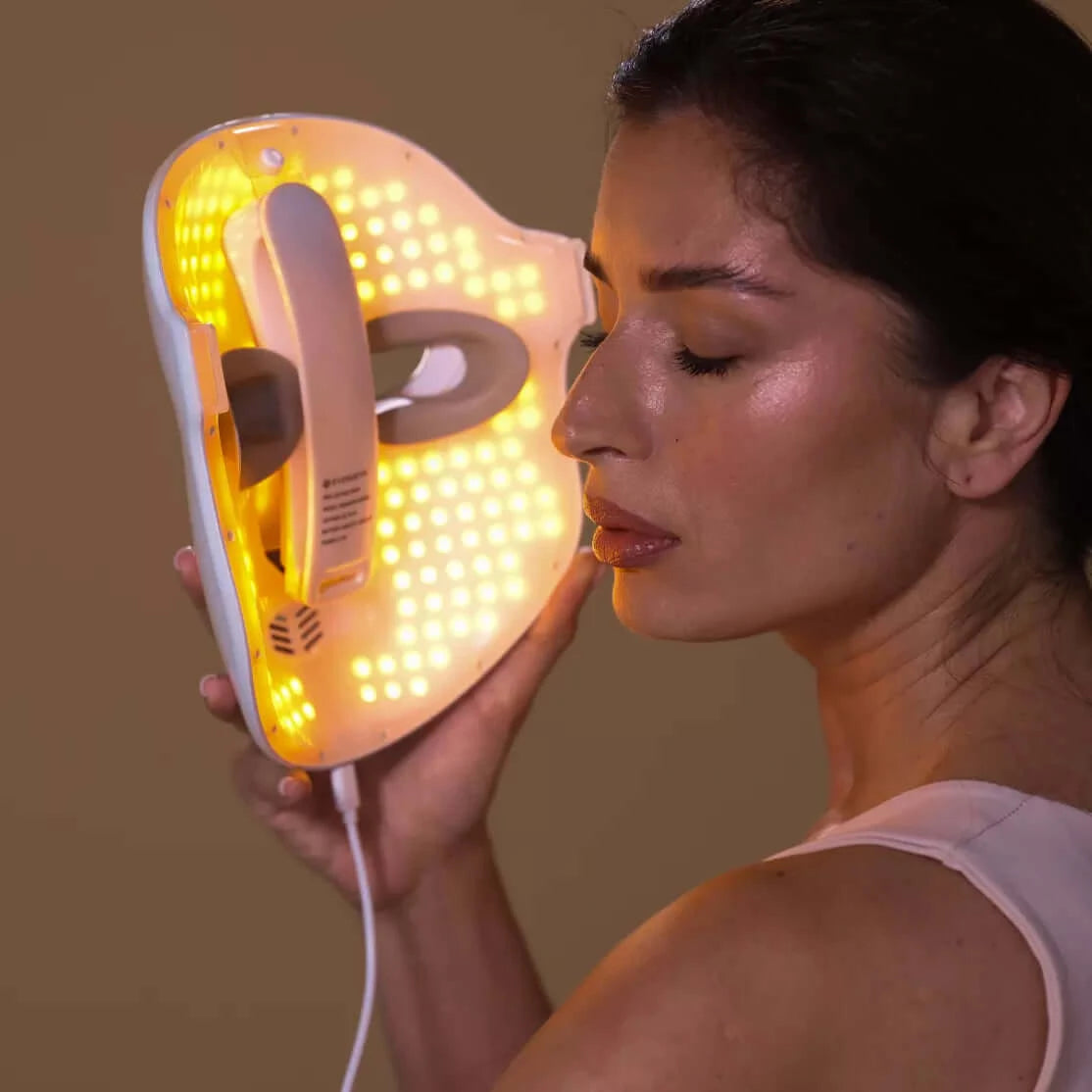 The Perfect Anti-Aging Pair!
Bring your at-home skincare to a professional-grade with our exclusive bundles!
How to use the Mirage
Unleashing the Power of Dermal Technology
Mask Setup
Connect the USB-A connector to the remote control and plug the USB-C (smaller connector of the cable) to the USB-C outlet on the bottom of the mask. Ensure a snug fit of the mask around your head with the support straps provided prior to commencing usage.
Prep Your Skin
Wash & dry your face prior to using the Mirage. Having the skin free of skin products (especially those containing light-blocking SPF products) or makeup ensures proper penetration of the light. Turn the mask on and it will immediately begin the 25-minute default treatment cycle that cycles between red, blue and yellow lights.
Maximize Results
Maximum usage should be limited to 25-minutes per day, whether an individual light mode is selected manually, or if the mask is used in the default automatic mode. The mask can be used daily in the Automatic mode, which cycles through all of the light wavelength variations for pre-selected optimal durations.
FAQ
Our FAQs section provides answers to common questions about our products, services, and terms. But if you can't find the answer to your specific question, please feel free to message us and we'll be happy to assist you.
More FAQs
Does the Mirage incorporate Near Infrared (NIR)?

The Mirage only incorporates blue, yellow and red light, with the red light coming the closest to near infrared light. Given that near-infrared edges on the fat layer, and given the power of the Mirage's LEDs, in order to not melt facial fat, the Mirage does not incorporate/feature near-infrared. The NIR region of the infrared spectrum is the wavelength range of 780–2526 nm, while the Mirage stands at 630nm ± 3nm.
Can this cause hyperpigmentation for those who are prone to it?

In fact, quite the opposite. The yellow light mode especially has been shown to reduce hyperpigmentation as opposed to exacerbate it. Also, use in neither of the other two color modes of the Mirage, mainly the blue and the red light mode, has increased hyperpigmentation ever been a concern.
Can I use the Mirage if I have Dental Implants?

Multiple studies examine the effects of LED light therapy in dental implants. The good news is that LED light therapy applied to areas containing dental implants has been shown to be safe according to various studies.

However, every person's implants and medical condition make their situation unique and thus we advise that it's best to consult your medical doctor prior to using a device such as the Mirage.
Can the Lumo and Mirage be used on the same day?

The Mirage is a light therapy device and as such can be used in addition to the primarily-RF-based Lumo, without affecting the skin. The only concern related to the amount of energy dissipation into the dermal tissue and the subsequent requirement for the skin to regenerate.

As you know the Lumo is typically only used soaringly per week, I.e., once or twice a week, depending on the intensity level used (twice if you've acclimatized to the device and are using it at a lower intensity setting). The mirage can, however, be used daily, or ideally a minimum of three times a week on alternating days.

At the moment, the recommendation from our R&D team is to do three Mirage uses per week where a single Lumo session is also done in the same week (including use up the highest intensities). Although the Mirage and Lumo can be used on the day, it is recommend that it's ideal if you can further space out device use session such that you're doing them on different days. For example, Lumo on a Monday, followed by Mirage on the alternating remaining days, I.e, Tuesday, Thursday, Saturday. Of the two devices in the Lumo really requires the skin to have some downtime and doing it 4-7 days apart is sufficient time for the skin to have that to be able to heal and tighten.
This product has no reviews yet.
This product has no reviews yet.
The experts in anti-aging skincare evenskyn