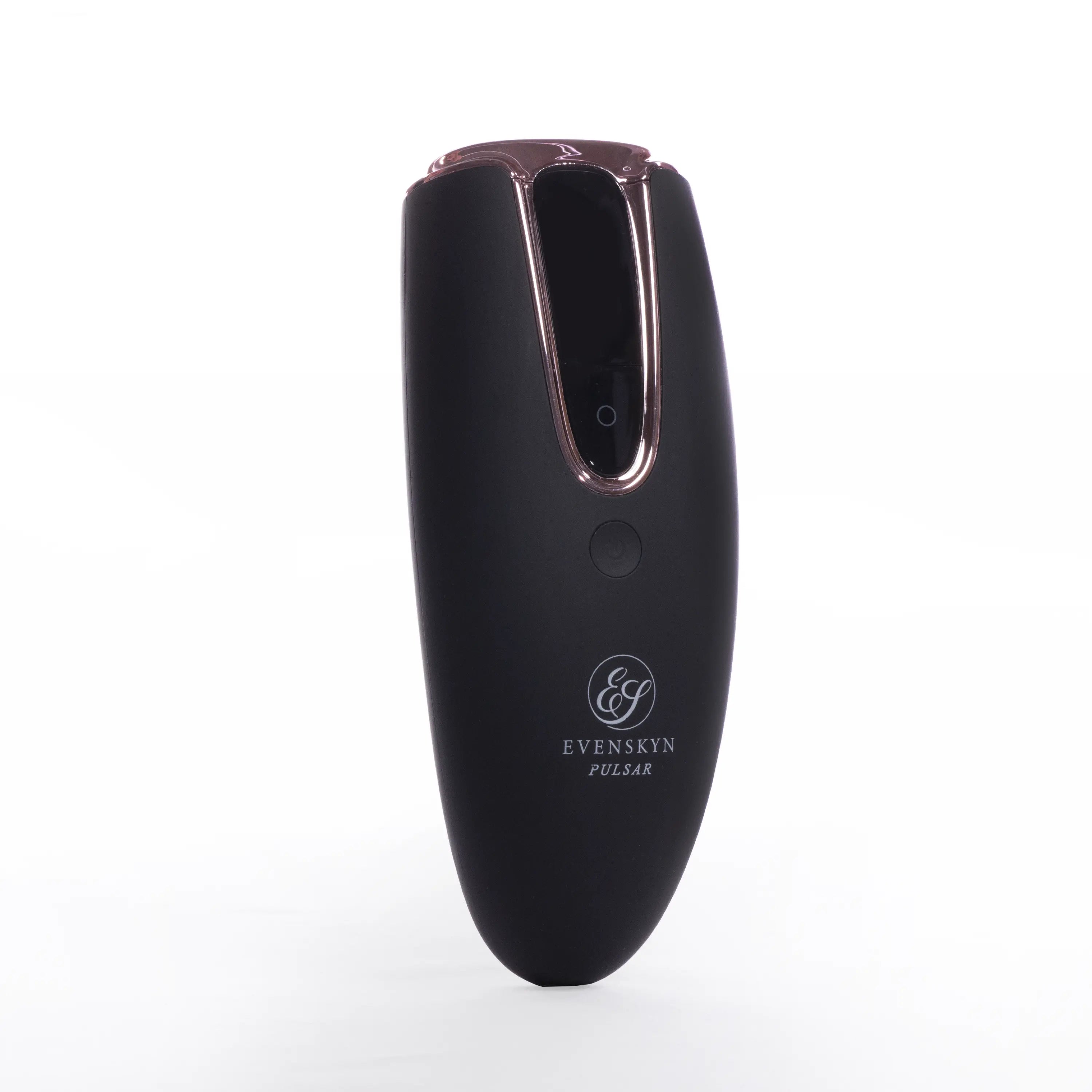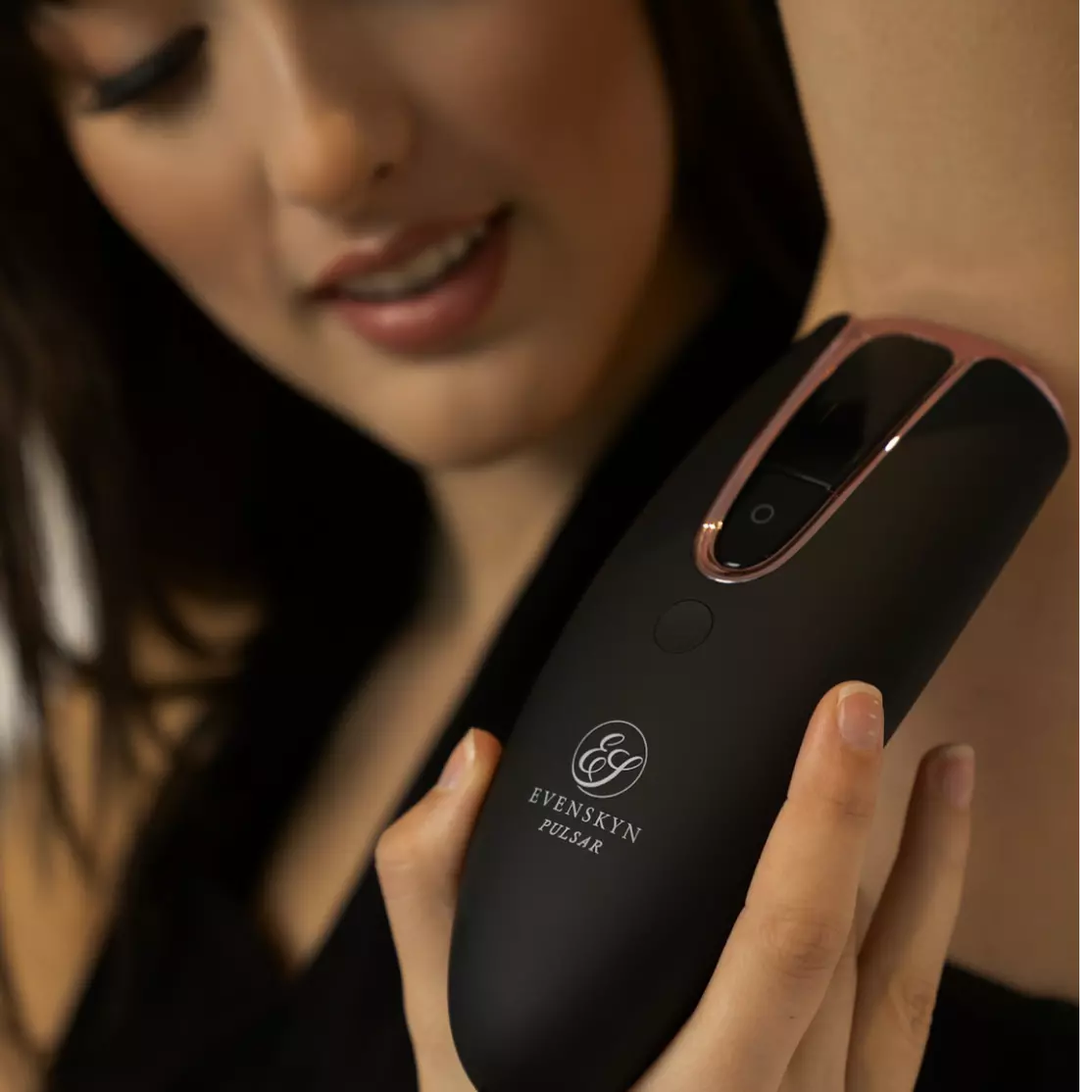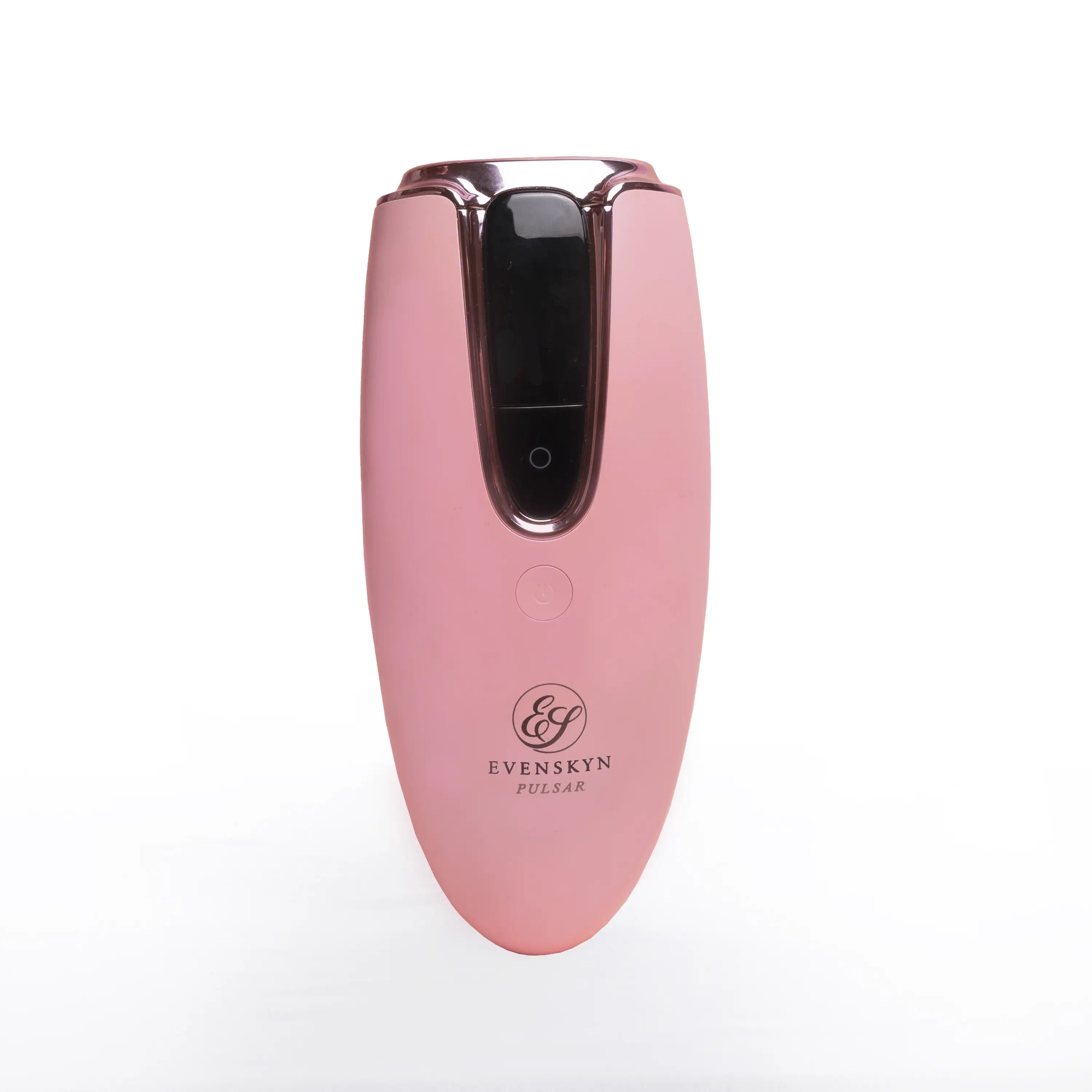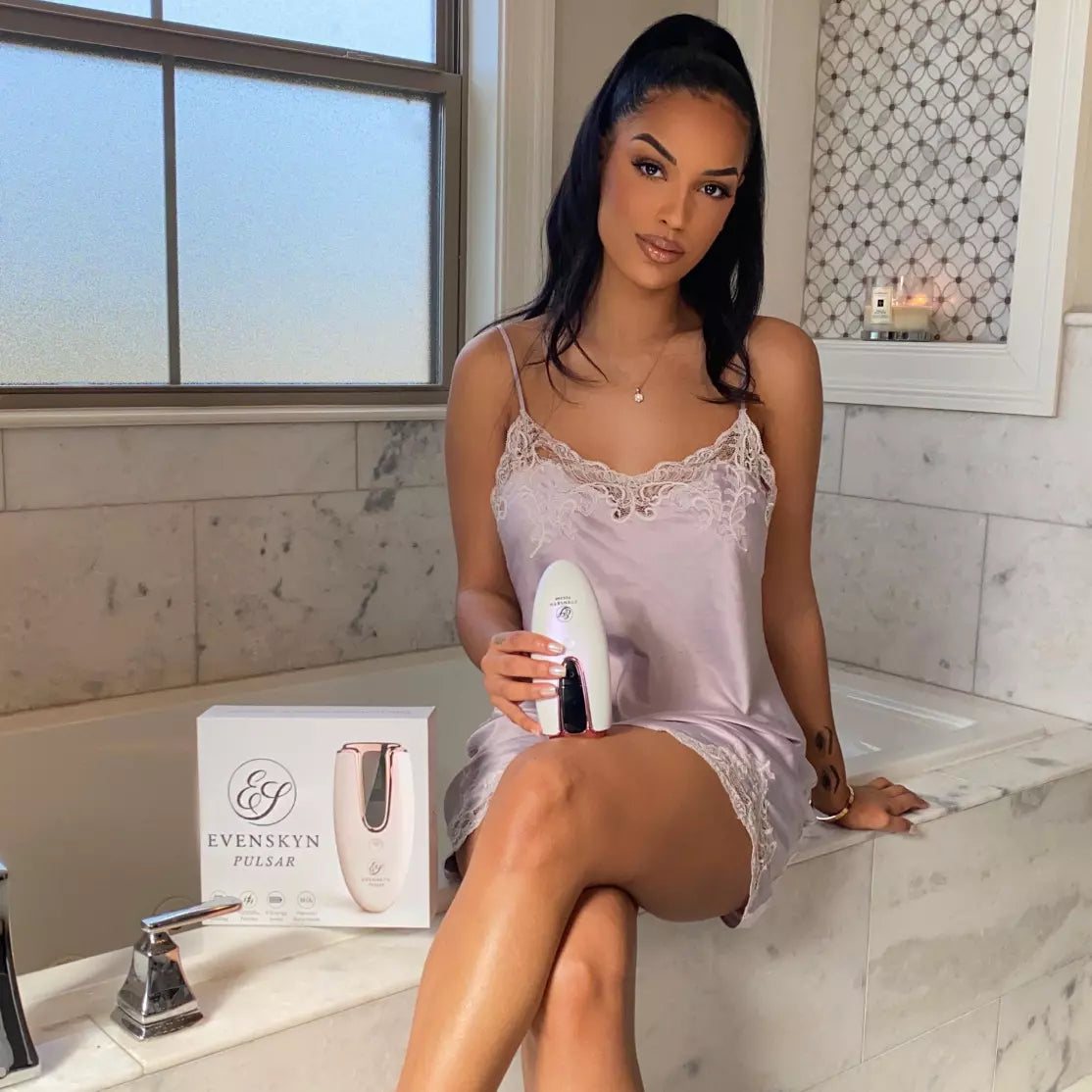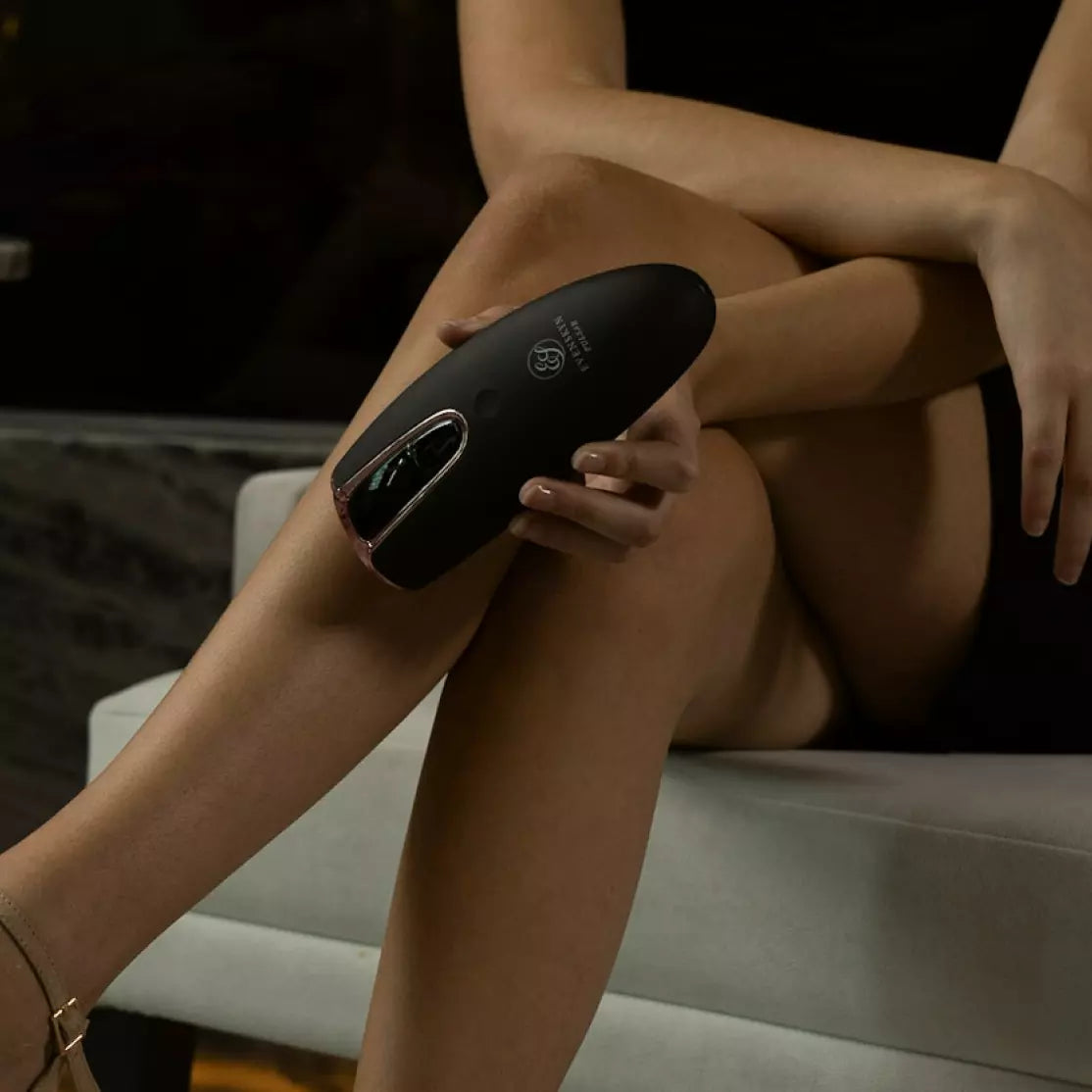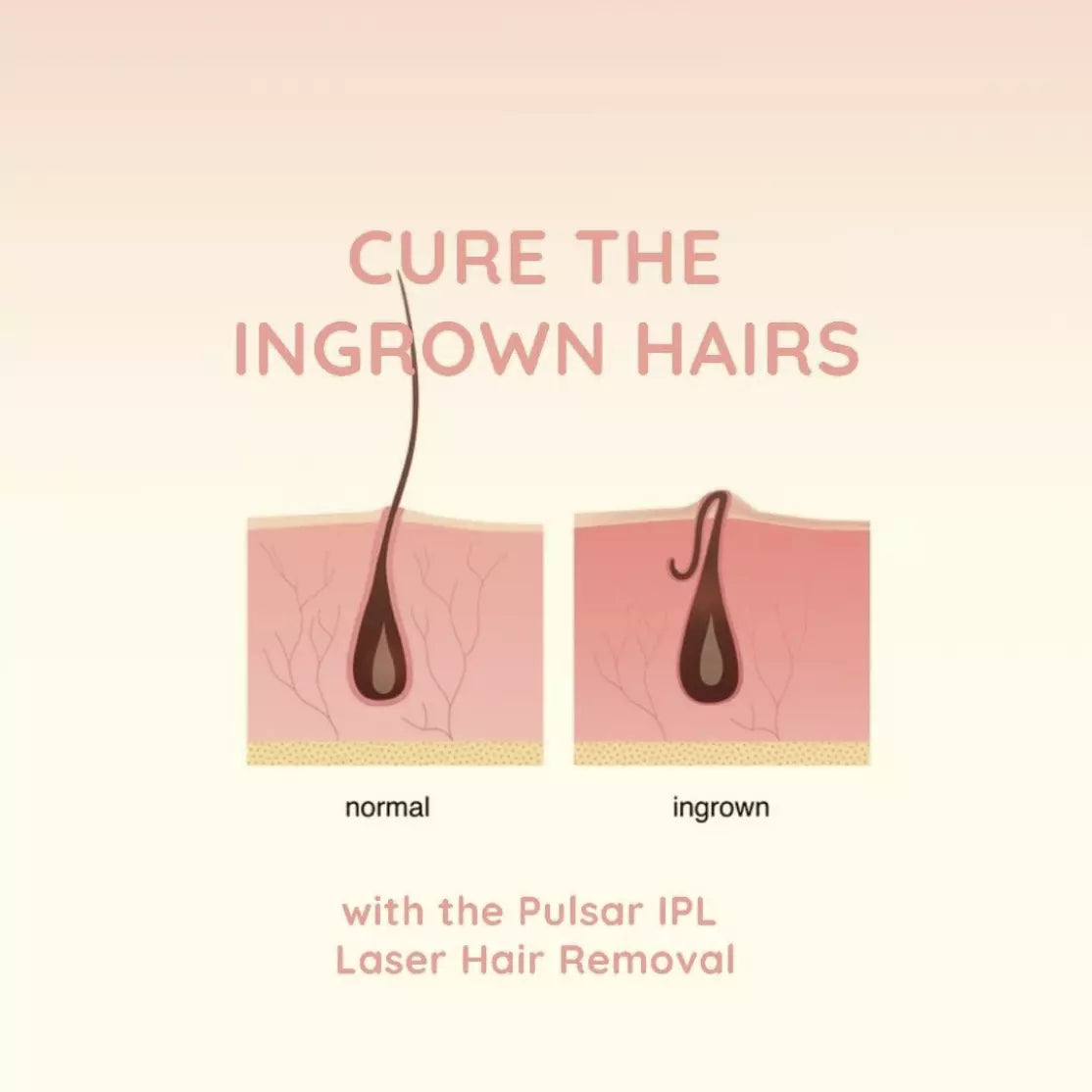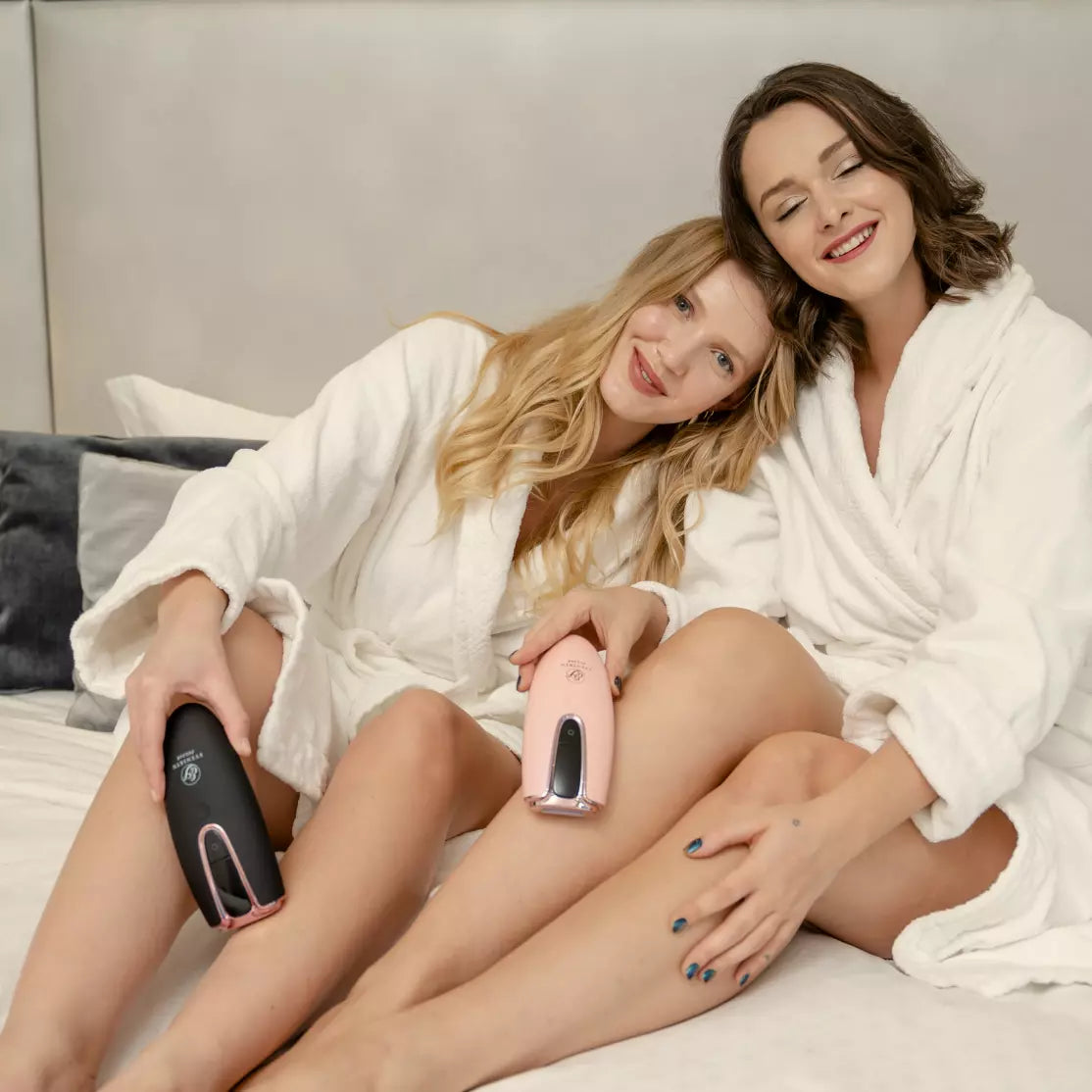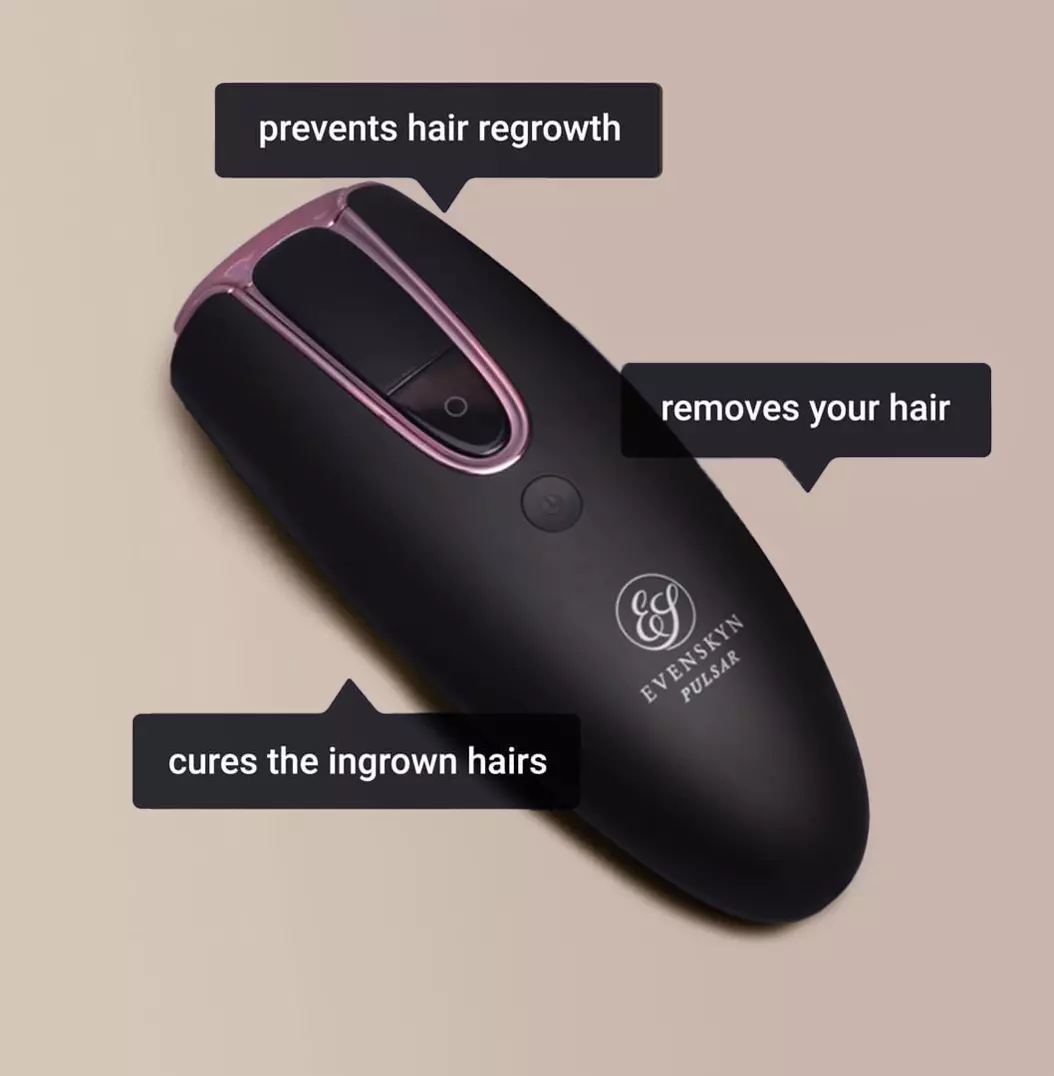 The Pulsar is an at-home IPL laser hair removal device that uses Intense Pulsed Light (IPL) technology to remove unwanted hair from the body and face. The Pulsar emits pulses of light that are absorbed by the melanin in the hair follicle, heating it up and ultimately destroying it. Over time, with repeated treatments, hair growth is reduced and can even stop altogether. The device features a built-in skin sensor to ensure safe and effective treatment for different skin tones.
The EvenSkyn Pulsar is designed with 8 intensity levels to provide optimal performance for various skin tones. Moreover, it features a Skin Rejuvenation (SR) mode that targets dark spots and fine lines while promoting collagen production for healthier skin.
Intensity Range: 7.82 Joules/cm² (Level 1) — up to 15.31 Joules/cm2 (Level 8).
Quartz Tube offers 10+ years of usage
Pulse duration: 0.9+/-0.2ms
Product Size: H179 * W70 * D35mm
Operating Temperature 5-35 C
Rated output: DC 12V, 2.5A
Effective Cooling Fan

Safety Certifications: FDA, Health Canada, CE, EMC, RoHS, CQC, PES compliant

Product Manual: English
---
Add the discount code PULSAR55 at the checkout page
60 Day Money-Back Guarantee
Pulsar targets the melanin in the hair, which is the dark pigment that gives the hair and skin a deeper color. During the treatment, once the laser locks onto the pigment, it permanently destroys the hair follicle, making hair growth unlikely in the future.

To notice a significant results, we recommend using the Pulsar for a total of 8 treatments. For the first 4-5 treatments, we suggest using it once every 2 weeks to ensure all the hair is treated. After 4-5 treatments, progress should be visible. Following 4-5 treatments, we recommend using the device once every 4 weeks.

The Pulsar's SR mode targets the dermis using Intense Pulsed Light, causing thermal heat shock, followed by collagen growth in the dermis. Up to two passes over the same skin surface are recommended and allowable, and once bi-weekly usage is ideal to allow for healing and skin repair between sessions.

Unfortunately, like most IPL lasers, the Pulsar is not recommended for use on dark brown, brownish-black, or darker skin tones or for people with light hair colors, including ginger and grey. The laser cannot target the melanin in the hair.
EvenSkyn Pulsar
Glasses for light protection
Charging adapter
User Manual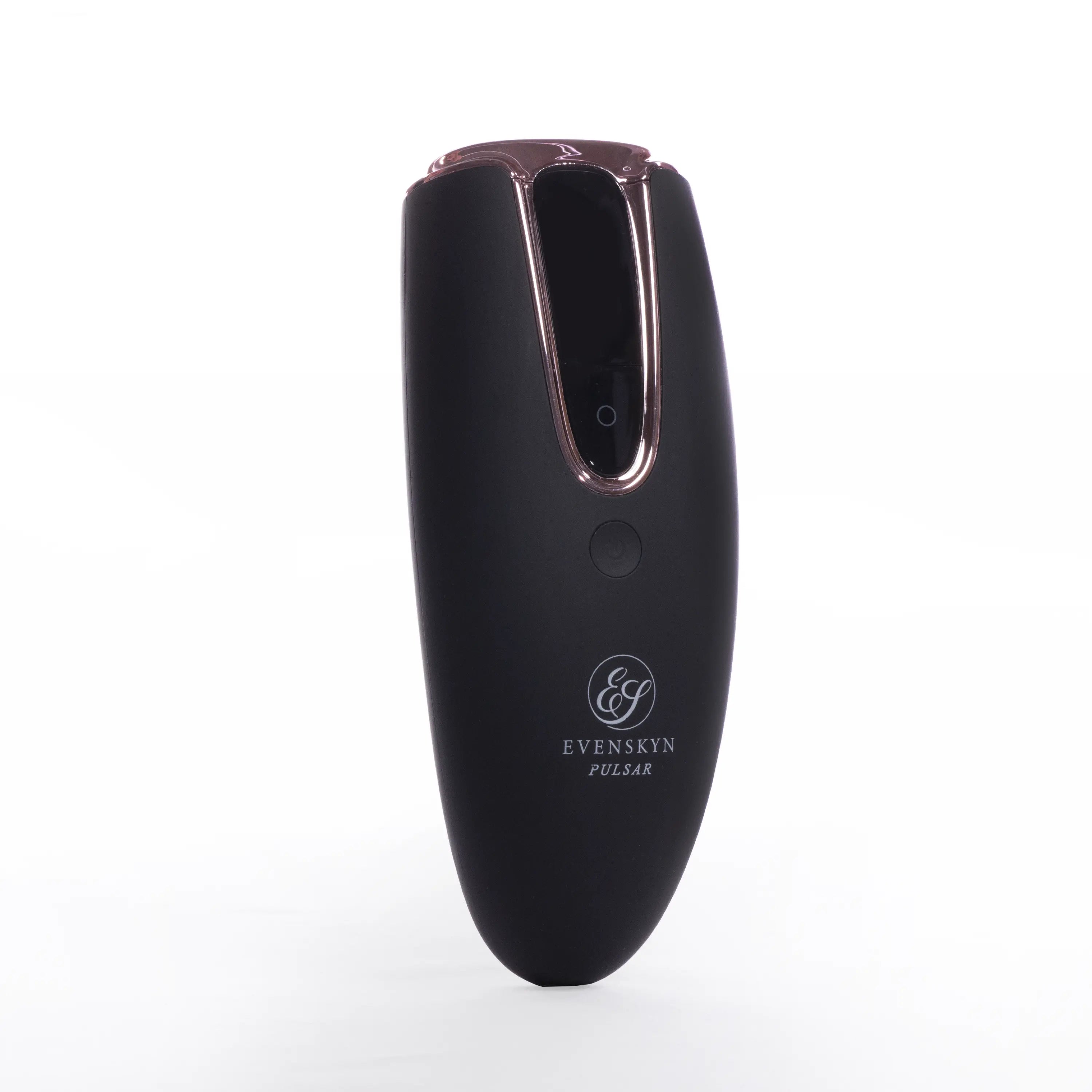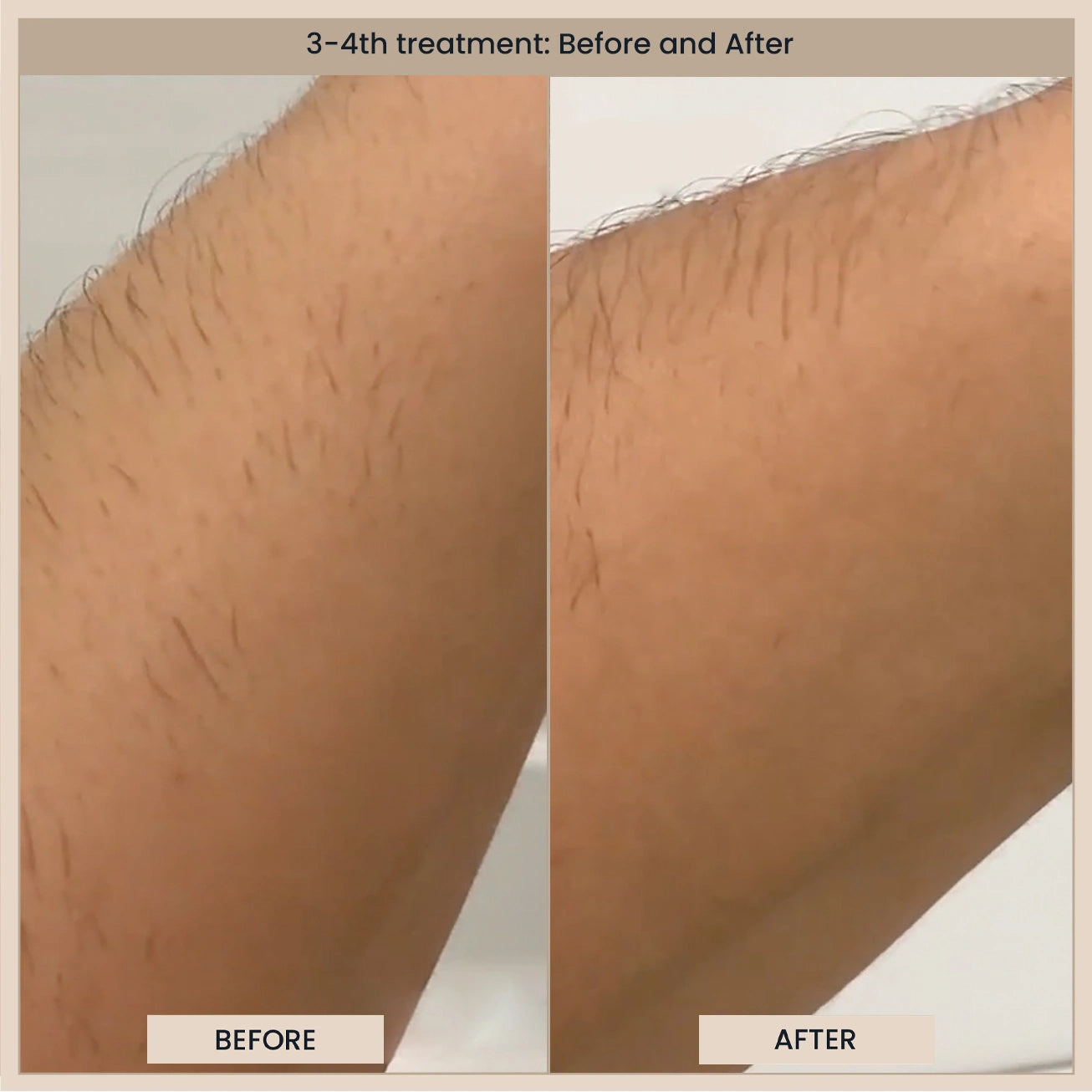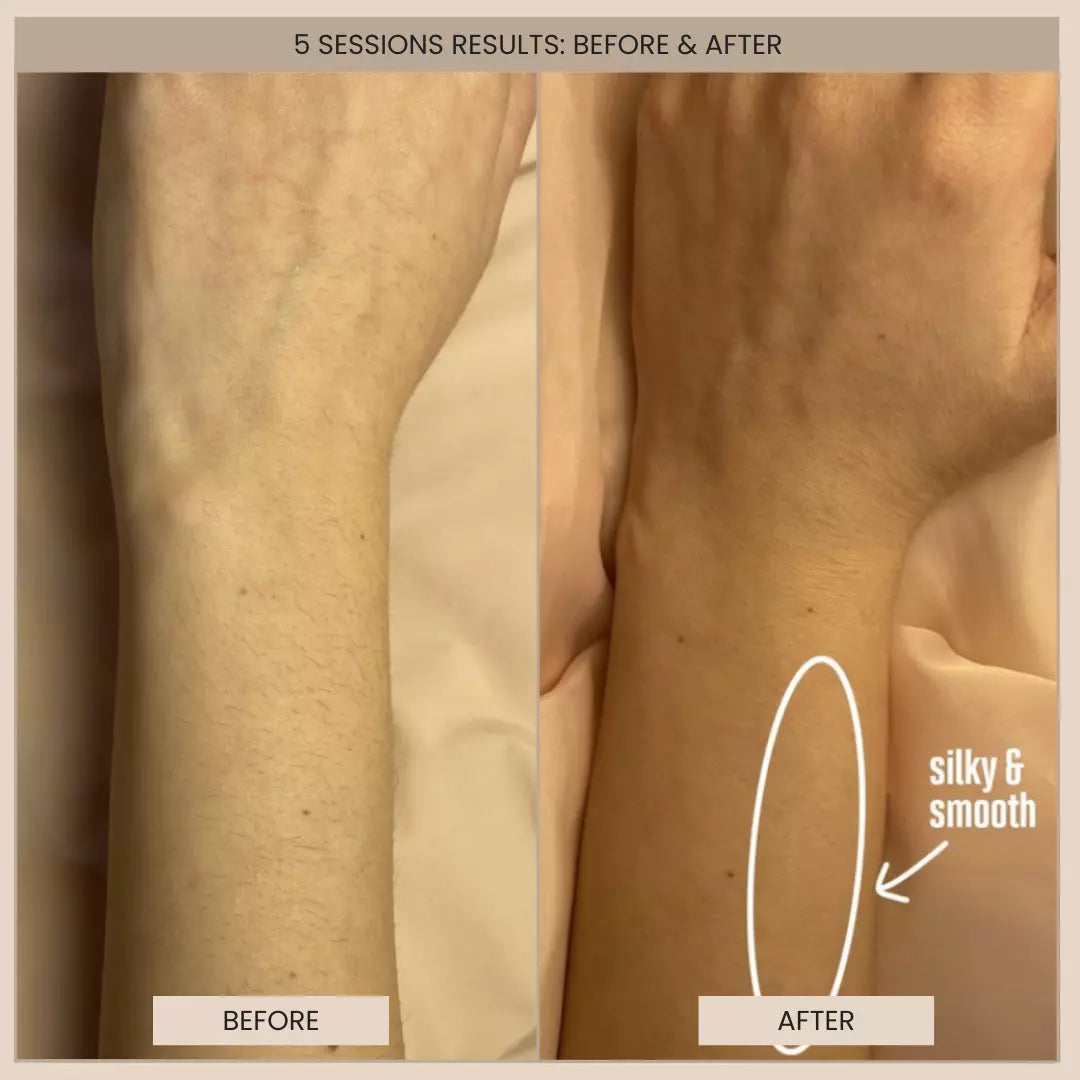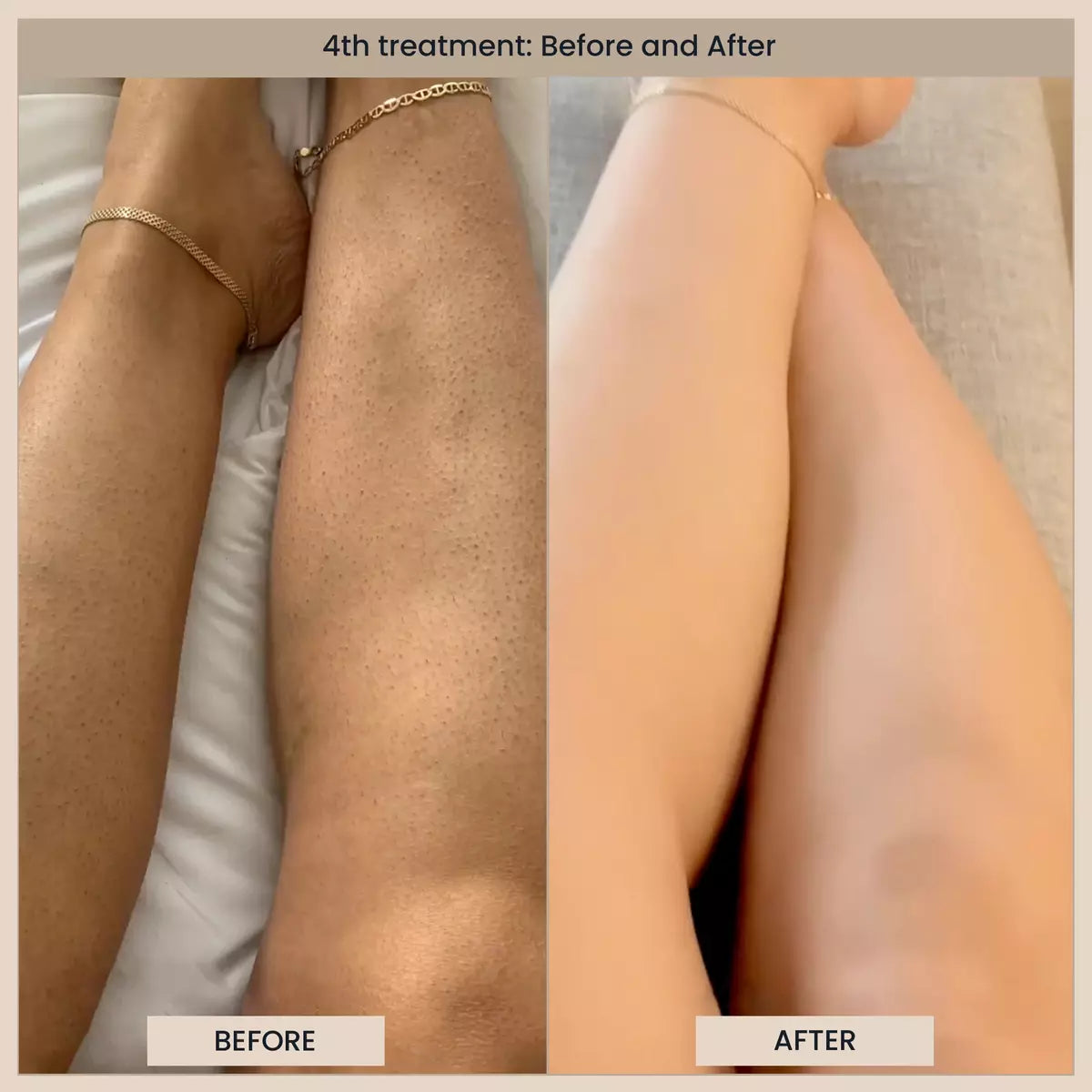 8 week trail
12 weekly treatments lead 95% of women and men to be 90% hair-free in treated areas.
Real People. Real Results.
8 week trail
12 weekly treatments lead 95% of women and men to be 90% hair-free in treated areas.
Real People. Real Results.
8 week trail
12 weekly treatments lead 95% of women and men to be 90% hair-free in treated areas.
Real People. Real Results.
Features
Included treatments
Discover the transformative treatments and cutting-edge features that come included with our products.
8 Intesity Level
While it is normal for a light heat sensation to accompany the use of the Pulsar in the target skin area, it comes with 8 different setting to adjust for what works best for you. For darker skin types, lower intensity levels are advised, while higher energy levels are recommended for light hair & skin types.
Effective Cooling
The Pulsar has been designed for safety, health, durability and (light wavelength) stability in mind, so that precisely the right amount of Intense Pulsed Light energy is delivered to the target hair follicles.
Quartz Core
A tube that is designed to last at least 10 years of regular use. Luckily, it only takes 12 to 16 weeks to be completely hair free with the Pulsar.
Does It Works For Me?

Skin Tone
Never use the device if you have dark skin. Check the skin tone table to see if your skin type allows usage of the device

Hair Color
The device is not effective if your hair color is light blonde, red, grey or white. Check the hair color table to see if your hair color allows usage of the devicee
How to use the Pulsar
Unleashing the Power of Dermal Technology
Set-up Device
To ensure effective treatment, it's important to pretreat your skin by removing hair on the surface. You can use shaving, trimming, epilating, or waxing methods, but avoid depilatory creams that can cause skin reactions. If you choose to wax, wait 24 hours before using the device. This allows the light to be absorbed by the hair below the skin's surface.
Prep Your Skin
Ensure your skin is clean, dry, and free from oils and hair before using the device. To determine the best intensity level, perform a skin and hair test using the provided table. The Hair Removal (HR) mode offers 8 intensities, while the default mode for Skin Rejuvenation (SR) is 1 intensity.
Flash & Rejuvenate
The IPL should never be painful. You can adjust the light intensity setting if needed. When using the device, make sure to place it at a 90° angle on the skin, and avoid any shaky or uneven motions that may leave gaps between the device and your skin. Choose between auto or manual mode, depending on your preference.
FAQ
Our FAQs section provides answers to common questions about our products, services, and terms. But if you can't find the answer to your specific question, please feel free to message us and we'll be happy to assist you.
More FAQs
Do you feel pain or anything with Pulsar?

The intensity level of the Pulsar IPL device has a direct impact on the user's experience during treatment. There are 8 intensity levels in total, and as the intensity level increases, some users may start to feel a slight heat sensation. However, most users report that it's more of a heat sensation than actual pain, especially at higher levels. On the other hand, if the device is used at level 4 or lower, most users don't feel anything at all during the treatment. It's important to note that individual sensitivity levels may vary, so the sensation experienced during treatment may be different for each person.
Is it safe for men to use the Pulsar?

They technically can, however, we haven't cleared it to a threshold with the regulators to guarantee permanent or even lasting long-term results since the hair in men is said areas often grow pretty thick, and the hair follicle is quite tough to treat using an at-home solution. As for the genitals we have also not cleared the device to be safe around the reproductive areas in men, and as such do not want to encourage use without knowing the full safety ramifications without thorough testing.
Can I use the Pulsar if I have tattoos?

As far as tattoos go, the Pulsar is definitely not recommended for use within an inch of where the tattoo outline ends. This is because if direct IPL light penetrates from the Pulsar to the tattoo ink that lies between skin layers, the IPL light will likely split the ink molecules causing gradual distortion of the tattoo's appearance (think lasers being use to remove tattoos, they over utilise IPL, albeit at different, specific wavelengths).
Can the Pulsar be used anywhere on the body?

You can use the Pulsar anywhere else in the body except: 

Around the eyes or near the eyebrows, on the lips, nipples, areolas, labia minora, vagina, anus, and the inside of nostrils and ears. 
On areas where you use long-lasting deodorants. 
Over or near anything artificial like silicone implants, subcutaneous injection ports (for instance an insulin dispenser) or piercings. 
Men must not use the device on the face and neck, including all beard-growing areas, nor on the whole genital area
This product is rated 4.7 of 5.0 stars.
It has received 1634 reviews.
This product is rated 4.7 of 5.0 stars.
It has received 1634 reviews.
The experts in anti-aging skincare evenskyn