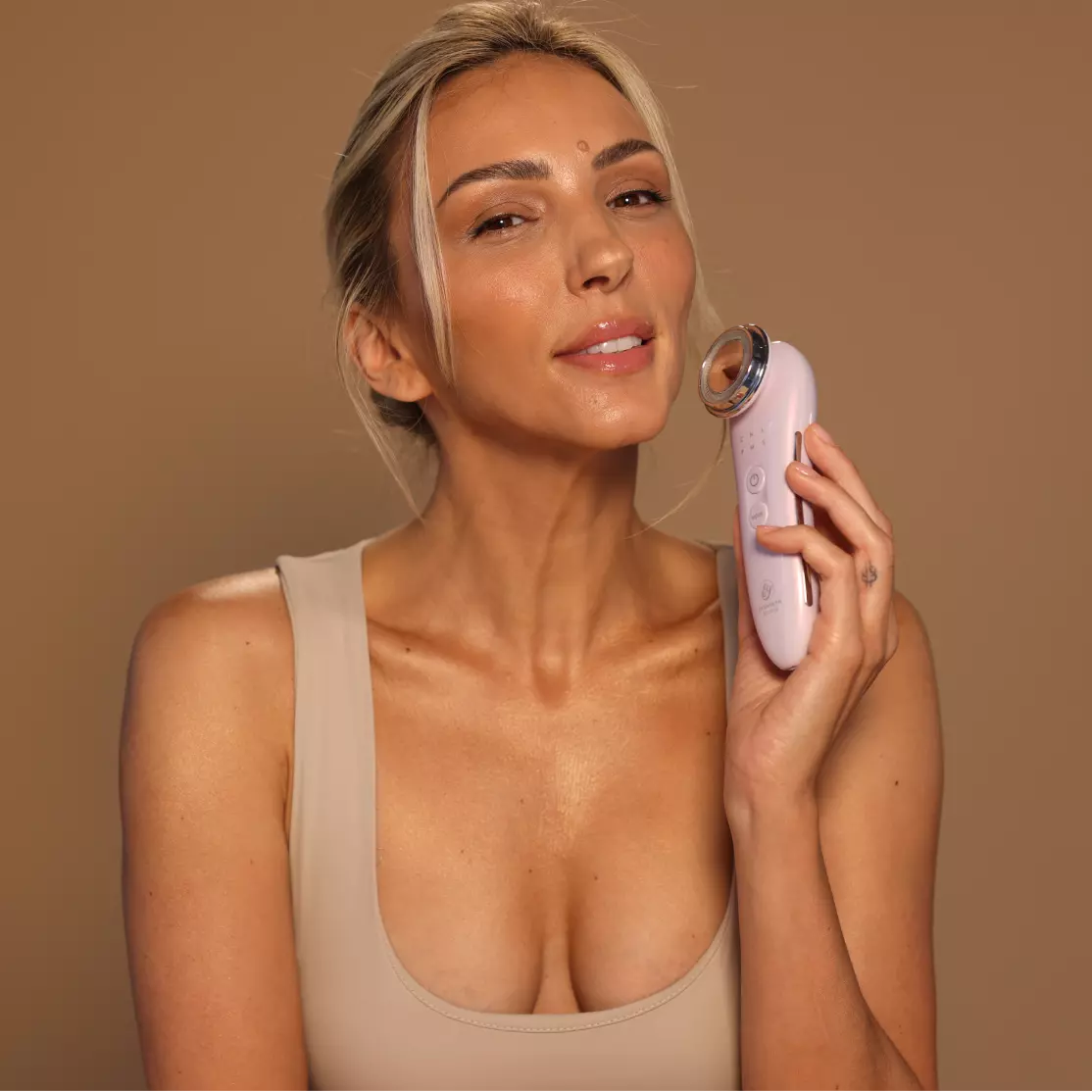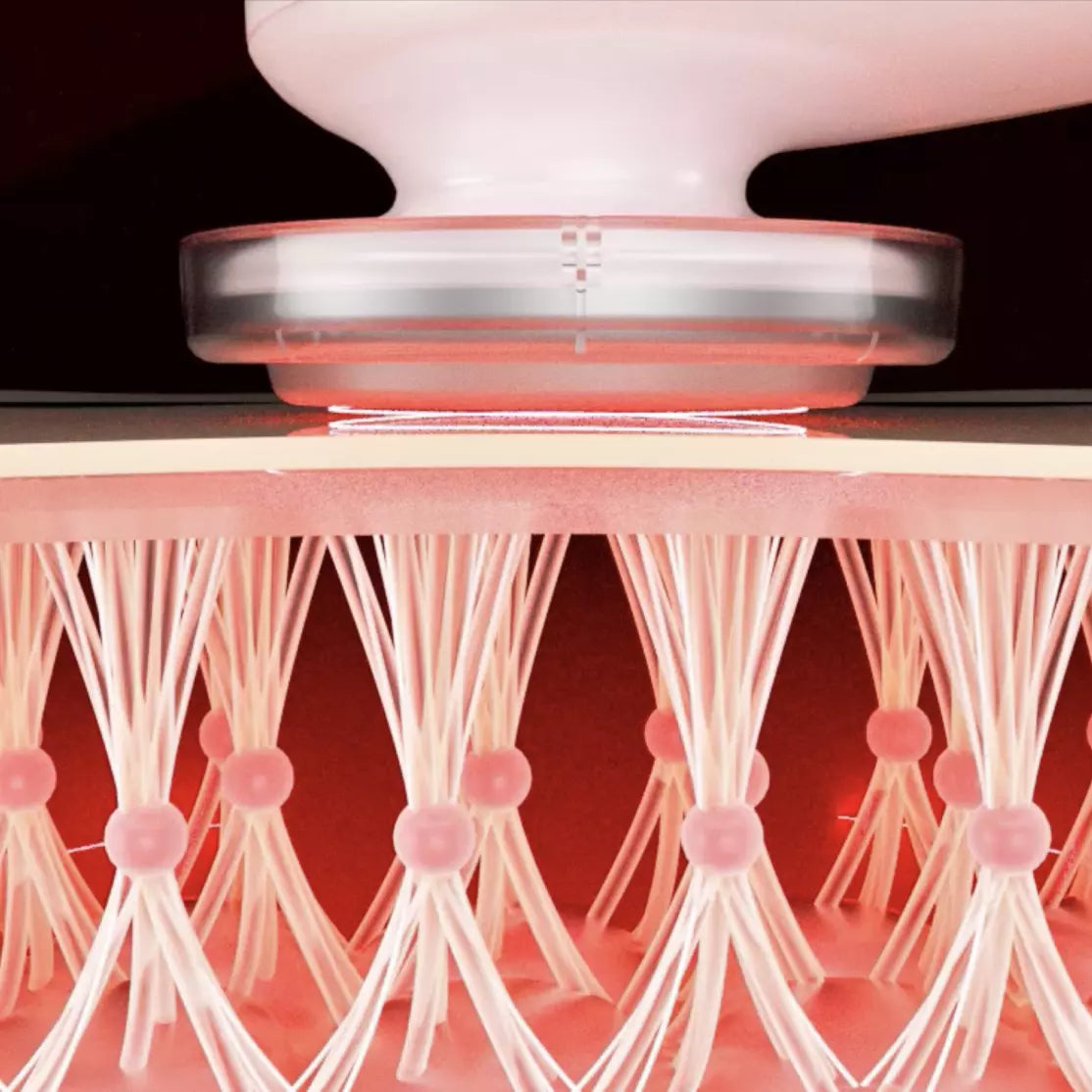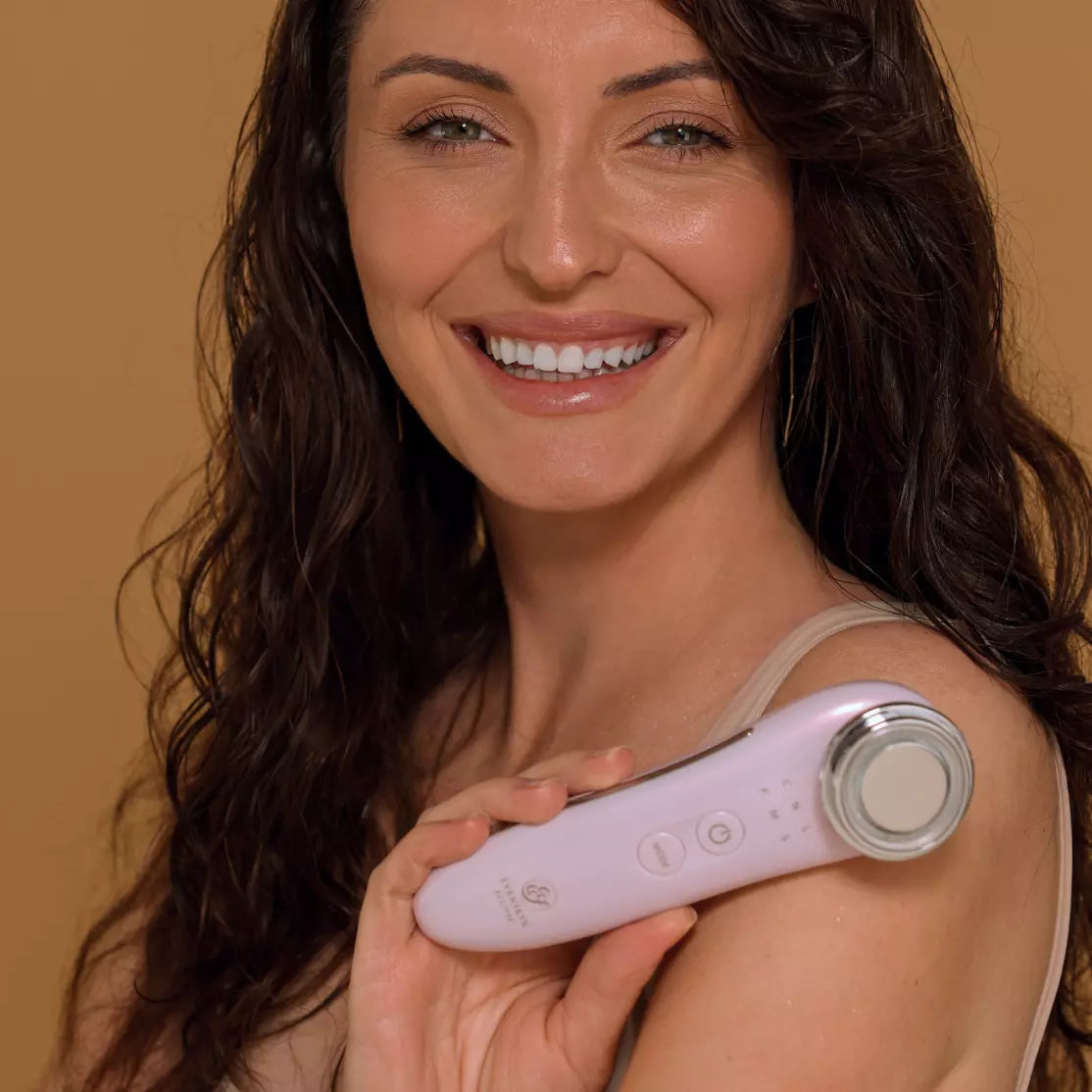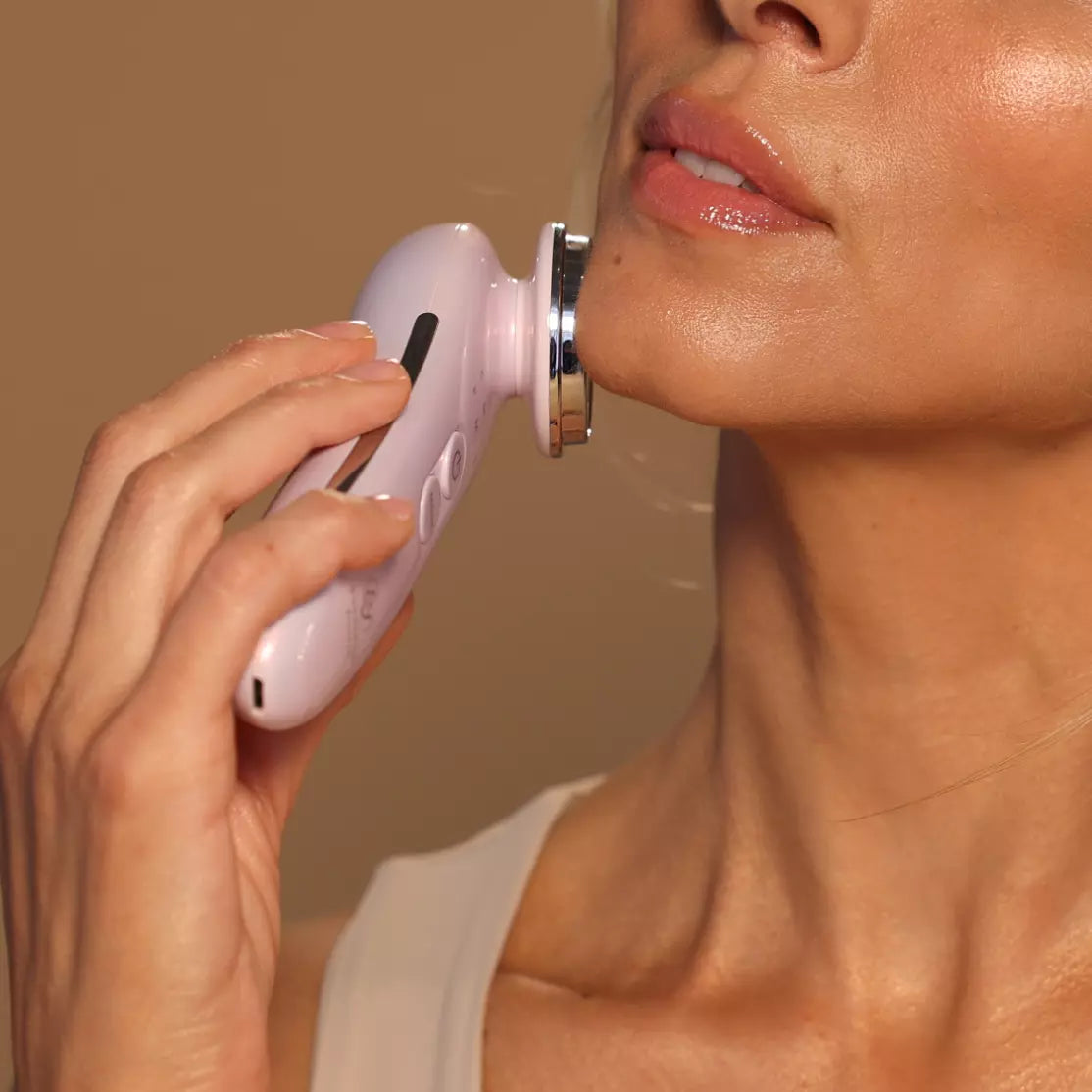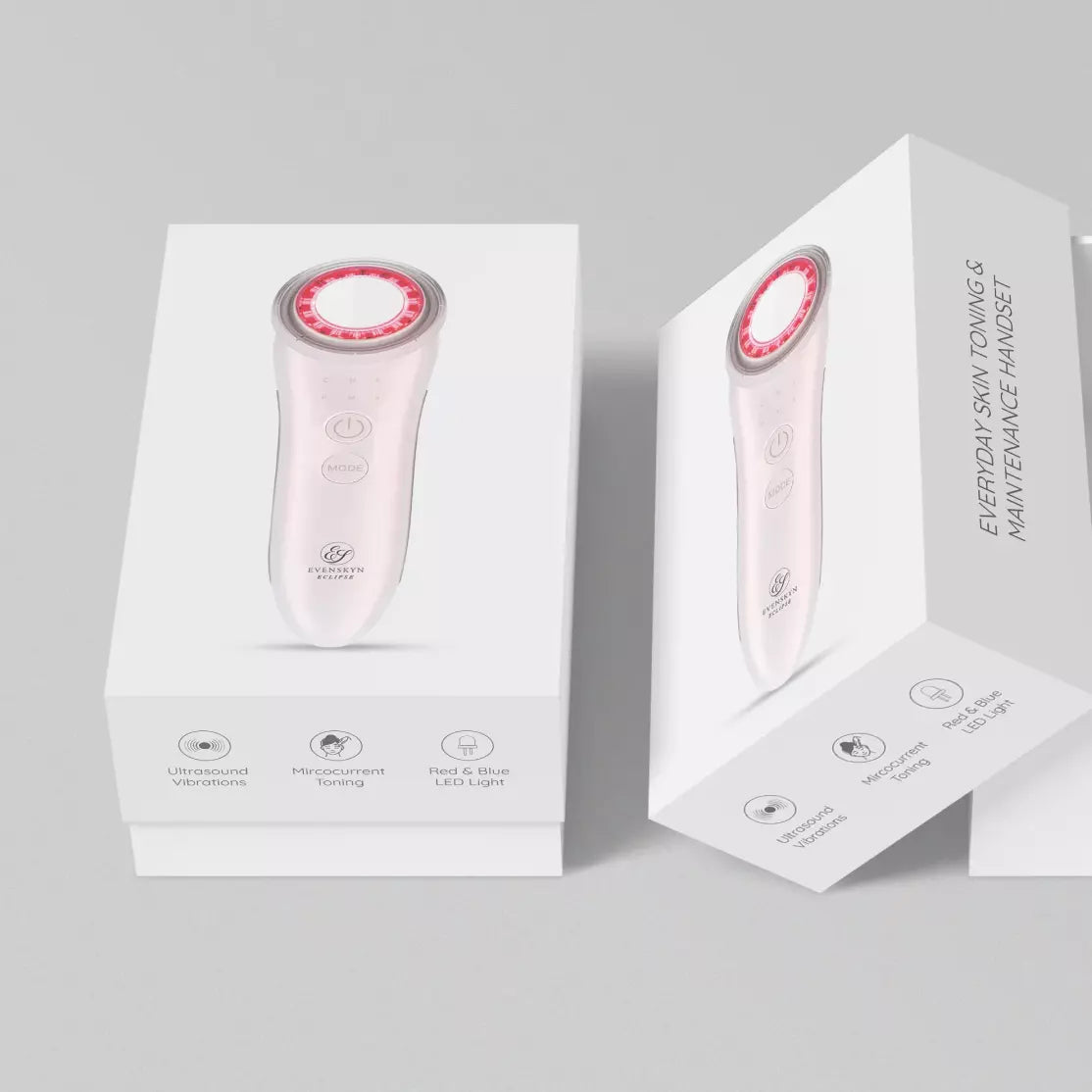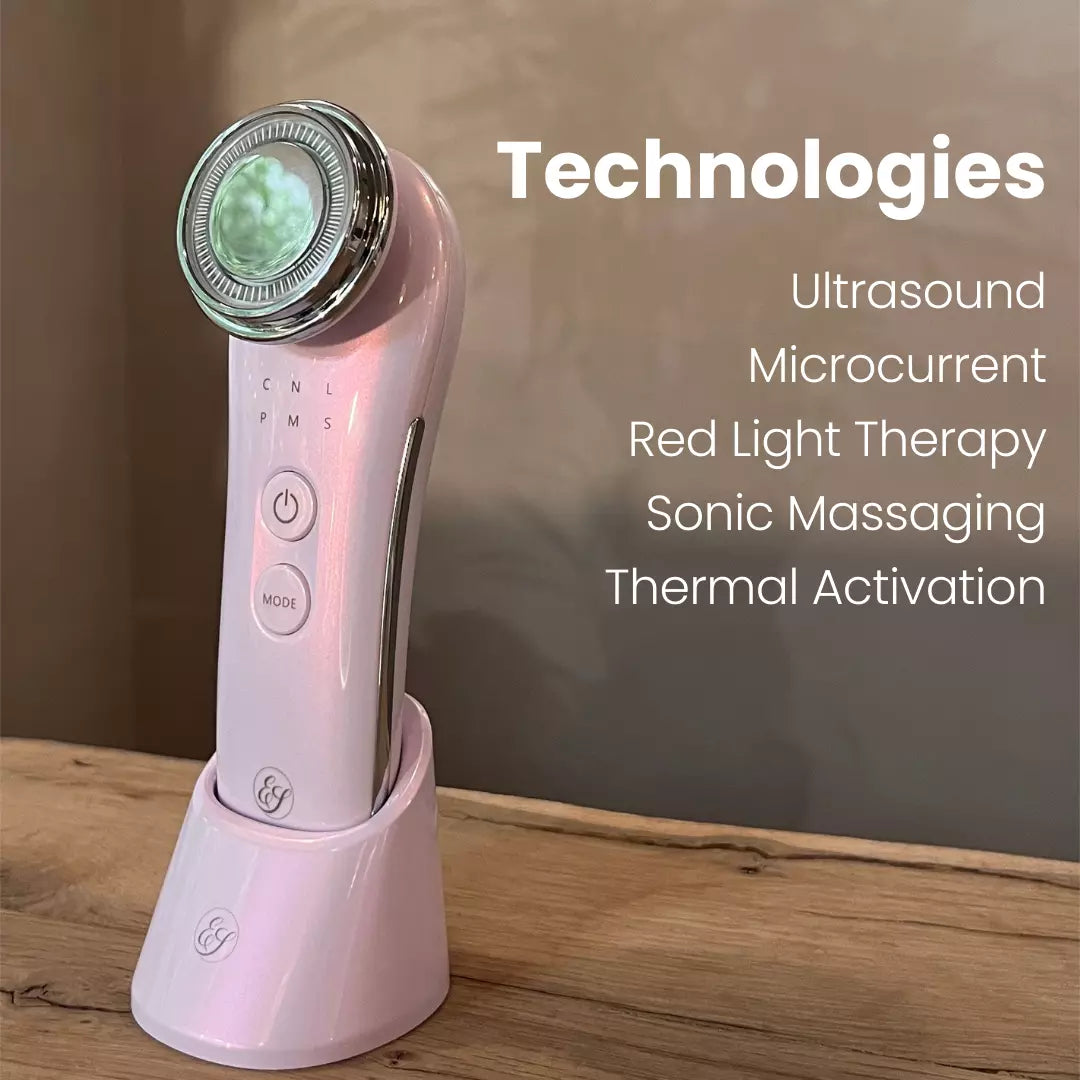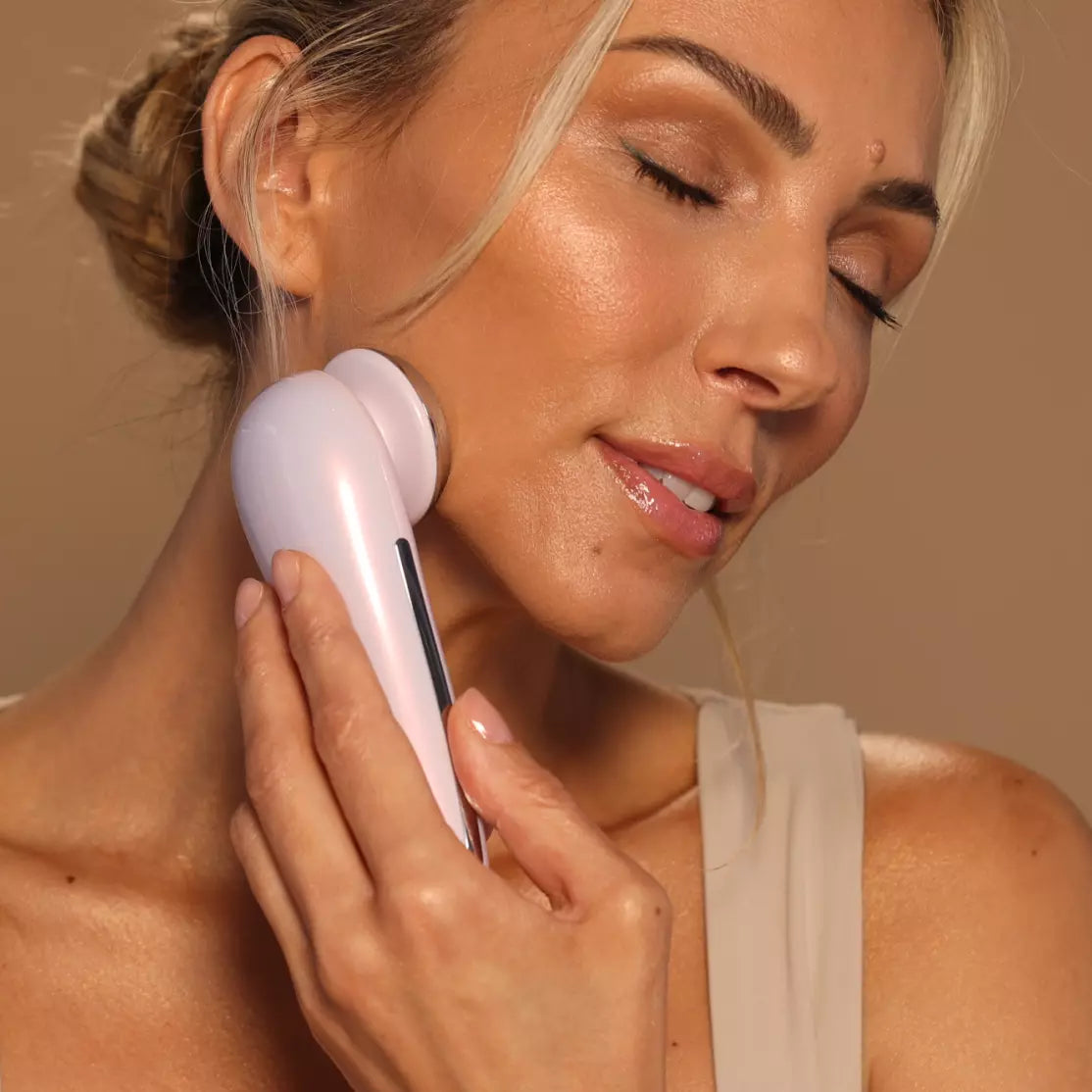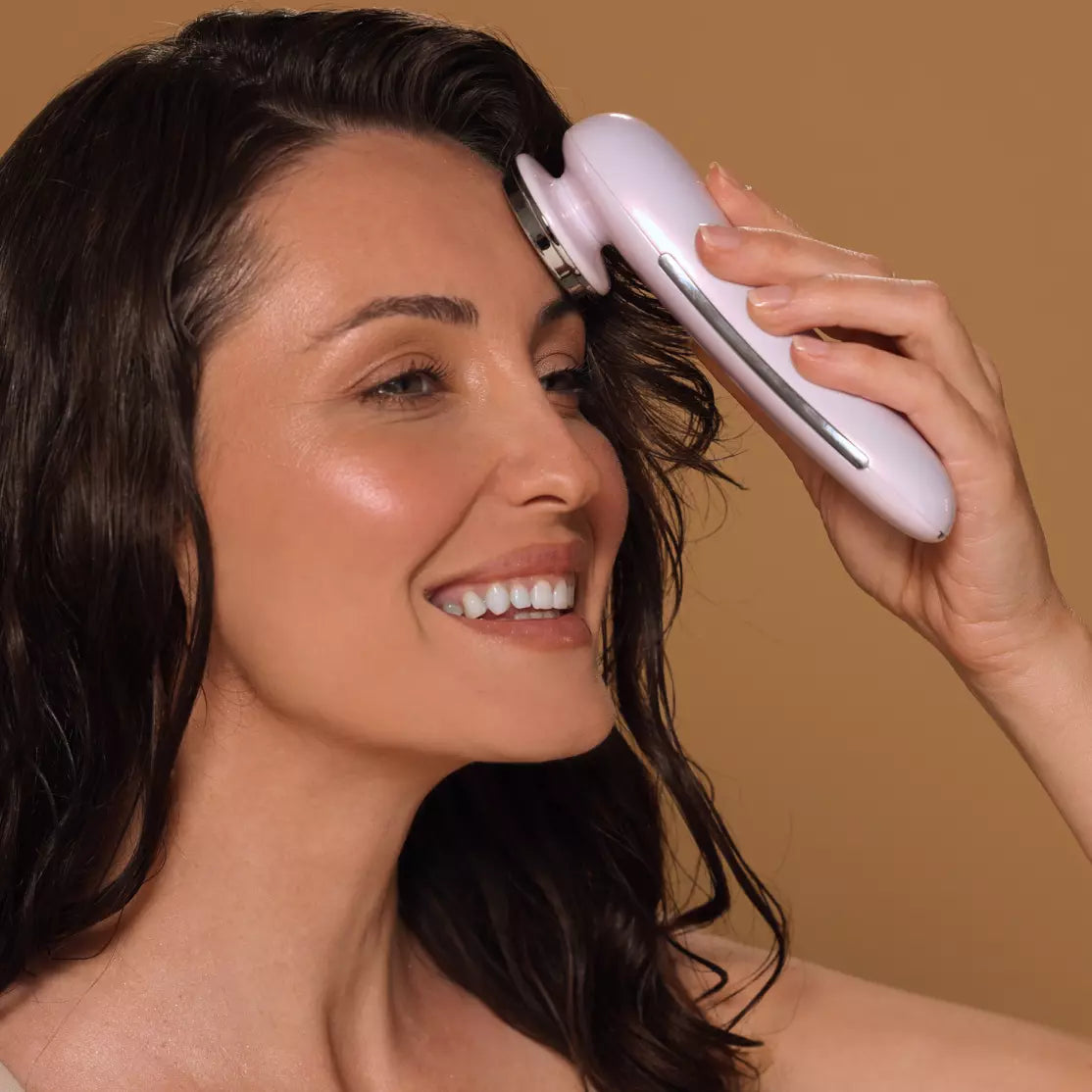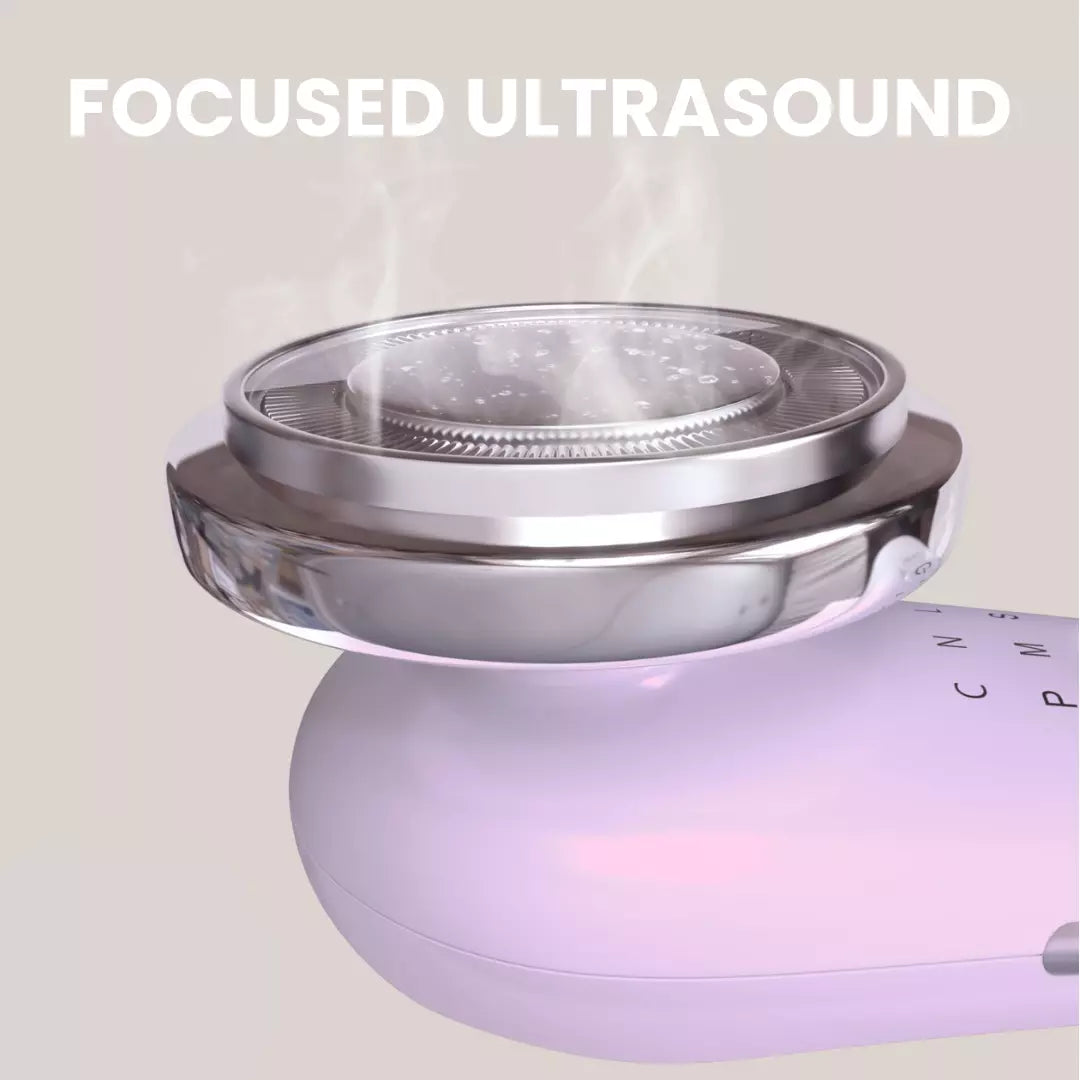 Everyday Skin Toning & Maintenance Handset
The perfect everyday skin maintenance companion designed to complement your skin care routine by offering a superior cleansing, more effective product penetration, a renewed glow, and an overall more toned & lifted appearance. A first of its kind, the Eclipse features the unique combination of ultrasound paired with microcurrent, red light therapy, facial sonic massaging and thermal skin activation technologies. 

Guaranteed noticeable results within 8 weekly uses or your money back, as per the EvenSkyn® 60 Day Money Back promise.


Light Therapy: Red Light: 623nm
Blue Light: 465nm
Technical: Battery: 3.7V, 800mAh
Adapter: Input 100~240V, 0.35A; Output 5V 1A
Power Rating: 3W (Max.)
Charging Duration: 2 hours
Standby Current: 20µA
Weight: 145g
Product Manual: Eng lish
---
Add the discount code ECLIPSE30 at the checkout page
60 Day Money-Back Guarantee
The Eclipse features a plethora of technologies that help a user achieve optimal cleansing, lifting and improvements to their skin texture. Ultrasound and microcurrent are the two main core technologies employed by the device. Depending on the mode, red and blue LED light therapy, as well as the sonic vibrations, may also be applied in an assistive capacity to bring about the desired results.

Built with a medical-grade stainless steel (SAE 316) head, the device boasts a non-porous surface that resists the adherence of bacteria, viruses, and other microbes, ensuring a hygienic experience.

With three intensity levels for each mode, users can easily tailor the device's performance to their evolving preferences and needs, promoting personalized skincare.

Equipped with smart contact technology from EvenSkyn® Venus, the Eclipse efficiently manages energy consumption while accurately detecting active usage, allowing for full power application when needed.
The EvenSkyn Eclipse Device
Device Base
1 x Retaining Ring
USB Charging Cable
User Manual
Features
Included treatment
Discover the transformative treatments and cutting-edge features that come included with our products.
Thermal Activation
Heat is generated specifically to cause thermal coagulation in the deep layers of the skin, which triggers a wound healing response & increased blood flow.
Focused Ultrasound
Sonophoresis, causing droplets to vaporize on contact, stimulates collagen-producing fibroblasts cells and helps with enhanced cleansing & product penetration
6 Powerful Modes
Upon turning on the device, a light cycles through the six available modes of the Eclipse which are as follows: Cleansing (C), Nutrition (N), Lifting (L), Photorejuvention (P), Massaging (M) and Soothing (S).
Unleashing the Power of Dermal Technology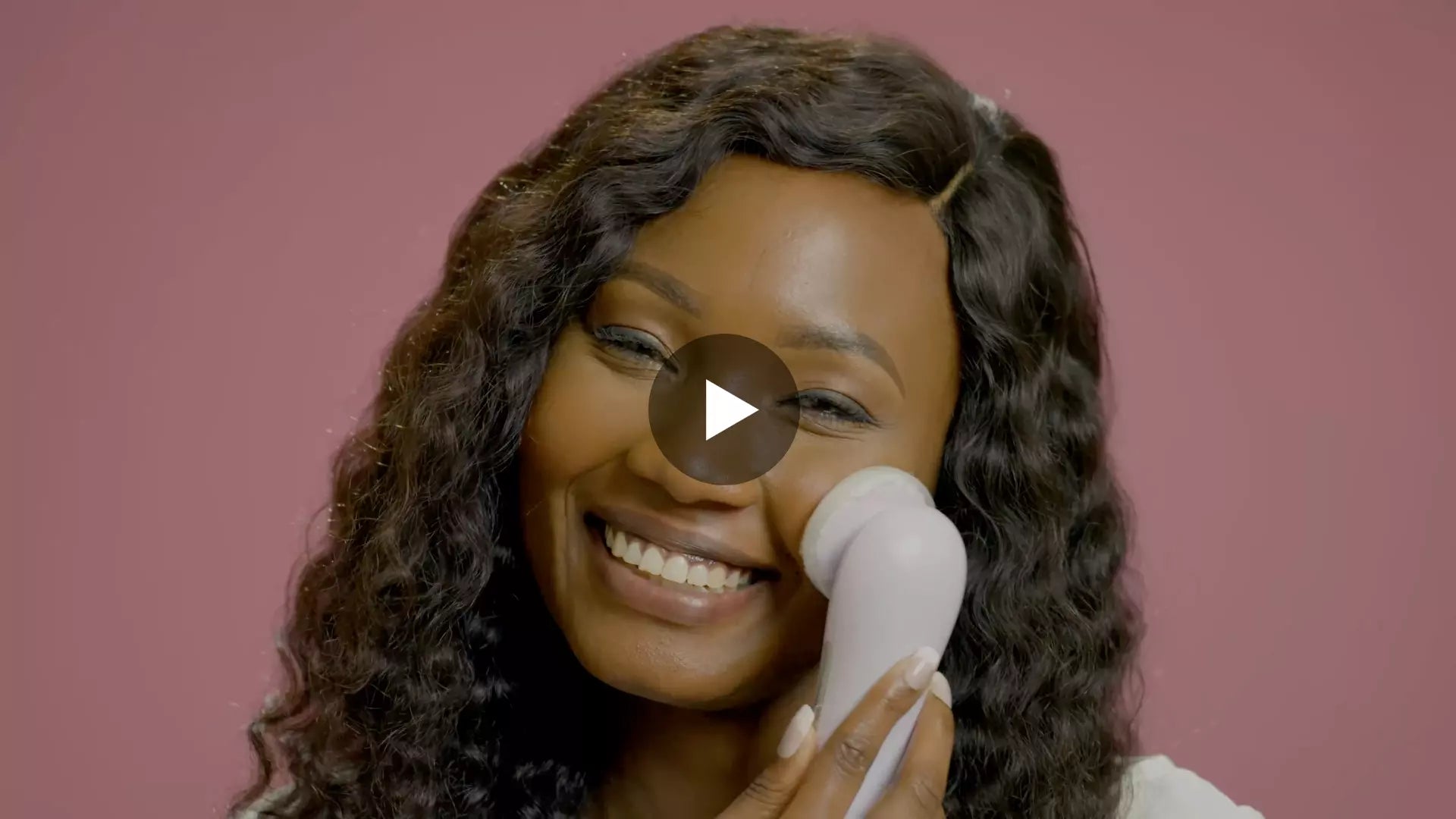 Prep Your Skin
Before use, ensure your face is clean and free of oils. Hold the power button for 2-3 seconds until the mode letters cycle on the panel. Choose your desired mode by pressing the mode button when the light is stationary over the desired letter. For enhanced efficacy, always apply the EvenSkyn Conduction gel before using the device.
Mazimize Results
For optimal results with the Eclipse, use circular motions for Cleansing, Nourishment, Massage, and Soothing modes, and linear motions for Photorejuvenation and Lifting modes. Avoid overstimulation by moving the device in slow, constant motion over the treatment area, not exceeding 10 seconds in one spot.
Tone & Lift
If your main concern is anti-aging prioritize sessions in the Lifting, LED light therapy, and Massaging modes. Microcurrent effectively tones and contours muscles, while Photobiomodulation therapy with red LED light triggers collagen production, improving skin elasticity. Additionally, Sonic vibrations enhance blood circulation and promote lymphatic drainage for a comprehensive anti-aging experience.
Optimal Usage Frequency for Eclipse
These guidelines optimize EvenSkyn Eclipse's benefits while ensuring safe usage based on your age group. Please keep in mind that these are suggestions, not strict rules. Listen to your body and seek advice from a healthcare professional if needed.
| Modes | Uses per week | Minutes per session |
| --- | --- | --- |
| Cleansing | 3 | 4 minutes |
| Nourishment | 7 | 3 minutes |
| Lifting | 3 | 4 minutes |
| Photorejuvenation | 4 | 4 minutes |
| Massage | 7 | 3 minutes |
| Soothing | 7 | 3 minutes |
Revolutionizing Skincare To Level Up Your Routine
Revolutionary skin renewing technologies, such as focused ultrasound energy, previously only available in-clinic, now feature in a combinatorial fashion in the Eclipse to help offer unmatched deep cleansing, activating collagen production and improving skin laxity & firmness.
FAQ
Our FAQs section provides answers to common questions about our products, services, and terms. But if you can't find the answer to your specific question, please feel free to message us and we'll be happy to assist you.
More FAQs
What's the difference between the Lumo and Eclipse?

The Lumo is our premium anti-aging flagship device, designed to address more advanced signs of aging. On the other hand, the Eclipse is targeted towards individuals with minor signs of aging, serving as a daily toning and maintenance device.

While both devices share some modes, the price point and power output differentiate them significantly. The Lumo offers a higher intensity and is specially tailored for individuals seeking comprehensive anti-aging benefits. It effectively tightens, tones, and stimulates collagen production, helping to reduce visible signs of aging.

Conversely, the Eclipse is equipped with three intensity levels and six modes, including cleansing, lifting, massage, nourishment, photorejuvenation, and soothing. It utilizes ultrasound, microcurrent, and red & blue LED light therapy to provide deep cleansing, promote product absorption, and maintain a healthy complexion.

In summary, the Lumo is the ideal choice for those looking to target more advanced signs of aging, while the Eclipse is perfect for individuals seeking daily toning and maintenance, especially with minor signs of aging.
What are some common concerns addressed by the Eclipse?

The Eclipse addresses a range of common skin concerns, offering effective solutions for each one. For individuals troubled by skin laxity and sagging skin, the Eclipse helps to lift and firm the skin, restoring a more youthful appearance. If you are experiencing dull or tired skin, the device stimulates the skin to rejuvenate, leaving you with a revitalized glow.

Furthermore, the Eclipse also addresses the issue of inadequate absorption of skincare products. By using the device, you can enhance the active uptake of your favorite skincare products, promoting their deep penetration into the skin for maximum efficacy. This can result in better overall skin health and a more radiant complexion.

Another benefit of using the Eclipse is the reduction in the prominence of pores, helping to refine the skin's texture and promote a smoother look. Additionally, the device aids in the removal of excess oils, dirt, blackheads, and whiteheads, contributing to a clearer and more blemish-free complexion.
Who is ideal for a device such as the Eclipse?

The Eclipse is ideally suited for individuals between the ages of 28 to 45 who are experiencing moderate signs of aging. It is especially beneficial for those seeking help with facial contouring and toning. Additionally, the Eclipse is an excellent choice for individuals looking for an all-in-one solution that combines lifting, rejuvenating, massaging, and cleansing benefits.
Do I need a conduction gel to use the Eclipse?

For the first five modes, it is recommended to use water-based products like the EvenSkyn® Conduction Gel with the device. Alternatively, you can also use other water-based products, such as water-based toners for the Cleansing mode, water-based serums for the Nourishment mode, and water-based conduction mediums like Aloe Vera or RF/Ultrasound gels for the Lifting, Photorejuvenation, and Massaging modes. The Soothing mode is the only mode where a water-based product is not required, and you can apply a day cream, for example, prior to using the Soothing mode of the Eclipse.
This product has no reviews yet.
This product has no reviews yet.
The experts in anti-aging skincare evenskyn