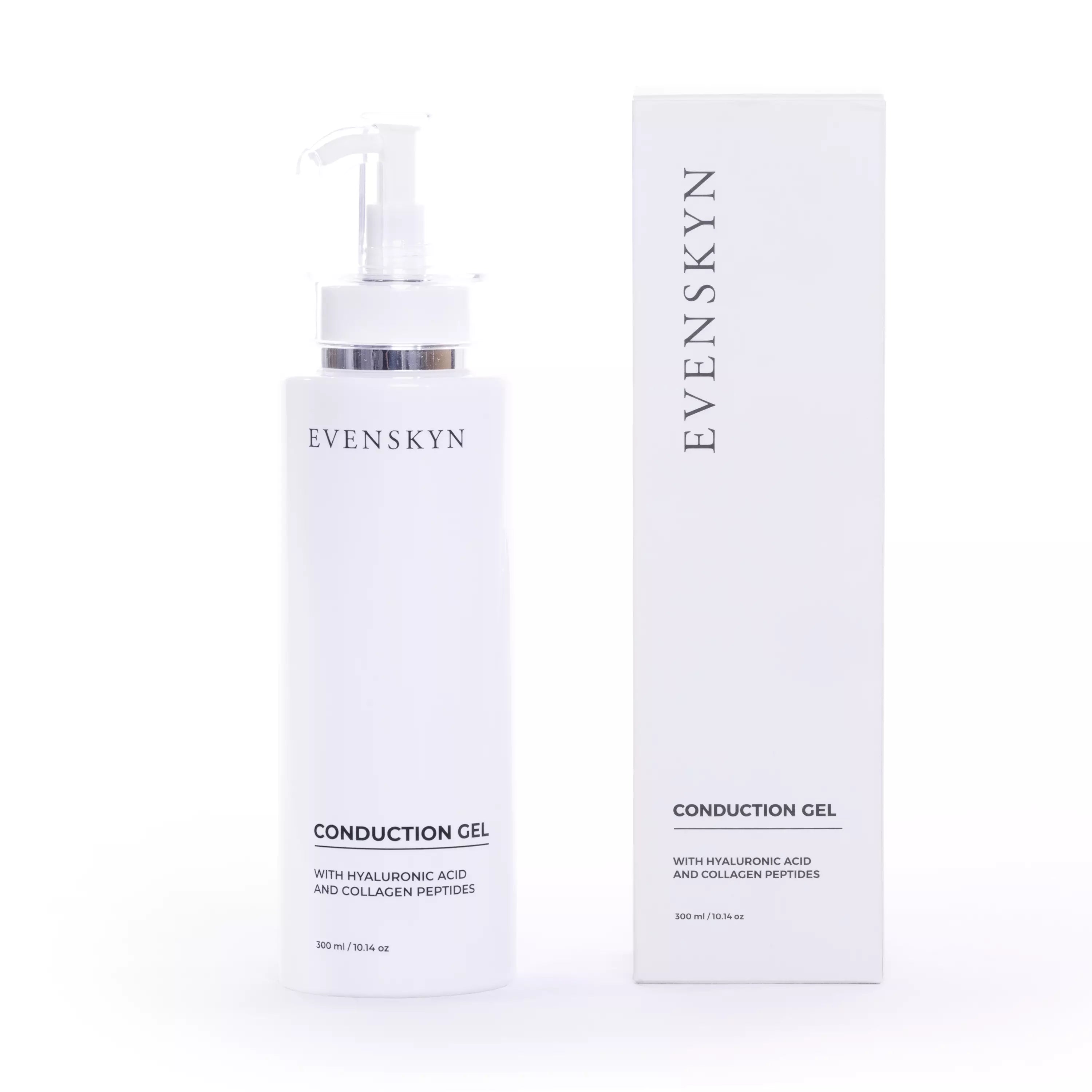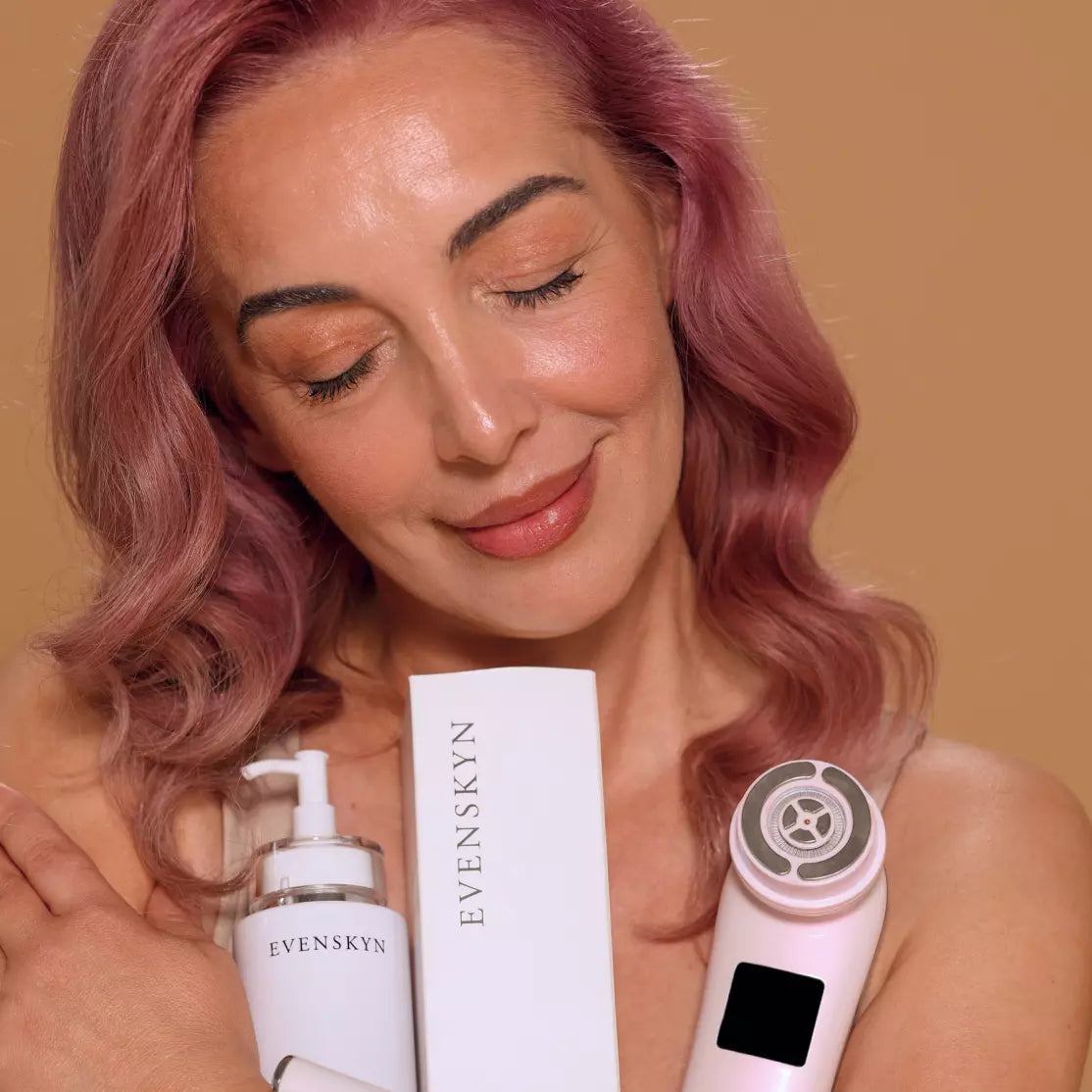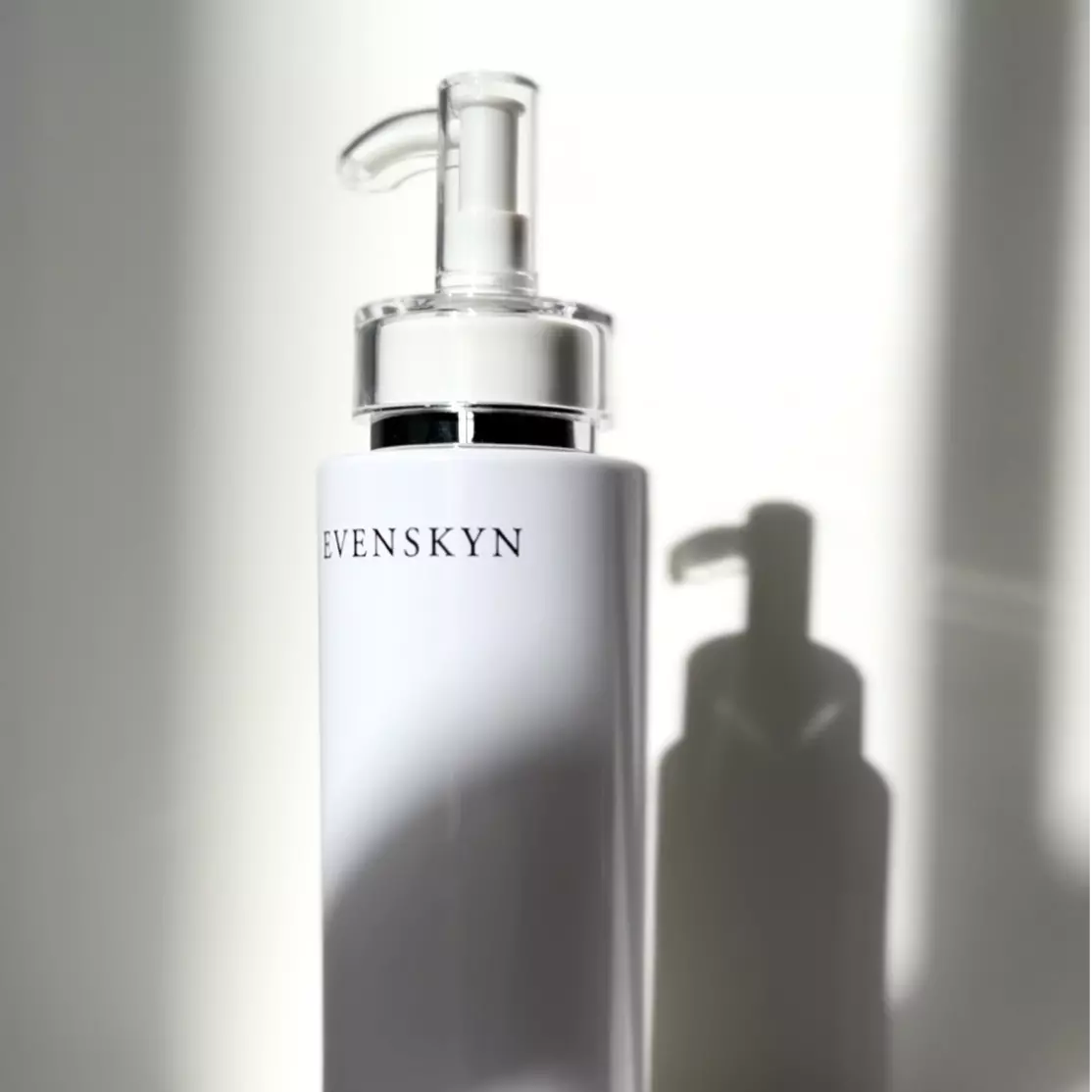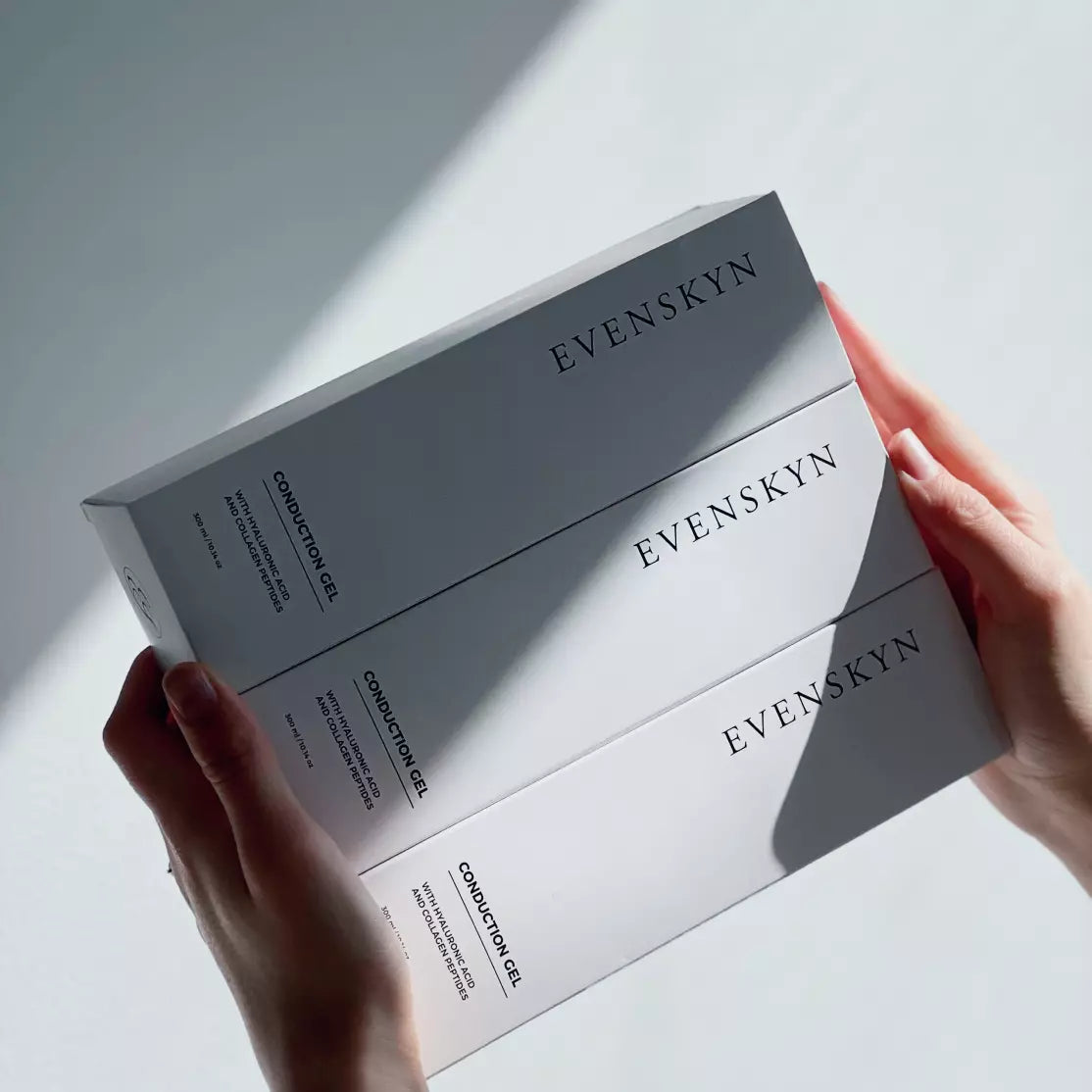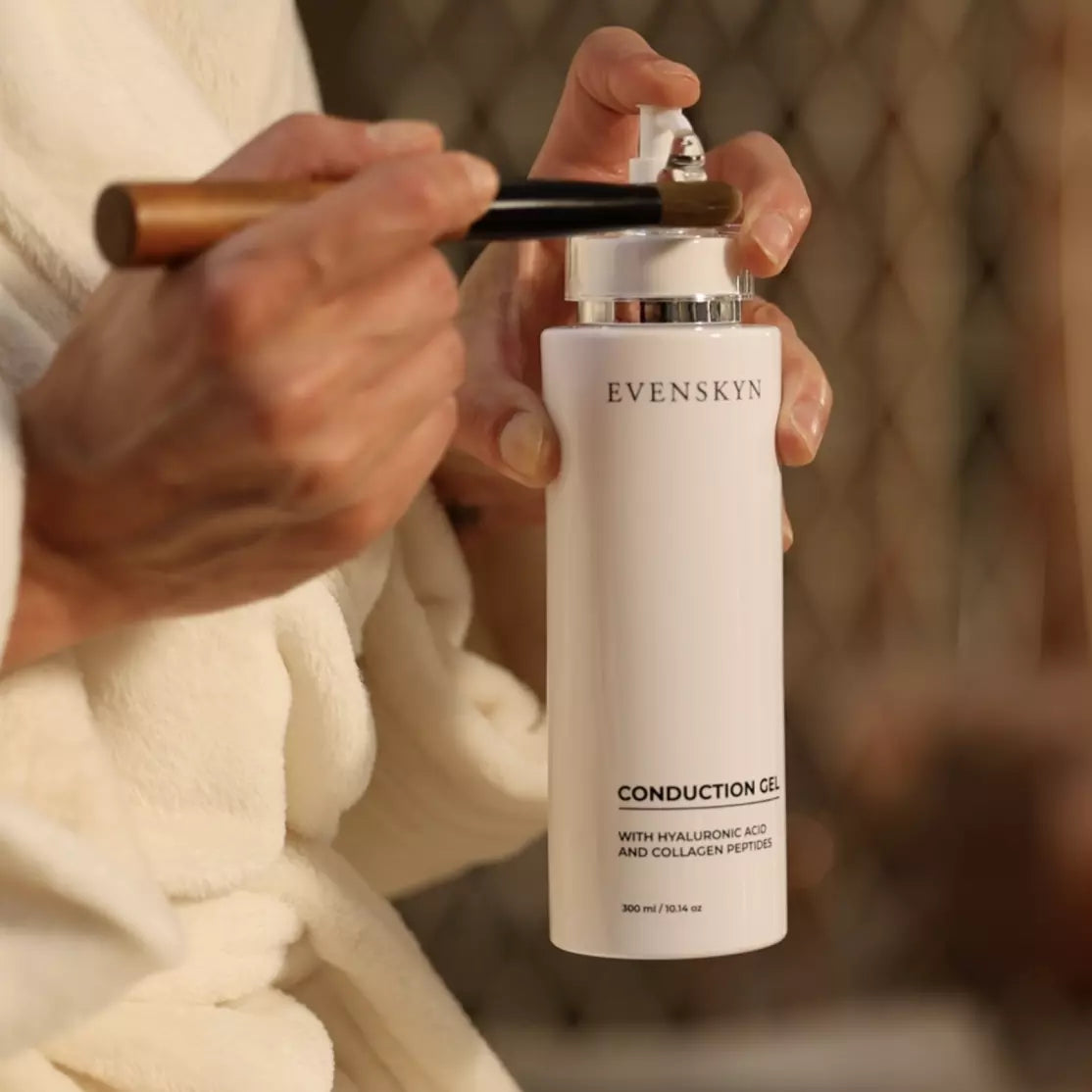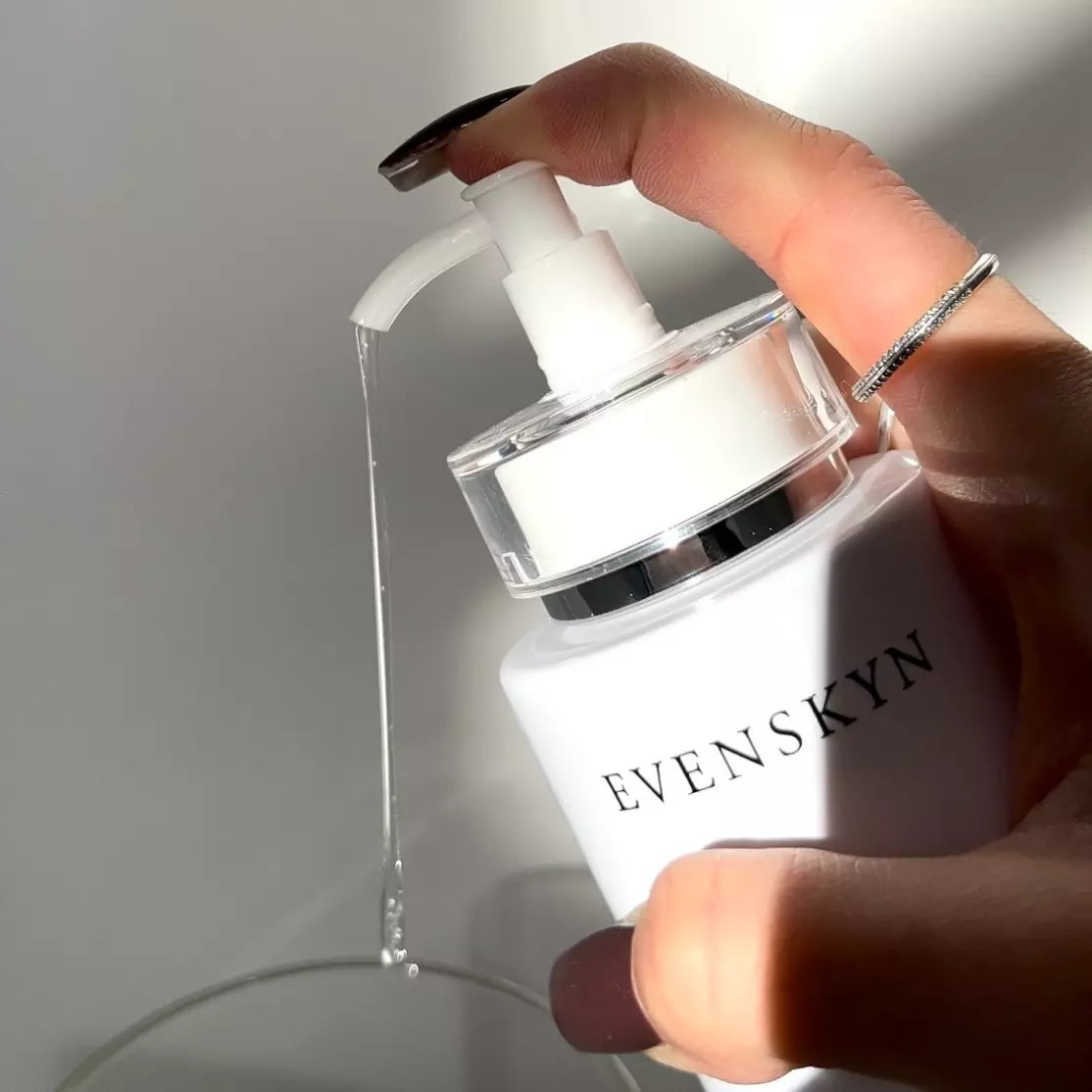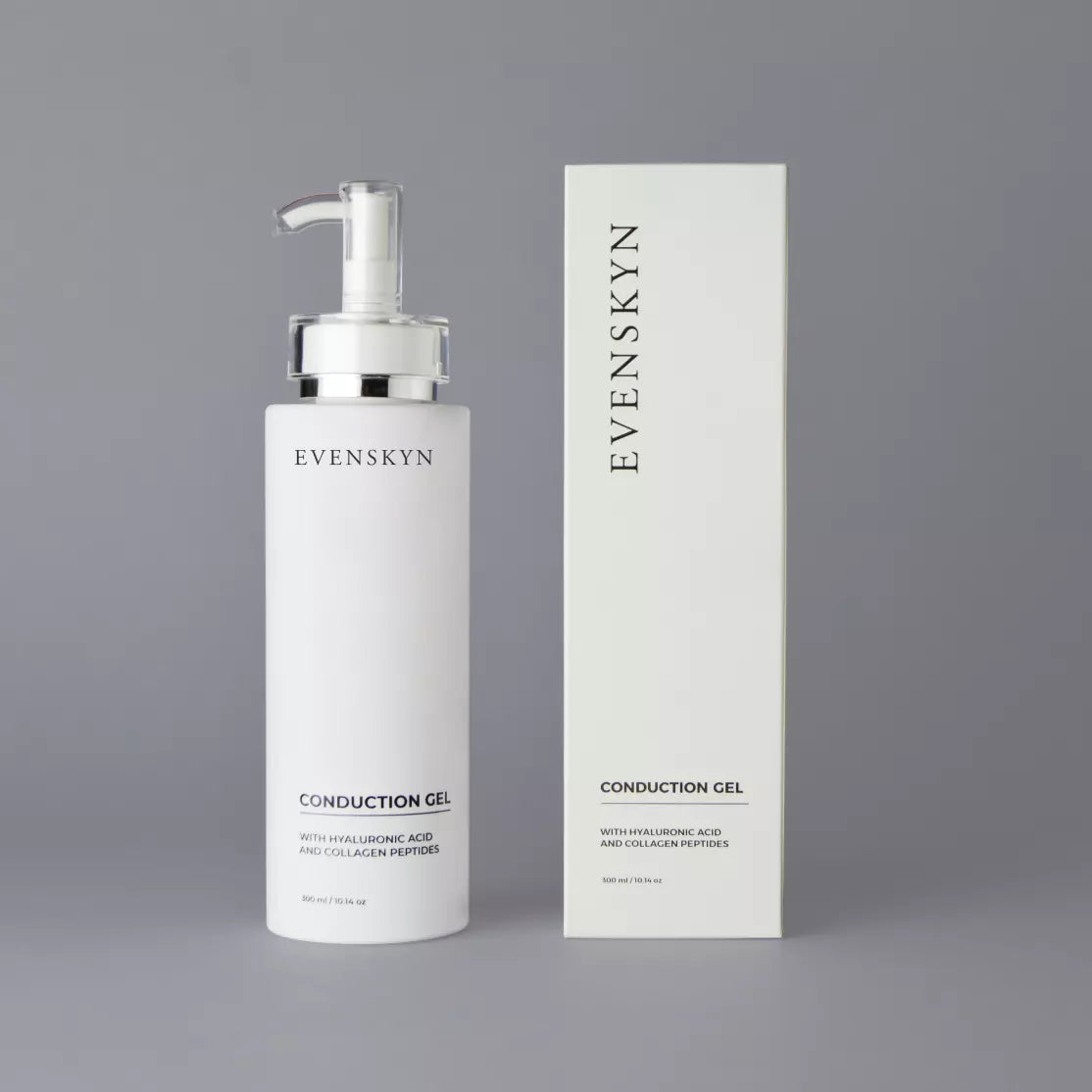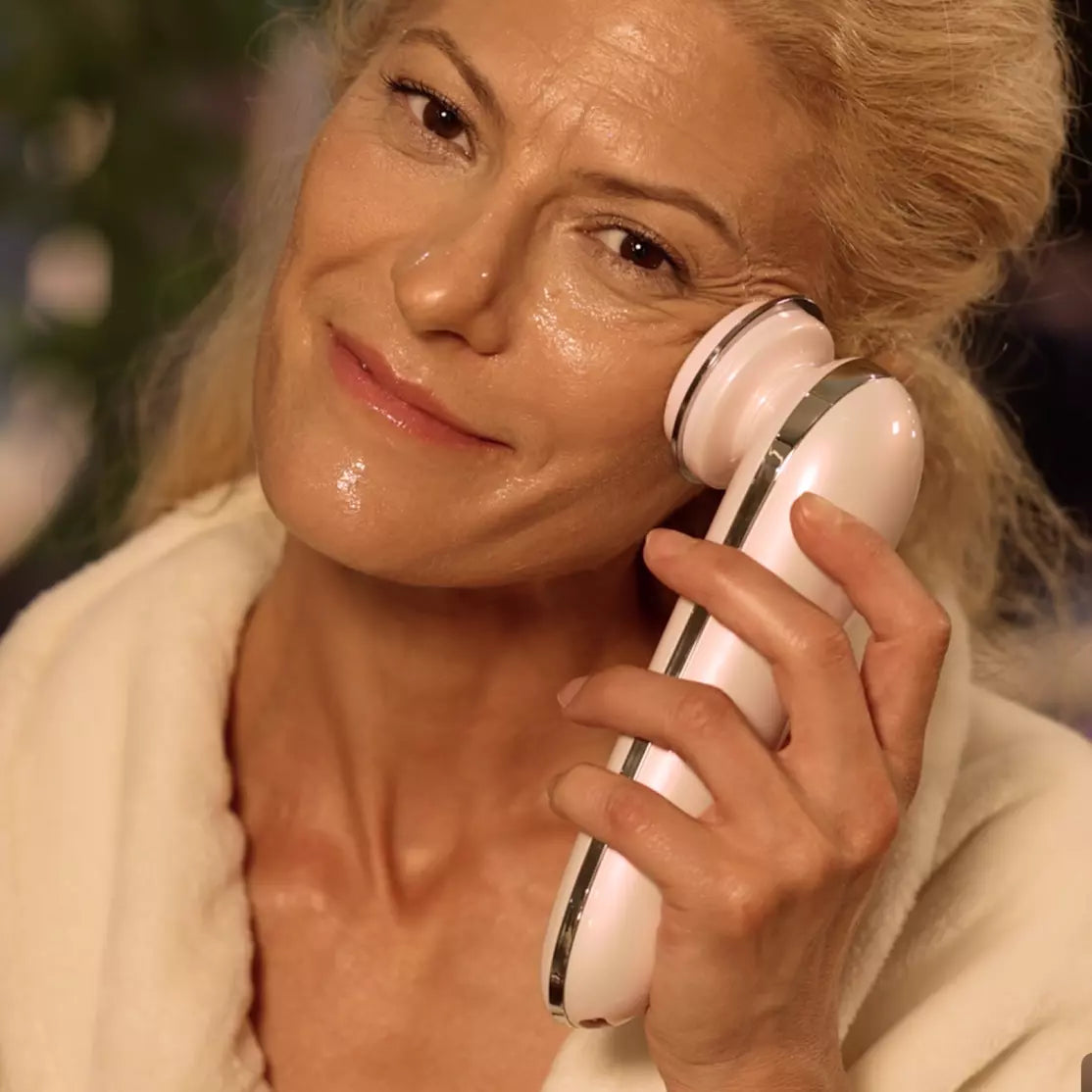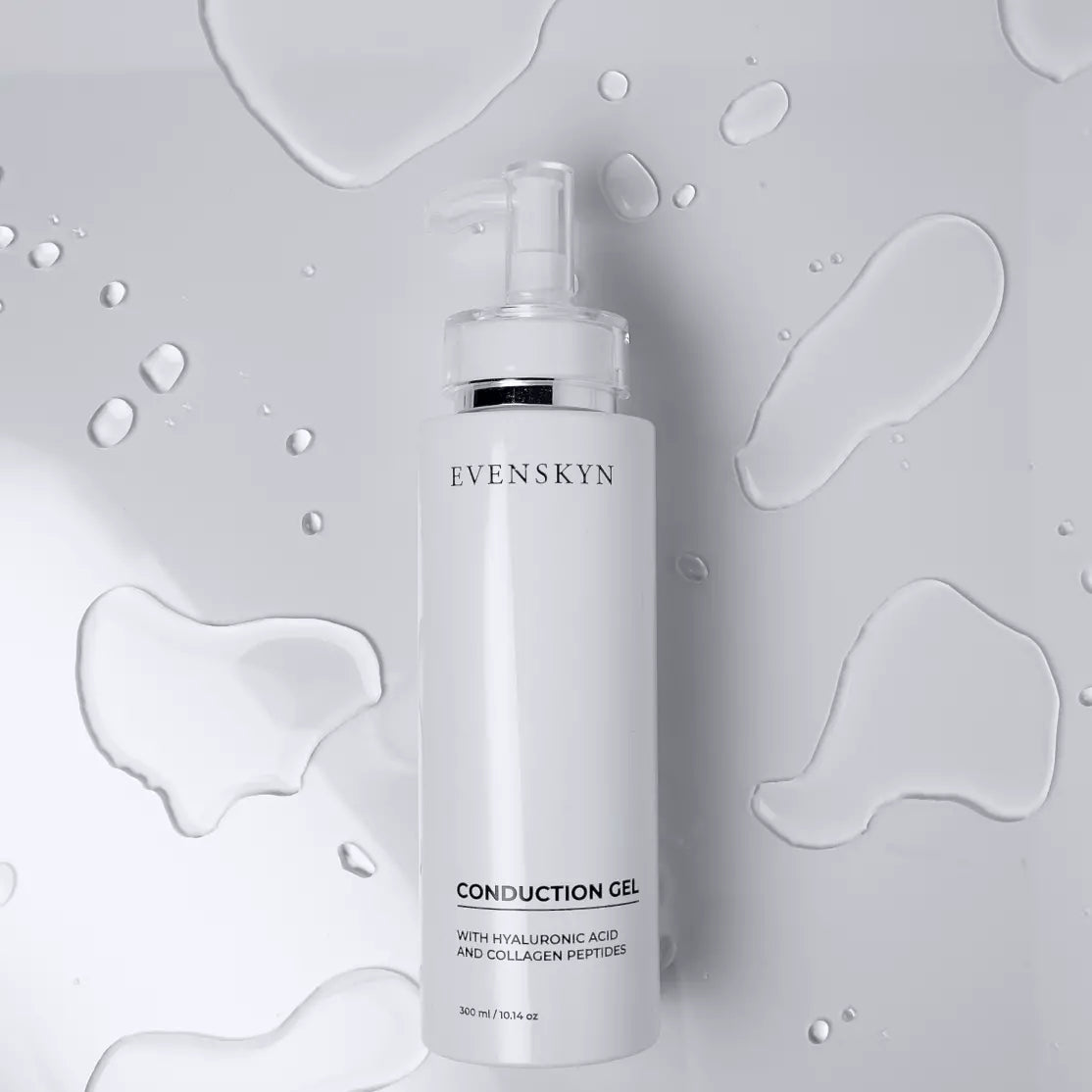 Pro-level Water-Based Activator
The EvenSkyn 
Conduction 
Gel is 
intended to be 
used with 
microcurrent, radio frequency and ultrasound devices. This gel serves as a highly-conductive viscous medium, allowing for maximum conduction of skin stimulating currents and waves.


We offer two packs of our conduction gel. The first pack includes one 300 mL gel bottle, providing approximately 60 treatmentsᶿ. The second pack includes two 600 mL gel bottles, offering around 120 treatmentsᶿ.

ᶿThe number of treatments may vary from person to person and assumes concurrent 3-region use, i.e., face, neck, and décolletage.

1 x 300 mL Gel Bottle ≈ 60 Treatmentsᶿ
2 x 600 mL Gel Bottles ≈ 120 Treatmentsᶿ

Service: DHL Air Express Worldwide Shipping
Price: Free Shipping (US & Canada)
Tracking: Provided within 24 hours of ordering via email.
---
Buy two and save $20!

1 x 300mL gel bottle ≈ 60 Treatmentsᶿ

ᶿNumber of treatments may vary from person to person & assumes concurrent 3-region use, i.e., face, neck & décolletage.
 Apply thing coat to clean, dry skin, immediately prior to use of a RF/Ultrasound/Microcurrent device.

The gel can be applied to one's face, neck and décolletage areas.

During use, if conduction, especially in the EMS mode is too strong, wipe away any excess to help normalize sensation and allow comfortable usability.

If the applied gel starts to dry up, and your use of device is still ongoing, you may apply more gel to the untreated skin areas. Alternatively, to conserve gel, you may also spray the area with a light mist of water to rehydrate dried areas.

Following use, the gel can continue to be left on the skin for continued uptake of nutrients, and for associated positive effects to continue to be realized.
Conduction Gel Ingredients

Aqua (Water)
Glycerin
Hyaluronic Acid
Amino Acids
Hydroxyethyl Cellulose
Peptides
Methylparaben
Triethanolamine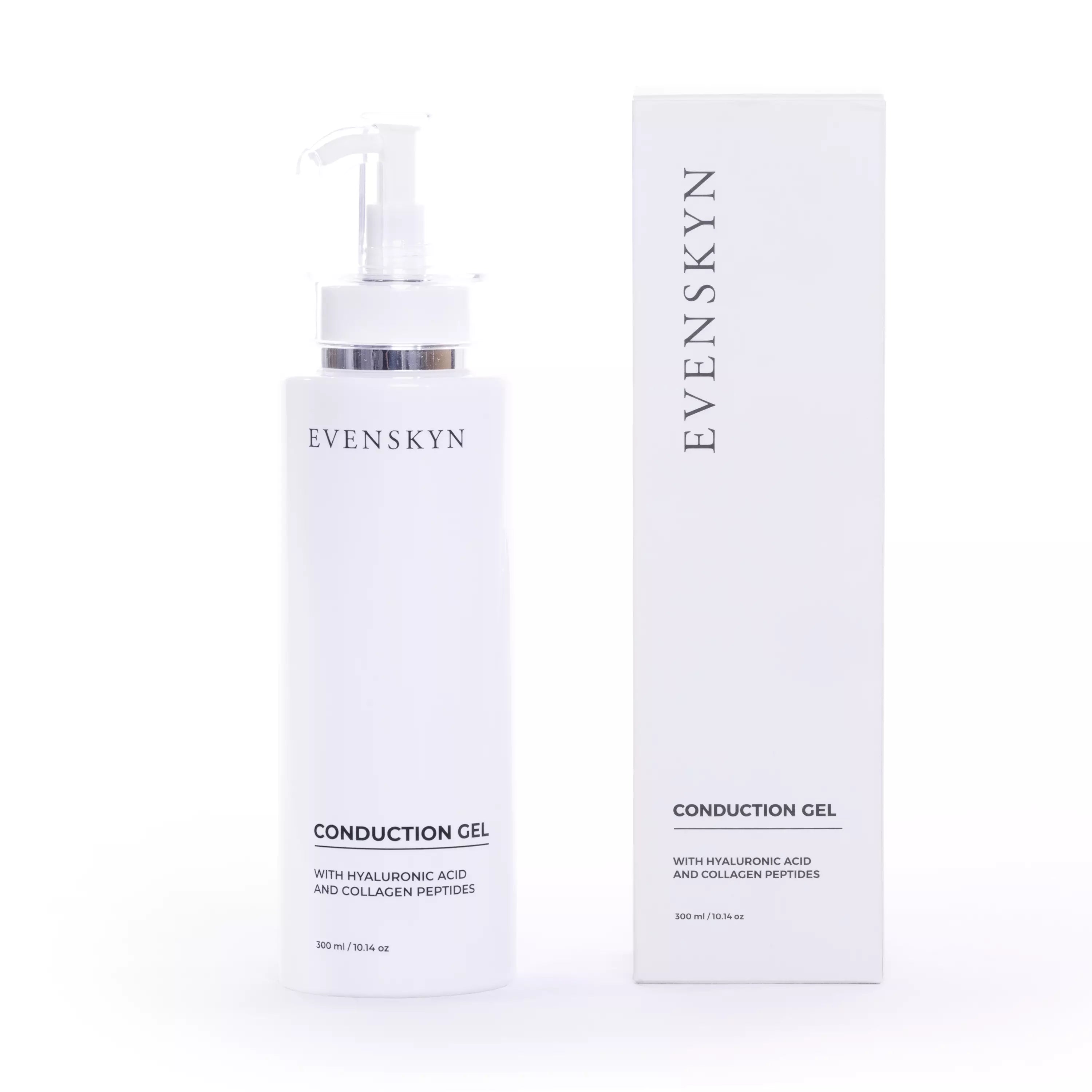 Key Ingridients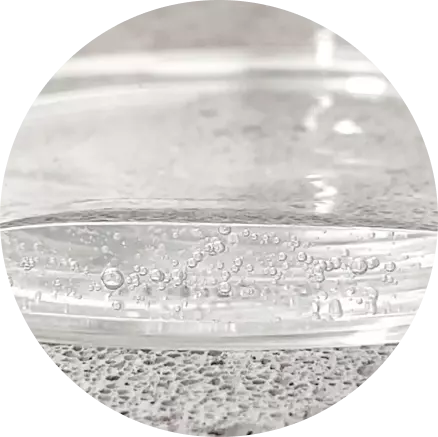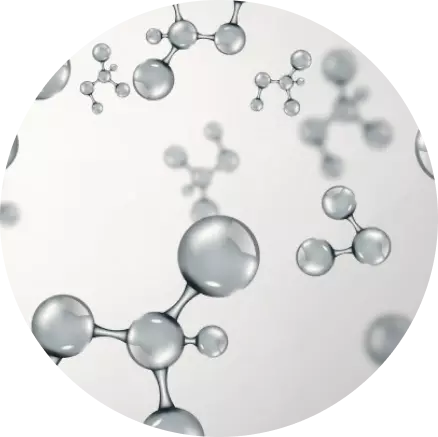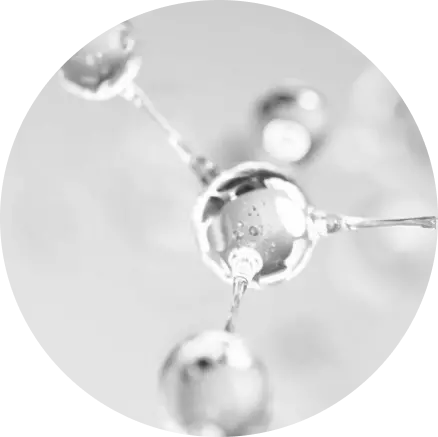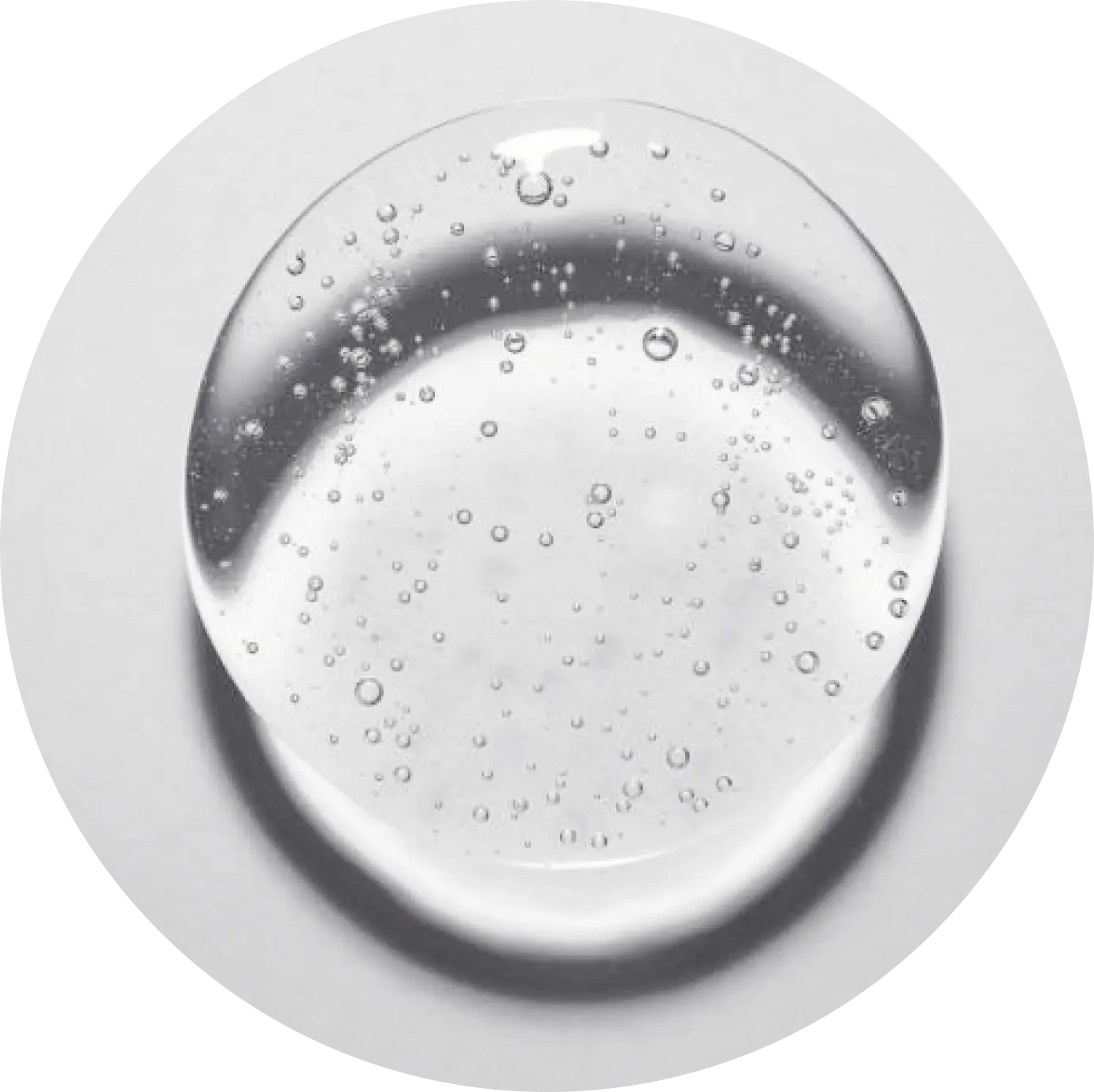 We believe that our story is best told through your skin
Watch more
This product has no reviews yet.
FAQ
Our FAQs section provides answers to common questions about our products, services, and terms. But if you can't find the answer to your specific question, please feel free to message us and we'll be happy to assist you.
Which conductor is best to use with the Lumo?

While we recommend using our very own conduction gel for optimal results, you have the option to use water alone if you prefer. Since the Lumo is a powerful device, you can lightly spritz your face with water using a spray bottle after thorough cleansing, and it will serve as an effective conductor. However, for enhanced anti-aging benefits, we recommend using any water-based and oil-free gel, particularly those containing ingredients like Hyaluronic Acid, Glycerin, Peptides, or Vitamin C.
What is the ingredient list of the EvenSkyn Conduction Gel?

The EvenSkyn Conduction Gel contains Aqua (Water), Glycerin, Hyaluronic Acid, Amino Acids, Hydroxyethyl Cellulose, Peptides, Methylparaben, and Triethanolamine.
Can I leave the gel on my skin after the treatment, or should I rinse it off?

You can leave the gel on your skin after the treatment to enjoy its benefits. The gel contains beneficial ingredients such as Hyaluronic Acid, Amino Acids, Peptides, and Glycerin, which help enhance anti-aging benefits and maintain healthier skin.
Can I use the same conduction gel with other treatments?

Yes, our gel can be used with all approved microcurrent, ultrasound, and radiofrequency devices, including Lumo, Phoenix, Venus, etc.
This product has no reviews yet.
This product has no reviews yet.
The experts in anti-aging skincare evenskyn